2017 – CHW
A trip to the greenhouses to select some plant presents for our hosts on the trip next weekend.
To my surprise all menziesia have been reclassified by the taxonmists as rhododendrons just to confuse us. These used to grow in the rockery and here are some replacements.
Menziesia ciliicalyx (Rhododendron ciliicalyx)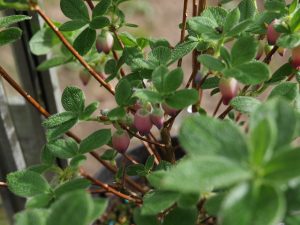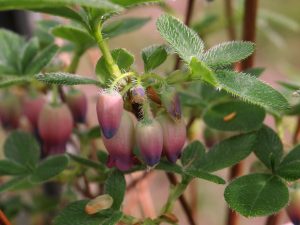 Menziesia ciliicalyx 'Plum Drops'
Both are very pretty indeed. The ciliicalyx bit comes into its own on the stem of the flower bud as you can see. Not quite dwarf shrubs and temperamental to grow well in our wet climate but well worth the effort.
A new plant of Lithocarpus glabra in the greenhouse. Looks much like the old one in the garden about which there is so much debate as to its true name (
see my oak article
).
Another species to reintroduce here – Rhododendron irmelies from Glendoick.
Pittosporum parvilimbum with dainty yellow flowers. Hardly looks like a pittosporum. From Roundabarrow Nurseries this year.
Ribes longiracemosa in flower. A new species to me and exactly as its name implies. Vigorous new growth like Viburnum opalus.
Then a long day making another 25 to 30 video clips for the website including crossing a camellia, magnolia and a rhododendron.Here is a picture of my first grandchild, Isla Rose Williams.
Cubby, Nutty, Dollar, Billy and Saffron enjoy the bluebells in the sun
2016 – CHW
A morning looking at new magnolias flowering in Kennel Close. This was not the original plan but a coach load of German tourists disembark at the Top Lodge and the driver turns around refusing to drive on to the beach. It turns out 34 of the 37 passengers are OAPs paying a reduced rate. How nice of them to have to walk all the way back to Top Lodge. It turns out, as I saw, that very few of the group are in fact OAPs so plenty of Germanic cheating here without even a sunbed to dispute.Magnolia x loebneri 'Lucy Karlson' has a vigorous upright habit but is otherwise nothing special apart from a hint of pink in a largish flower. Not much different from Magnolia 'Alixeed' below.
Magnolia 'Black Tulip' x 'Deep Purple Dream' has small rounded reddish flowers. Different but nothing outstanding.
Prunus matsumae 'Hanaguruma' was given to us by Harvey Stephens of the Savill Gardens. A really good double flowered pink cherry.
Magnolia 'Purple Sensation' is a later flowering New Zealander which is well worth growing. This is the last decent flower.
Magnolia 'Apollo' is one of the very best New Zealand hybrids of much earlier vintage. We have a small plant on the drive that has never done well and one in Penvergate. At last we have a decent plant strutting its exceptional stuff.
Magnolia 'Chrystal Chalice' is a fair white and showing up quite well.
Magnolia 'Plum Pudding' has made a good tree and has been out for weeks. A tidy rounded shape to the flower.
Prunus 'Umineko' was planted in 2011 and has made amazing progress. Quite the biggest and best thing in flower this year in Kennel Close. Not a full double but absolutely plastered in flower today from top to bottom. A new variety to us too which merits propagation or purchasing more of.
Magnolia 'Galaxy' is growing in a tight spot so it is hard to get a decent picture as it has grown too tall. Rather similar to Magnolia 'Heaven Scent' I think.
Magnolia 'Butterflies' has lost its leader but two plants we have here grow like this in a spreading fashion. The third is however a tall upright tree with slightly different flowers which do not have the tepals inverting in on themselves in an irregular fashion. Perhaps there are two forms of M 'Butterflies'?
Magnolia 'Alixeed' is not in the normal magnolia reference books but looks like a x loebneri variety as it is too vigorous for a Magnolia stellata type. It is clearly planted (by me) too close to the drive. A soft pink blush to the opening flowers quickly turning pure white.
A tail end flower on Magnolia dawsoniana 'Chyverton Red' on the drive by Red Linney. This plant was never named as such but Nigel Holman always thought it nearly identical to his Chyverton creation. We have other plants elsewhere and a good one at Burncoose near the rockery which is also good in bud but quickly fades.
The camellia hedge below the drive at the fernery is really now showing up well proving how late some Camellia japonica varieties are in relation to the Camellia x williamsii varieties.
2015 – CHW
Most of the day spent filling in 80 pages of Defra's new format Basic Payment Scheme(BPS).  Around 700 field parcels/split field crops to comply with the latest Brussels diktats.  We have now spent about 85 hours between three of us filling in these wretched forms which were originally to be completed online.  The main computer could not cope when our application was half done and we had to start again on paper as in previous years.  The new computer system has cost Defra £154 million which will be no doubt deducted from the money eventually paid to UK farmers.  If Europe wants cheap food and insists on subsidising farmers then at least they could get the admin right rather than giving us all nightmares with the gigantic rule books.  Oh for a free market in agricultural produces as in New Zealand.
In a rage, but suddenly find in the line of Rhododendron sinogrande below Lower Quarry Nursery a fantastic plant with dark purple flowers of sinogrande size.  These appear to fade quickly to off white/pink but today they are the best thing in the garden.  The fading, but not the leaf shape, imply Rhododendron praestans but, if it is a true species, more investigation is needed.  Rhododendron protistum var protistum seems no closer nor does Rhododendron kesangiae in Mike Robinson's excellent pocket guide to Rhododendron species.  So it must be a hybrid.  The initial colour is as dark a purple as Rhododendron niveum in its darkest form.  Mike Robinson is sadly missed as one of the greatest rhododendron experts I have had the pleasure of knowing.
2003 – FJW
First martins seen – season a little later than last year.
1994 – FJW
First rainfall week for many months.
1990 – FJW
Chips died. Over 230 trees felled by January storms in Castle Wood alone.
1976 – FJW
Marvellous year for nearly everything – very dry – warm Easter – 3500 round garden.
1932 – JCW
I am only sure of one Calophytum bud. Daffs nearly over. The early Thomsonii x blood red remain good. Maddeni x.
1920 – JCW
Much as in 1918. Maddeni hybrids are good.
1918 – JCW
R davidsonianum go off. R yunnanense come on. Broughton's are good, zuelanicum crosses slow colour. Auklandii not yet at their best. R lanatum and campylocarpum are both nice. I saw the first goldfinch yesterday. The daffs are nearly all gone.
1914 – JCW
One Auklandii open, R lanatum shows colour, R lepidotum flowers for the first time. R racemosum is very good in the Drive.
1913 – JCW
Gauntlett's plant hardly shows colour. Some buds of Auklandii show colour, no recurvas quite open. Clematis montana rubra is nice. Broughtonii hybrids at their best and so R fargesii.
1911 – JCW
A lot of hot sun and dry cold wind, daffs are going back and in many instances only half developed. Gauntletts 'afghanicum' looks nice, some buds of Auklandii just show colour.
1905 – JCW
Niveum open; picked a bud of Auklandii; daffs for the most part over; cold; crossing over excepting Recurvas. Been a useful year on the whole, but too cold for the midland people.
1902 – JCW
Tulips at their best in the grap. We are ten days earlier than 1901. Thomsonii at its best, we are only a few days later than 1897.
1901 – JCW
This is about the best day of this season for I have picked the buds of most of the Lulworth things, and Madam de Graaf is nearly all open. No Horace open yet but very nearly. Thomsonii well out also Hodgsoni, Blood Red and various other Arboreums.
1897 – JCW
Parrot tulips nearly at their best, one or two roses open. Wild primroses at their best, also Dielytras and white Trilliums.