2019 – CHW
Another better flower on Magnolia kwangtungensis (Manglietia moto). Too high up to smell it. Pale-ish creamy white.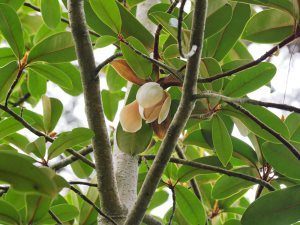 Taxodium distichum 'Falling Waters' is growing into a decent sized trailing tree. Planted in 2011.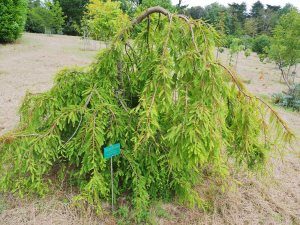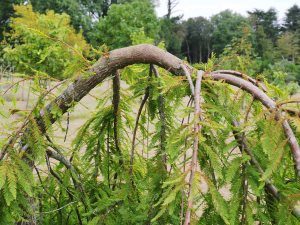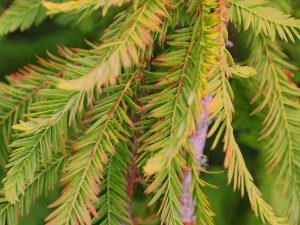 Carpinus japonica with its ripening fruiting catkins just turning a bit pink. A fine display today on this maturing tree.
Catalpa speciosa 'Pulverulenta' with its wonderful blurry variegated leaves is just getting going. No flowers as yet.
Crataegus wattiana is a thornless species as here but the Hillier's manual says the berries are yellow, which they clearly are not here? The small tree is plastered and the berries are nearly ripe.
Tilia chingiana is just getting going in Kennel Close. An erect habit and large dark green leaves. We are now growing perhaps 10 to 12 different Tilia species. I hope I have left enough room for them to grow into trees.
Thinking about it when we clear the remainder of the Leylandii hedge in the end bit of Kennel Close this will be a good spot for the dozen or so new species of cotoneaster that are ready to plant out. Or should they go into more dappled shade in Old Park. Probably not as the pheasants will eat all the berries before we begin to see them.
The new Beatrice plantation of Camellia sasanqua varieties to commemorate her birth is now ordered up from France. They are going onto the bank at the entrance to Old Park which was all a sasanqua plantation 40 to 50 years ago. All dead of old age bar one along the path at the bottom of Old Park which was rejuvenated after being smashed by a tree.
Beside it a dead camellia planted in March. The two other camellias behind it have more shade and have survived.
Styrax japonicus 'Evening Light' looking great in full sunlight!
Magnolia sieboldii covered in seed heads but most leaves browned off and fallen. Will it survive? Fifty-fifty.
A series of five nearly dead big and small leaved rhododendrons. Not full sun this time but a very dry spot under mature Pinus insignis. Doubt any will be alive next spring.
In full shade another good Rhododendron 'Polar Bear'. I smelt it long before I saw the flowers.
Diascia personata – nice enough in a clump.
Viburnum opalus 'Compactum' with a good show of berries.
Pennistetum alop. 'Red Head' grows to 2½-3ft. You have to look closely for the 'red' but good as a clump.
A new grass to me Elymus arenarius with canes of light blue-grey leaves.
Miscanthus sinensis 'Ghosa' was not bad either.
Agapanthus 'Graskop' out long after all the others.
Kniphofia 'Nancys Red' flowering well in small pots.
Parahebe 'Snow Clouds' – well worth a look for our catalogue. Dense habit and loads of flower.
A view of the nursery entrance. All very modern and tidy!
I buy a euphorbia to keep the peace. The owners are clearly wondering what I am doing or inspecting but I do not enlighten them or it would make it worse!
2016 – CHW
Little in flower in the garden and Rhododendron 'Polar Bear' nearly over by Georges Hut.Quite a surprise above Hovel Cart Road with a magnolia showing a copious second flowering.
This is listed on the plan as Magnolia 'Spectrum'. Although the plant is a late flowerer with narrow upright flowers in April the colour is pink and nowhere near dark enough to be correctly named. This is the first time I have seen it doing this.
2015 – CHW
The two large Eucryphia cardifolia beyond the playhouse are still not even faintly out but the Eucryphia glutinosa is. A very bad picture as I cannot get near to it. The plant grows in and old brick lined frame above the Rockery and was never planted out. Now surrounded by wisteria and mahonia. This is a deciduous species which is quite rare, very slow growing and with lovely mottled grey bark. At Burncoose by the pond there is an even rarer double flowered form which would be the one to propagate.
36 acres of the winter corn at Rosevallon cut and the straw bailed up before it came into rain. Arthur's attempts to install solar panels to provide him with free (daytime) electricity have fallen at the first hurdle. Despite the salesman's bullshit the installer wanted £3.5k extra to cable it from a farm shed back to his, rather than the £7k quoted. If it is 'too good to be true' it generally is!