2016 – CHW
No rain at all today despite the threat of Hurricane Barbara hitting Scotland. Forecast hopelessly wrong all week and the fourth nearly dry day.So I attempt to photograph the first camellias out along the drive.The unnamed Camellia x williamsii above the Hovel is now shedding its first flush of flowers onto the newly swept drive.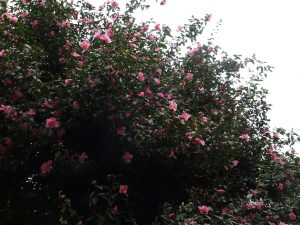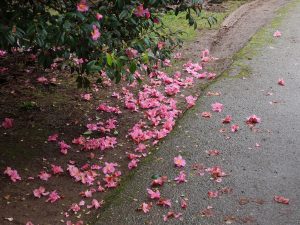 First buds to show on Camellia 'Tiffany'.
Rhododendron 'Bo Peep' – yellow form also now has two single flowers above the Hovel and opposite the pink form.
Not as many out from perhaps 100 varieties along the side of the drive planted 10 to 12 years ago as we have sometimes come to expect.
Foul day. Shooting cancelled to attend John Laity's funeral at Germoe church. Feeling ill!