Zantedeschia aethiopia still in full growth and untouched by frost. A big contrast to how things looked after The Beast. This clump clearly needs dividing soon. Perhaps when and if they do get frosted as there is still too much growth for now.
The gardens open signs have gone up today. The 18th February is not now that far away.
A single flower on a young Rhododendron neriiflorum. The old clump long dead.
The heather at the Four in Hand is full out. Is this a Lanarth bred cultivar?
Still a few pheasants left on the feed below Hovel Cart Road.
Full leaf still on Catalpa duclouxii.
Another windblown casualty 10 years or so after planting. The roots appear rotten. A malus species.
A single rogue flower on Rhododendron edgeworthii.
Astonishingly a letter from the RHS president arrives in the afternoon post advising me that the RHS council have decided to award me the Victoria Medal of Honour. Good party with Jaimie and all the gardeners. Cannot imagine how I qualify or who nominated me!
2016 – CHW
No rain at all today despite the threat of Hurricane Barbara hitting Scotland. Forecast hopelessly wrong all week and the fourth nearly dry day.So I attempt to photograph the first camellias out along the drive.The unnamed Camellia x williamsii above the Hovel is now shedding its first flush of flowers onto the newly swept drive.
First buds to show on Camellia 'Tiffany'.
An early and unformed flower on Camellia 'Adolphe Audusson'. Windblown I guess.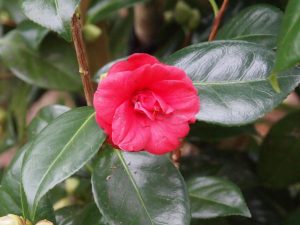 Rhododendron 'Bo Peep' – yellow form also now has two single flowers above the Hovel and opposite the pink form.
Not as many out from perhaps 100 varieties along the side of the drive planted 10 to 12 years ago as we have sometimes come to expect.
2015 – CHW
The Daphne bholua 'Jacqueline Postill' by the side door is now nearly full out but no scent as yet in heavy rain (again).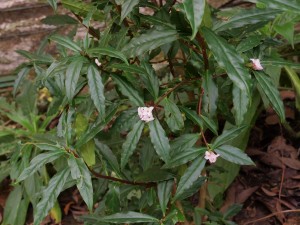 Foul day. Shooting cancelled to attend John Laity's funeral at Germoe church. Feeling ill!
1985 – FJW
Serena [Williams] arrived and walked three steps.
1921 – JCW
Several Camellia sasanqua, Theifera A. Theifera B, Japonica various speciosa of Forrest's. Gordonea anomala, some roses, Erica hybrida and codenodes. White australis, Hamamelis mollis very good. Rhodo mucronulatum nice. 4 kinds of Caucasicum.
1901 – JCW
A very few roses left. Coums coming on fast. A few Iris alata.
1900 – JCW
Didden [A M Williams] picked the first primrose.