2017 – CHW
A trip to Forty Acre Wood to inspect the biggest Schefflera macrophylla. Some leaves dropping and all the seeds have shed from the flower stalk already. This really is a huge and impressive plant.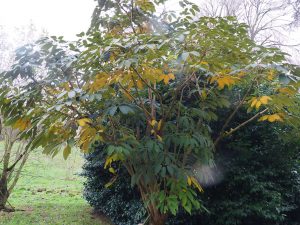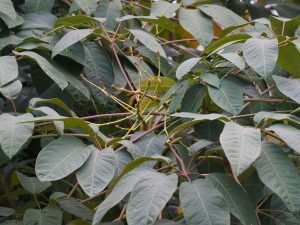 No seeds left on the ground but plenty of deer droppings so perhaps they have enjoyed them.
A few camellia seeds from an adjacent plant remain uneaten.
This 15 to 20 year old planting is really taking shape. The rhododendrons especially.
The Crabiodendron yunnanense hedge has plenty of seed clusters which I collect for Asia to grow.
Saxegothaea conspicua is doing well.
As are a row of Rhododendron arboreum but in too much shade.
A clump of Arundinaria anceps. Most other clumps at Burncoose have recently flowered and died.
Also a nice new self sown clump of Pseudosasa japonica which flowered and died out 20 to 30 years ago here as well.
The river could do with cleaning out by the bridge.
The pampas grass flowers on the islands in the lake show up well.
2016 – CHW
This is the first primrose out on the bank opposite the front door. I saw it a week ago first. No others yet showing.
2015 – CHW
Christmas Eve – still in bed with splitting headache.
1988 – FJW
Camellias as 1977. Very mild indeed for time of year. Supposed to be a 50°F xmas.
1977 – FJW
Williamsii well out. Pink Saluenensis by Gunroom in flower. George Blandford ¼ out very early. Wet year to date with gales. Many big rhodo's and magnolias seem to have decided to live after 1976 drought.
1962 – FJW
10 degrees frost beginning of cold spell and easterly gales.
1941 – CW
Camellias out – oleifera, double white (Engine House), and a few speciosa hybrids. Cam sasanqua nearly over. Rho mucronulatum very good. Also a Sutchuenense hybrid above Rookery. Some lapagerias and fuschias. Odd bits of forsythia and hamamelis.