2018 – CHW
What do we find out on Boxing Day?
Lapageria rosea 'Flesh Pink' still has three flowers months after flowering began.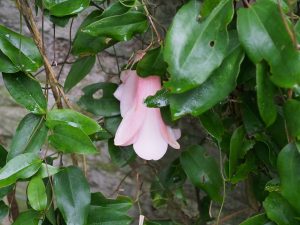 Daphne bholua 'Jacqueline Postil' is suddenly full out and scent to dream about by the side door. A plant which I believed dead last March in the cold when it was leafless.
The pheasant tail and holly wreath at the front door.
Azalea stenopetalum 'Linearifolium' with its first flowers in the Rockery.
The first snowdrop flower partly eaten by a pheasant or a mouse? Ten days early perhaps.
A primrose similarly devoured by something.
Wild daffodils almost with flower buds showing. Only a few days away.
A young Azalea 'Kirin' with its hose-in-hose flowers full out on a young plant.
A paler form of Rhododendron mucronulatum full out and looking wonderful on the drive by the fernery.
Buddleia farreri (apparently now crispa var. farreri) which is supposed to flower in April is in full bud and well out today. This plant has grown enormously since it was planted in the spring with several other species of buddleia. Well worth Asia propagating this attractive rarity.
The first (Spanish) bluebells well out of the ground already.
Magnolia rostrata has just shed its leaves. I thought earlier that there were no seeds set in the huge seed heads and this looks correct. Some are now black and rotten on the tree but one had blown down and appears seedless and un-swollen. Squirrels I fear but they would have been disappointed!
Plenty of leaf still green on a young Magnolia dealbata – again as usual in a mild winter.
Rot at the base of the oldest Quercus acuta but still a huge tree with much alive at the top. Nothing much to do except let nature gradually take its course. Many of our original evergreen oaks seem to live only circa 100 years.
Nice new 2017 layers on some long forgotten plants of Rhododendron auklandii (now Rhododendron griffithianum). Wonderful peeling back too. There was a huge clump in the Auklandii Garden flattened in a whirlwind in 1976.
2016 – CHW
An elderly survivor from JCW's cherry collection still grows above the Four in Hand. Prunus autumnalis is not a large tree but, as is typical, its branches have cankerous growths which make them appear somewhat monstrous and matted. The flowers are sparse and not very noticeable but this is an 80 year old cherry at least. Most of what is sold today are the more impressive pink flowering form which would probably have been out several weeks before.
We have looked at this Eupatorium ligustrinum plant on Bond Street in October when it was in flower and attracting butterflies. Today the back half of the plant is still in full flower which is odd. Quite attractive but no butterflies around today!
Two small and newly planted Rhododendron mucronulatum on the drive by the fernery are coming into flower. The flowers will be much paler than the original by The Rockery.
This plant of Rhododendron 'Royal Flush' (pale creamy yellow) is plastered with a crop of seedheads which may well kill the plant. They are not yet ripe and certainly worth Asia collecting shortly. Weak hybrids such as this have short lives because they grossly overflower (in this case in July) and then weaken themselves by overseeding and use all their energy to procreate.
The Fuchsia exorticatica outside the front door is again out for Christmas. This New Zealand species flowers on bare stems through well into leaf. You too can check the diary but I think I last photographed flowers here in April this year. The pinkish flowers are still half sized and without their full greenish-black-purple colouration when mature. They are also only half the size they will be in due course.
2015 – CHW
Boxing Day – still in bed and so also miss the family lunch. Christmas has totally passed me by this year. No comment necessary!
1991 – FJW
First flower on Gunroom door light Saluenensis.
1970 – FJW
First snow of winter and 8 degrees of frost.
1920 – JCW
Very little open because of the recent frost. Erica darleyense by far the best thin. Lapagerias and Cam sasanqua a few and odd bits of rhodo's.
1917 – JCW
Mary, May, PM and I at Werrington for the third time and 41 children being very cold indeed. Here Mucronulatum and Hamamelis mollis are good.
1916 – JCW
Mary, May, PM and I at Werrington for the second time. The cold knocked all the flowers out at home but the first bud of Mucronulatum shows.
1915 – JCW
Mary, May, PM and I at Werrington for the first time.
1914 – JCW
All four boys away at the war. A few lapagerias and coums, a rose or two, and some flowers on one of the Thonsonii x Arboreum hybrids. This starts the rhodo season, though Nobleanum and Lutescens have been open for some time.
1913 – JCW
Many good roses, over 100 lapageria on the pillar plant. Clematis cirrhosa very good. Camellia sasanqua, some heaths nice. Sweet leaved geranium fairly good. C coum up. No daffs in flower. Solanum jasminoides very good. R nobleanum fair. No frost marks on the wall. Geraniums uncut.
1909 – JCW
A lot of frost in Nov and Dec, nothing much shows, but a few coums and lapageria and an odd rose. General Election.
1908 – JCW
Much as in 1907 but some bulbs are well on, from the 1 year old pans [?]. R nobleanum nice.
1907 – JCW
No frost yet, some gunnera have green leaves. C sasanqua moderate, a fair lot of roses, lapageria, and coums. Erica hardly open, geraniums fair, wall flowers starting.
1906 – JCW
Much as in 1905. Coums coming on. Cam sasanqua going over, has been very good. Roses some good yet snow but no real frost. Geraniums uncut.
1905 – JCW
Ericas open, C imperati just. Colour on the snowdrops. Frost and damp day stopped rose. Various Stylosa open, just a ting of colour. Lapagerias fair. Primroses moderate, a late year for them. C coum coming on well. Some aconite.
1898 – JCW
Crocus imperati open.
1897 – JCW
120 flowers open on the lapagerias. Charles saw the Lent Lilies breaking through the ground.