2018 – CHW
At least four different varieties of Magnolia grandiflora still have flowers on today. Not unusual I suppose in a mild winter but what comes next in January?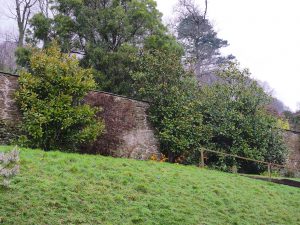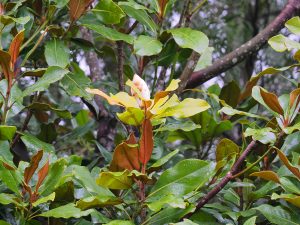 Salvia leucantha full out in flower by the greenhouse. This Mexican species should flower now. Sadly I have cocked up the photographs.
First flower on Camellia 'Lady Clare' by the front door.
Camellia 'Noblissima' beside it has a secondary or tertiary flush of flowers which are slightly wind damaged. It may well be camellia petal blight.
A single rogue flower on Michelia 'Touch of Pink' (it is a touch of purple really).
Fine colour on a young Acer sikkimense which I have not seen before. Good even when shed on the ground.
Amazingly Carrieria calycina has some leaf buds just breaking.
Mahonia oiwakensis (Crug collection) is nearly over. Wonderful leaf formation.
Aralia vietnamensis with one huge leaf on the ground but plenty still left on the tree.
2016 – CHW
Off to Burncoose to view the excellent new 2017 Burncoose Nurseries catalogue which is hitting 30,000 doormats as I write. A new three column layout and more bigger pictures. Quite our best effort so far on the catalogue front. You can order a copy from the Burncoose site.On a drab day there is not much sparkle and only Andrew, Sally and Georgina at work.Nevertheless I find Hoya australis in flower in the cash point. The first time that this has ever flowered in the nursery I have seen. Not that different in flower to other hoyas.Then lots of heathers looking good:
A rude email from a happy ex customer who does not like my comments on Brexit in the introduction to the new catalogue. A minority view I am happy to assume.
2015 – CHW
Back in the land of the living and out and about again! Quercus buckleyi still has plenty of leaf on it and one of the older Camellia 'Cornish Snow' is as full out as I had expected.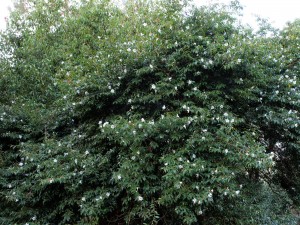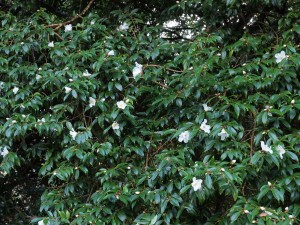 1968 – FJW
Cold spell started.
1943 – CW
Picked a vase of Rho keysii and over 20 primroses from one plant. Fuchsias almost all cut but several lapagerias. H mollis good. A lot of single camellias out. Also double white and one double pink. Heath Mr Robert good and several Sutchuenense hybrids – also a snowdrop.
1928 – JCW
H mollis is the best thing we have and Rho mucronulatum next. Some Caucasicums Lutescens etc but no real show of them. The Cardinal willow is very nice,the camellia by the castle as usual.
1927 – JCW
H mollis very good. Double white Dutch Pearl open and the old camellia.
1925 – JCW
H mollis fairly good but not really out. White camellia fair. Mucronulatum is poor and is late. Erica darleyense late though I saw a flower in October. Berberis polyantha is the best thing. Rho venustum in vases in the hall.
1923 – JCW
H mollis is at its best. Cotoneaster salicifolia very good in spite of the birds, rather less than usual but the white camellia by the Engine House is very good.
1922 – JCW
Hamamelis mollis is very nice. Cotoneaster salicifolia, Berberis fasicularis comes on well. Coums coming. Charles saw first snowdrop. Only odd flowers of rhodo other than Caucasicum sorts.
1900 – JCW
Picked a good camellia.