2020 – CHW
Blustery day of heavy showers, thunder and lightning. Cold and unpleasant.
Camellia x williamsii 'Inspiration' is nicely out in the Auklandii Garden.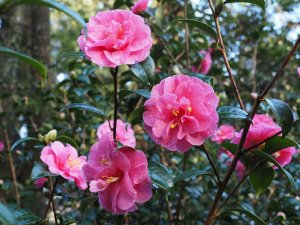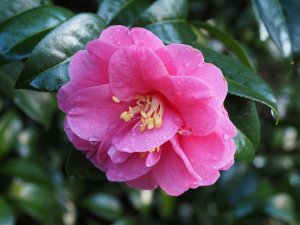 Sarcococca wallichii now properly out with the odd black berry still on the plant.
I spot the first few flowers on Camellia 'Hatsu-Zakura' ('Dewatairin') high up. This is a Higo camellia and one of the earliest of these to flower.
Tilia cordata 'Winter Orange' splendid in the sun.
Storm Bella has partially blown over our Trachycarpus wagnerianus trunk.
Flowers, high up, on Camellia 'Lulu Belle'.
First couple of flowers on the pink/red striped Camellia (?). It is not named on the plan!
Although dead and ready for removal Eucryphia lucida 'Pink Cloud' has blown over.
Another Camellia 'Fairy Blush' looking good in the sun above Lower Quarry Nursery.
A first flower on Rhododendron moupinense on Burns Bank. Another flower or two on the drive blown away.
Branch split on Acacia cultriformis in the gales.
First flower on what I think is Camellia x williamsii 'E G Waterhouse' (next to Camellia brevistyla).
As usual for this time of year a couple of flowers on Magnolia grandiflora 'D D Blanchard'. One showing the effects of Storm Bella. Magnolia delavayi still has flowers below the lawn.
The best thing in the garden today is a huge Mahonia japonica on the bank above the castle. Beautiful scent today in the sun as its broadly arching and spreading inflorescences start to come fully out.
We made a video clip of how to prune Cytisus 'Porlock' (Genista 'Porlock') earlier in the year using this plant. The idea was to encourage new growth and an extra flowering. Here it is!
My mother used to feed the birds outside the School Room. Somehow this rather nasty weed has emerged from the last few years. The prickly seed heads are not yet ripe in the main. I have no idea what it is called. I speculated Phytolacca americana but that has berries not seed heads like this so that was way out as a guess. Needs to be pulled out to stop it seeding again.
2018 – CHW
Here is the plain yellow form of Rhododendron Golden Oriole Group – 'Talavera'.
I am revising my opinion on next year's magnolia flowering season. After The Beast when all the flowers were decimated last March the plants wasted no energy on setting seed and so I had expected a bumper crop of buds for this coming year. Here, however, in the Rireii Opening, there is hardly a bud on Magnolia 'Lanarth'. Magnolia sargentiana robusta is very sparse indeed and Magnolia mollicomata has virtually no buds at all. These three trees are some of the best displays in the garden but were in the teeth of the east wind. One must assume that the leaf buds took damage too last March and that new growth was then slow. Hence the worst display of budding that I can ever remember in this area anyway. Perhaps the summer drought is to blame rather than The Beast? How then do you explain the plentiful buds on some of the magnolias in more shelter? 'Caerhays Belle' is loaded.
Zanthoxylum armatum seems evergreen with us and is certainly living up to its name. We now have several different and very prickly species of zanthoxylum – five or six I think. Pretty horrid until they are old enough to fruit properly.
Quercus rhysophylla 'Maya' fully evergreen and growing well. No sign of new growth yet and stem/trunk still green.
First flower on the pink form of Rhododendron 'Bo-Peep'. A little later than last year I suspect.
2016 – CHW
Hamamelis day in the nursery! Most varieties are just out in pots and rather splendid although more flowers to open on most. The nursery plants readily beat the garden ones which have yet to show.Hamamelis x intermedia 'Rubin' (small size catalogue plant and plant as you would order it today) – a new variety for us to stock which I saw as a large clump last spring at Rosemoor.
Hamamelis x intermedia 'Primavera' (small size catalogue plant and plant as you would order it today). A new variety for the catalogue. Mid yellow but large flowers.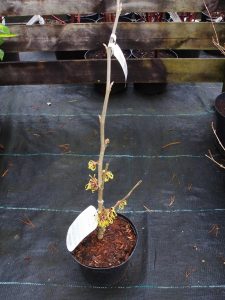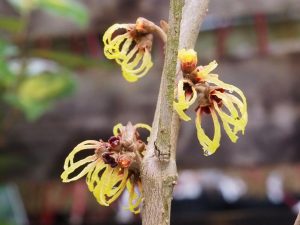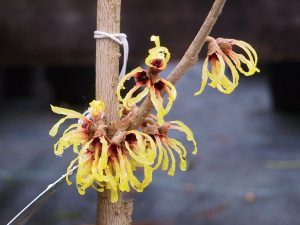 Hamamelis x intermedia 'Diane' (small size catalogue plant and plant as you would order it today). An excellent bronzy red but not new to us.
Hamamelis x intermedia 'Aphrodite' – large catalogue sized plant and another one which was first seen, and obviously excellent, at Rosemoor last spring. Mid-March in fact and only full out there then!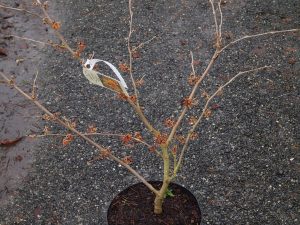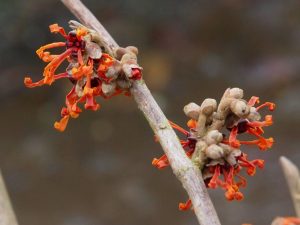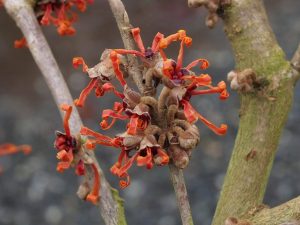 Hamamelis mollis – larger sized plants.
Hamamelis mollis 'Pallida' – large sized plants with masses of delicate yellow flowers.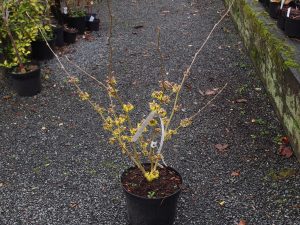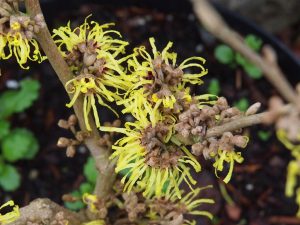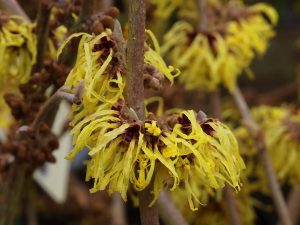 Cyclamen coum nicely out. A darker form than the one see in the garden on Christmas Day.
2015 – CHW
Continuing the theme of absurd things being out in late December we have:Magnolia lilliflora 'Nigra' full out with a few leaves still on what may have once been a secondary flowering flush in September.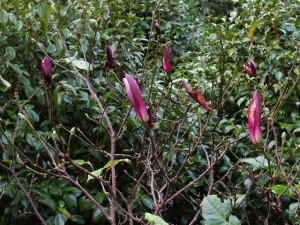 Rhododendron 'Countess of Haddington' is trying to come out four months early.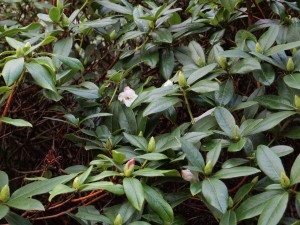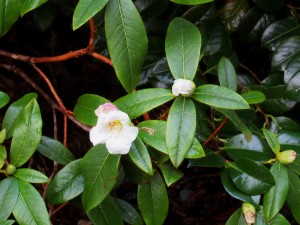 2000 – FJW
Cold spell started – south coast of Cornwall the mildest place to be.
1987 – FJW
Flowers on Cam George Blandford. November Pink well out.
1972 – FJW
Four days of gales.
1928 – JCW
No Camellia sasanqua open yet.
1931 – JCW
The first camellia speciosa is open today.
1930 – JCW
White Cam japonica has been open for a fortnight. H mollis is very good. Caucasicum venustum is good in the dwelling house. Some few flowers of Gordonia have been excellent.
1921 – JCW
The above camellia has been out a month also Thea 1, Thea 11. Speciosa, sasanqua and heaths very good indeed. R mucronulatum nice. Rho venustum good. R [?] fair. The Gordonia anomala is just going out of flower. Many daffs are up. Coums have been showing for a week.
1919 – JCW
The white camellia by the Engine House has a flower open. Hamamelis mollis is about at its best. Rho mucronulatum is very good indeed but it should be better presently.
1900 – JCW
C picked a snowdrop open.
1899 – JCW
Crocus imperati not open yet shows colour. Iris stylosa (two kinds) and Iris bakeriana open. Several roses yet.