2016 – CHW
Jasminum mesneyi is full out above the tower on the lawn. It is growing out of the wall hidden within a clump of Jasminum beesianum. Very pretty indeed and odd to find a yellow flower on anything in December.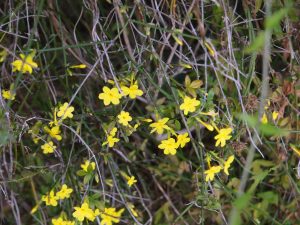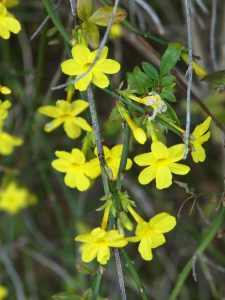 Next door the small quinces on Chaenomeles speciosa 'Geisha Girl' have turned yellowish orange and are being eaten my mice, rats or pheasants. Terrible smell.
Down the bank the tender Salvia x jamensis 'Hot Lips' remains in full radiant flower. It has survived here for several winters.
Hanging over the wall above the salvia is a flower of Magnolia grandiflora.
All on a coldish afternoon in December! Amazing in a week when we have had our first touch of frost.
1944 – CW
Camellia oleifera very good but not at its best. Still an odd flower on Magnolia delavayi and Auriculatum hybrids. Camellia sasanqua past its best. First Hamamelis out and some heath. Very wet autumn and moors flooded right across for some weeks.
1922 – JCW
Very few bulbs above the ground. C sasanqua in flower but very few buds. A few lapagerias. Erica hybrida opening. Cotoneaster salicifolia very nice at the reservoir. Some Maddeni x nice.
1905 – JCW
A useful lot of daffs are on the move, of all sizes and ages, but the King Alfred blood is most prominent. C sasanqua is good. A few coums show flower. Some roses going yet. Primroses are very late.
1900 – JCW
A good few five year olds through the ground. Picked this years crop of rhodo seed.