2017 – CHW
Another clump of Rhododendron grande seedlings are now full out by the Auklandii Garden. They do not look quite pure from the leaves or flowers which are near white with a dark purple blotch and a faint pink edge to the trumpets at first. I wonder if this clump ever had a name? Rather nice.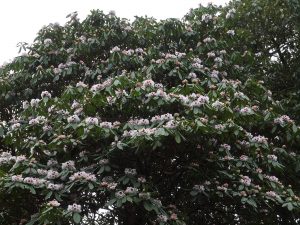 Camellia 'Fairy Blush' (a Camellia lutchuensis hybrid) planted last year on the main patch is well out but the leaves look a bit scarred and chlorotic. I think this plant is tender and needs more shelter than here.
The first of Tom Hudson's (wild collected seed) Rhododendron niveum is out. An odd truss where some flower trumpets are out or even over before other buds have started to open. Red in bud but opening the pale mauve-purple which I always remember them on the original plants at Donkey Shoe. All our other plants of this clearly variable species are nowhere near out yet by Georges Hut.
Oemleria cerasiformis is just coming out on the main patch. A suckering plant which is easy to propagate from autumn hardwood cuttings. The flower tassels are just starting. In time they will have a nasty scent.
The purpose of my trip today (which required gloves and was short because it is bloody cold) was to photograph the first few flowers on Magnolia 'Bishop Peter'. BBC Spotlight showed these as part of their weather forecast a day or two ago. However there are still only a few out at the very top.
Camellia x williamsii 'Salutation' and Camellia 'Citation' always muddle me. This is Camellia 'Salutation'. This plant is thriving by 'Bishop Peter'.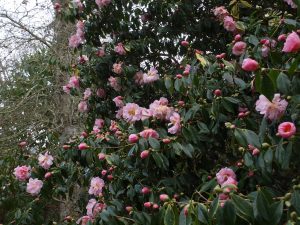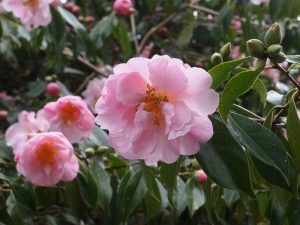 I got Rhododendron irroratum confused with Rhododendron morrii the other day. Now it is full out there is no doubt. I had forgotten we still had old, original plants of this species and have been planting out new replacements.
Here we see the form with pink stripes on the trumpets and those which are almost pure white in flower. A pleasing discovery. Jaimie cocked up the naming too. Rhododendron moorii is next door and obviously different as well as not out!
This line of rhododendron hybrids are beside the path on the way to Rookery Gate. The first three are very early with a red edge to the white trumpets. Reminds me of Rhododendron 'President Roosevelt' without the variegated leaves. I wonder if JCW ever named this? Very well worth propagating. Unusual and very early! The other plants in this line flower later and are pink. I have not seen these in flower for decades and missed them the last two years also. Quite a miss!
2016 – CHW
Finally a night of some not very severe frost but enough to put paid to the two magnolias outside the yard. Further up in the garden they are still fine as you can see from the Magnolia campbellii which is untouched despite the raw south east wind today.The men are just finishing the second half of a huge ash tree by Tin Garden which we had to fell today. The other half fell in the gales a week ago and the remainder was certainly unsafe for visitors. The logs will be stored here until autumn and then into the castle wood stores.
Mahonia leschenaultii has come out into flower for the first time. Nasty spiny leaves even by mahonia standards and a brand new species to me. Not in Hillier's and the spelling might not be 100%!
Lots of areas of the garden have been cut back and tidied for opening. 'Mr Billy' has a shit beside Georges Hut and the nicely pruned hydrangeas.
Magnolia 'Sweet Sixteen' is looking anything but 'sweet' but Magnolia 'Pegasus' is coming out nicely nearby with a bit more shelter.
Three early flowers on the newish New Zealand Magnolia 'Plum Pudding' are looking plum-like I suppose above Crinodendron Hedge.
Rhododendron siderophyllum is out by Higher Quarry Nursery. Not a hugely exciting species but fairly new to us (or me anyway). There are several more plants outside the front gates up the bank a bit which we grew from seed ourselves which have more pink in the flowers.
A nice clump of stingy nettles by the Playhouse are 12 inches tall already and have grown along all winter untouched.
1988 – FJW
7 Magnolias out … including Giddle, Bishop Peter, 2 by steep steps, crino hedge.
1969 – FJW
A wintry assize. Heavy frost and 5 lots of snow – George Blandford has been excellent as well as St Ewe – they have taken 4° of frost well.
1966 – FJW
Still very wet indeed – moors waterlogged and we have had a very wet six months. All Hamamelis flowered together again – Lower Quarry Nursery Hamamelis very early. Red Admiral fine.
1946 – CW
Both Mag campbellii have a flower out also a good bud still on Grandiflora. One or two Lapagerias. Reticulata spec. Camellia at its best and J.C.W crosses.
Rhodo – a lot of Sutchuenense hybrids out also Blood Red and hybrid, Lutescens, Barbatum and one or two Mrs Butler hybrids. Perhaps 20 different daffodils.
1933 – JCW
Camellia speciosa at Gun Room door has about 300 flowers on it.
1924 – JCW
None of the above (1922) are open but Conradinae is over. It is now very cold.
1922 – JCW
Prunus mume has been very good for a fortnight or more. P triflora seems to be the next in order with P conradinae, some fair Sutchuenense x Arboreum are open.
1911 – JCW
Some Cyclamineus open. Went out after tea for the first time, some Arboreums opening and hybrids.
1907 – JCW
Later than all of the above, C coum are yet very good, snowdrops and aconites at their best.
1903 – JCW
Made my first indoors crop on M Plume and Mde de Graaff. Several H Irving open outside and in comp open in the Tin Garden.
1902 – JCW
H Irving just shows colour, Minor not properly open, the fortnight of frost left us today, one Tenby shows colour.
1897 – JCW
Gunneras on the move.