2017 – CHW
Calm, warm and still conditions encourage more magnolias to start to open outside the back yard and elsewhere.Neither of these magnolias are named but quite nice, early flowering seedlings as they are and well worth their place. The tepals show some wind damage from last week and some are pale with a bit of green/white where they have been blown open too early.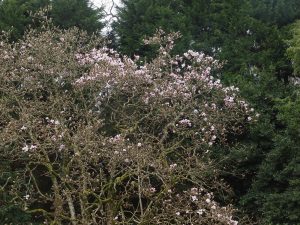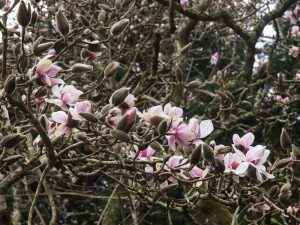 The darker one was the 3rd January 2016 opener which we have now photographed three times in the last fortnight.
Camellia 'Cornish Snow' stands out today among the many unnamed x williamsii seedlings along the outside back yard wall. These probably date from the 1920s and may well be from the first japonica x saluenensis crosses which JCW made in 1923 and which produced 'St Ewe' and 'J C Williams'. They are similar but poorish and have been pruned many times along with the 'Cornish Snow' over the years.
The flowers on Camellia 'Lady Clare' are enormous this year with quite a bit of white patterning and striping in the frilly open petals. A good red when just opening, fading to lighter pink. I do not remember seeing it look so good. Far removed from the insipid first flowers I photographed four to six weeks ago.
There used to be two clumps of these giant snowdrops on the bank. The flymo has got one but the other still thrives. A very dark green blotch on the tip of the corolla or trumpet. Interestingly they have crossed with the 'ordinary' snowdrops nearby and produced two clumps of half giants nearby. Any idea of the correct name anyone?
The seedling magnolia (unnamed) from the same seed pan as Magnolia 'Philip Tregunna' is out above the top wall. A good dark colour, very visible from the front door this year.
A couple of 'through the arch' and 'over the arch' shots of the magnolias (as above today) to mirror those taken in early January 2016 which you can look up and compare. These are seven weeks later!
2016 – CHW
Several lots of new plants have arrived today from Glendoick and Rezo nurseries in France. Rhodos and bamboos. Attached are the lists of what has come – Glendoick List & Rezo List.
Also attached are the
lists of new plants
 sourced for planting out this year from all over via Burncoose Nurseries.
Quite a lot of planting work to do when it eventually dries up enough to plant.
2003 – FJW
First flower on Magnolia 'Bishop Peter'.
1981 – FJW
First on Tin Garden Magnolia 'Diva' seedling.
1962 – FJW
East wind started.
1930 – JCW
Six days of frost have cut Rhodo's and the Gordonia, but we have had no ice on the pond yet. Heath of 3 kinds are good.
1928 – JCW
Just as in 1927 say 25 species of Rhodo's including Mackenzianum and 25 hybrids. No Magnolia as in 1913 but Gordonias, some flowers of the early Kobus ½ open.
1927 – JCW
Heaths fairly good, Rhodo lutescens and moupinense very good. Blood Red hybrids well out, some Barbatum and Scabrifolium. Prunus pissardi and conradinae just coming out. [?] Dediconia is the next. Camellia speciosa is beautiful.
1924 – JCW
Cold NE wind and frost for a week and all Rhodo's bloom is cut out for the time but the early stuff has hardly any buds in any case. The heaths are very nice.
1917 – JCW
About 4 days ago the frost broke, the hardest since 1895, nothing much is dead. Rhodo lutescens, mucronulatum and moupinense have begun to open.
1916 – JCW
Prunus pissardi over, several daffs open, Caerhays daff very good, Rhodo fargesi is very nice by the Barbatums. Blood Red hybrids remain good. Rhodo oleifolium very good, the first Camellia reticulata is open.
1914 – JCW
The Prunus pissardi just starting. Only Cyclamineus and its hybrids with Soleil d'Or are out of the daffs. A few Arboreum x Thomsonii open, none of the Mrs Butler x. The following species open Rhodo moupinense – lutescens – argenteum – mucronulatum – barbatum – pink arboreum – blood red arboreum – micranthum – dahuricum – racemosum – sutchuenense.
1913 – JCW
I found a small spray of Pyrus malus open. The Thomsonii x Arboreum lot are very good, and there are some Mrs Butler x Arboreum open.
1897 – JCW
Yellow crocus nearly over, blue and white at their best.