2017 – CHW
Second magnolia for the year is beginning to be out. Again it is the old original and rather poor near white Magnolia campbellii near Tin Garden.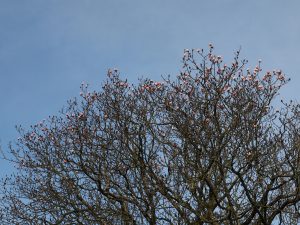 2016 – CHW
A fine example of what a roe buck can do with its horns to a camellia trunk. Bucks are not yet in season but time for the keepers to get cracking on the roe deer now that the season is over.
Since we are on garden problems today how is this for trying to kill a perfectly decent magnolia by failing to remove the plastic spiral. It should have come off five years ago but I suspect the plant will survive. Note the build up of soil and insects (woodlice) behind the plastic which can so often infect the graft and kill the plant.
1969 – FJW
First daffs picked – gales knocked over Pittosporum daphniphylloides and Ligustrum near St Ewe hedge.
1966 – FJW
First daffodils picked.
1959 – FJW
One or two Lapagerias. The weather quite cold with temperatures to freezing point also a strong easterly wind, however Ririei, Moupinense, Pink Golden Oriole, Bo Peep coming. Saw flower on Camellia Adelina Patti and also Adolphe Audusson.

1930 – JCW
Perhaps 20 species of Rhodo and 6-8 hybrids showing flower, the Camelia speciosa have been very good, there are some good Lapagerias yet, we have had a Roylei flowering nicely for about six weeks, I picked a Lent Lily yesterday, the mess of the great storm on Dec 5th is not away yet but we have finished our two screens 25 yards each and planted them.
1919 – JCW
Hard frost but we are planting where I cleared the laurels at the quarry ( they did well).
1911 – JCW
Praecox shows colour, snowdrops out, R nobleanum out well, some garden primroses, R argenteum starting, but fair lot of frost about, some roses, geraniums in the border not quite dead.
1905 – JCW
Several seedlings open, picked a nice H ? x min and max x C of c, Rhod praecox open, coums very good, heaths coming on well, snowdrops at their best. Made my first cross of the year (King A x min).