2018 – CHW
Plenty of early new growth on Fuchsia gracilis confirming a frost free winter.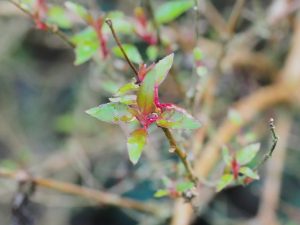 Garrya elliptica 'James Roof' with its gigantic tassels of flowers is superb today. What a plant!
The scented narcissii by the Dining Room window are nearly over.
Clematis cirrhosa var balerica is full out on the wall. The speckles of red or pink are on the insides of the petals and not readily visible as the flowers hang here.
A huge crop of Echium pininana seedlings have emerged below this year's flowering spikes which have now been removed.
And several of these biennial plants well on to flower by or before Chelsea time this year.
2017 – CHW
Another magnolia is just coming out – Magnolia sprengeri 'Copeland Court'. It is a bit battered and blown open early but the colour is good even if the flowers are small. Colour varies. Those blown open early are too pale but some are a good dark colour as they should be.
2016 – CHW
Here is something peculiar! A well established self sown Thuja plicata growing happily on the fallen trunk of one of its parents in Brownberry Wood. Actually Jaimie Parsons took this picture while beating last week so I can claim no credit for unearthing this horticultural curiosity for you. The trunk of the parent is still alive so the sapling may or may not triumph eventually.
2005 – FJW
Magnolia flower can be seen from the front door.
1992 – FJW
A little rain fell.
1990 – FJW
A fresh flower on original Mag sprengeri diva (Michael Lear saw it yesterday) – Bishop Peter shows colour.
1969 – FJW
Trewidden Grande very good.
1962 – FJW
St Ewe hedge very good. Too mild – cut back by Lord Headford and Plagianthus. 2 nice flowers of early Sutch. Arb. hybrid.

1929 – JCW
Much as in 1918 but no big coloured Rhodo's show flower, a late season.
1926 – JCW
No daffs in the Tin Garden, Irroratum, Moupinense, blood red Arboreum and blood red [?] show flower, Barbatum open and Scabrifolium is very good, also several Primroses are open and E. hybrida is very good.
1922 – JCW
Nearly 20 species of Rhodo are open a bit, perhaps Irroratum and Scabrifolium are the best. Erica darlyense is very fine this year.
1920 – JCW
There are 21 species of Rhodo showing some flower Lutescens – Scabrifolium and Sutchunense are good, Praecox is the best thing open.
1916 – JCW
Rhodo' species in flower Lutescens, Sutchuenense, Flavidum, Intricatum, Oleifolium, Barbatum, Arboreum (pink), Longistylum, Moupinense, Ciliatum and Argenteum.
1904 – JCW
Picked five seedling trumpets half open, one of them a Cyc X.