2022 – CHW
First flowers out on Ceanothus arboreus 'Trewithen Blue' below the Tower.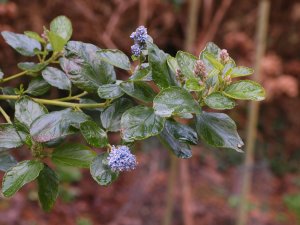 Snowdrops amid the Gunnera manicata plantation below Kitchen Garden.
Frankie was working on a Saturday and had cleared the old Camellia japonica above the Old Kennels. Space for several magnolias here.
Frankie has also cleared and tidied up the opening above the top path in Old Park for the new Amelanchier collection. A neat and tidy job as usual.
A bit of tidying, trunk clearance and laurel removal elsewhere along the top path in Old Park.
A sweet chestnut trunk moved on into Lawn Field.
Horrendous deer damage on the trunk of a young Thuja plicata.
The clump of Camellia x williamsii 'St Ewe' at its best on Bond Street.
Mahonia species Nova from Roy Lancaster still looking wonderful on Bond Street.
Laurel planting below Bond Street looks good.
Iris unguicularis flowering away in the nursery. One forgets how impressive this species is.
Ribes laurifolium now full out. In tight bud a week ago.
A nice well grown group of Magnolia tamaulipana which we offer for sale for the first time. Not on the website as yet but it will be.
Lindera praecox just coming out in a tunnel.
Amazing trailing cascades of lichen on a yew tree overhanging the nursery and camellias out above the wall all the way along.
The double flowered form of Sparmannia africana in full flower. A bit of genuine 'diversity' here.
The first time we have ever grown the South African Veltheimia capensis.
Daphne 'White Queen' nicely out.
A fine plant of Camellia 'Dr Burnside' in the car park.
Excellent new signage is up.
Daphne 'Perfume Princess' just coming out – gorgeous scent.
Sarcococca hookeriana 'Winter Gem' in full flower. A good new thing in the catalogue.
Camellia x williamsii 'Caerhays' above the fern bed in the main nursery.
The evergreen Sycopsis sinensis full out. It really is different to x Sycoparrotia semidecidua which is still in bud with larger black buds.
Helleborus 'Red Lady' just out.
Small Liquidambar styraciflua with just a few purple-red leaves remaining at the top of the plants.
Galanthus elwesii – nice potfulls.
You would think pigs had been digging on the Tregullow lawn but it is badgers!
Camellia 'New Venture' is a williamsii x japonica cross with a much larger flower than the other williamsii hybrids which we have previously looked at. The flowers tend to hang down within the plant and are a bit obscured, although it was not yet full out.
This rhododendron is labelled Rhododendron monstroseanum but is out very early with just two flowers, which fade quite dramatically, as you can see in these two pictures. The planting plan is a bit unclear and I need to check this again.
Magnolia sargentiana robusta x Lanarth seedling beyond Rogers Quarry is full out. This plant is often forgotten but well worth a look!
Rain arrives so I have to stop. Odd, is it not, that no Magnolia mollicomtas and no Magnolia sargentiana robustas are out yet although these are normally 'early'? All the Lanarths have beaten them but why in such an early year? Normally the other way round.