2017 – CHW
Last year the Pseudocydonia sinensis had a full set of new leaves and new growth but little evidence of this this year.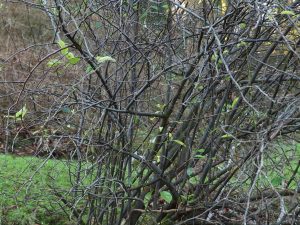 Priority job to remove the ivy on the drive from many deciduous azaleas this spring. Quite a big one now too! Several azalea clumps will need to be cut down in the process to reshoot.
More aucuba clumps now stone dead by the Hovel. This is a progressive phytopthora which only affects aucuba as we have seen before.
2016 – CHW
The first magnolia has blown open (two flowers) outside the back arch on this rain sodden weekend. Not a bad colour considering! This is a hybrid between Magnolia mollicomata and Magnolia campbellii and is generally out pretty early in March or even February. In 2010 or 2011 we had a magnolia flower on the table at a shooting lunch in very late January but this beats all known or conceivable records by about a month. Quite staggering and potentially hugely dangerous for our spring season to come.What I can say with great certainty is that in translating the last 100 plus years of the family Garden Diary back to 1897 this is a uniquely early magnolia season.Sadly the gardens do not open until 22nd February.
Philip Tidball, the headkeeper, tells me at midday that there is another magnolia out above the greenhouse and, on investigation, it is actually full out.Planted in 2007 this is a US hybrid bred by Todd Gresham called 'Todds Forty-Niner' (his 49th cross made in 1964) which we have known to be early but never this early!
It has now rained for three days virtually nonstop so these magnolia pictures will be poor in the rain but it stops mid morning.
1933 – JCW
Very little in flower, exception 8 Hamamelis mollis. Camellia speciosa, the early form, is very good.
1929 – JCW
Much as in 1926, H mollis v.g., flowers cut out by 7 or 8 days of frost, ½ " of ice on frames tank.
1926 – JCW
Mucronulatum has not been good so far but H mollis is good, very good, the heaths are coming on and not much else.
1923 – JCW
10 to 12 species of Rhodo give an odd flower or so, mucronulatum has been very good, Scabrifolium will be very good, Hamamelis mollis is beautiful and so is Erica darleyense.
1918 – JCW
Just as above but a bit further on with a snowdrop or two, an aconite or two, mucronulatum having gone over. The Nobleanums have been very nice. Narcissus cyclamineus is open and the Cyclamen coum are fair. One good blood red hybrid is open near Engine House.
1917 – JCW
Hamamelis mollis is nice in the new planting, a flower or two open on Dahuricum and Mucronulatum , the two best early shrubs we have as yet, frost has only lately left us.
1908 – JCW
Some Aconites open, Acacia dealbata and the Coums are both good, a Camellia or two open.
1898 – JCW
The first Aconite.