2022 – CHW
The view down the drive today with Rhododendron 'Winter Intruder' and Rhododendron nobleanum.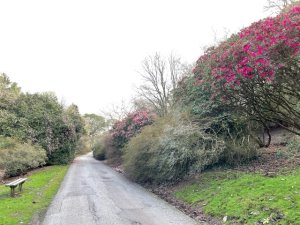 Rhododendron nobleanum close up.
First snowdrops just showing but not yet out.
A few rhododendrons creeping out despite the continuing cold. Here Tom Hudson's Rhododendron ririei. Lovely colour and better than the old one on the drive at Burncoose.
Nearly out too is Rhododendron arboreum ssp. cinnamomeum.
Berries colouring up on Ilex kingiana.
Aralia vietnamensis has had its leaves frosted but the flowers may still come out? The stems are extremely prickly as you can see. Several huge leaf stalks blown off.
Peumus boldus is now full out and quite a decent show. The bush is about 12-14ft tall and doing well.
The darker form of Camellia 'Donation' called 'Celebration' is just out by Georges Hut. Two days ago nothing.
Contrast these flowers with the paler Camellia 'Donation'.
A young Podocarpus snapped off in the wind at Donkey Shoe. Not the first decent plant to suffer this fate in recent years.