2017 – CHW
Stachyurus chinensis full of hanging flower tassels. The odd drop of rain still hangs there looking like an early flower but not quite yet!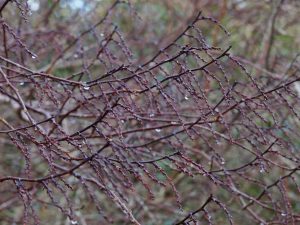 Rhododendron lindleyi with huge buds to flower in April. Very swollen already.
2016 – CHW
The garlic is in full growth a good month early under the largest Magnolia veitchii. Not the common one – this one is a stinker!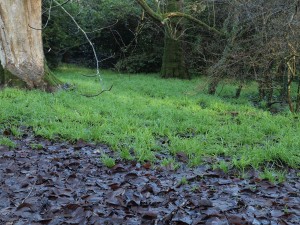 Camellia 'Jurys Yellow' is full out on the bank above.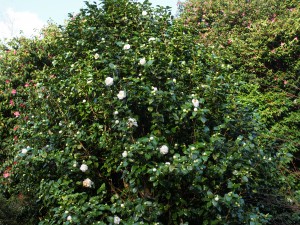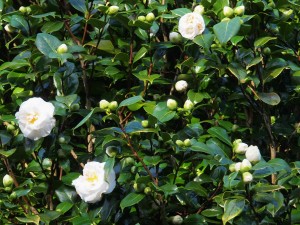 As is Camellia 'Lady Clare'; perhaps the second japonica variety to show. The old one by the front door is not out yet but many of its buds have been blown off in the wind.
1968 – FJW
David picked first snowdrops of year.
1967 – FJW
Cold started.
1963 – FJW
Few flowers on Nov Pink – no sign of anything else. Snow but we missed the big blizzard.

1934 – JCW
Just as in 1932 C speciosa gives us the best flowers now but no Rhodo's.
1932 – JCW
Caucasicums good again after late frost, Speciosa first open in the wood ( note, not quite over on May 12th), then on the wall new planting C speciosa, latest of all, Hamamelis are better than ever.
1930 – JCW
Late year C speciosa nice in the wood not on the wall. C sasangua over, Coums are late, mucronulatum good, lutescens fair, Erica hybrida fair.
1924 – JCW
Rather behind 1922, Coums are starting but most things are a fortnight later.
1922 – JCW
Hamamelis and mucronulatum v g, some Camellias are nice, C speciosa particularly so, C Coum is showing, C sasanqua is over, a few snowdrops.
1921 – JCW
Hamamelis and Erica hybrida are near their best and very fine. R mucronulatum is only fair. None of the 1912 stuff is good.
1912 – JCW
Aconites showing colour. Camellia sasanqua is yet very good, Coums nice, Ericas good, the first seedling trumpet show colour.
1907 – JCW
Measured Tree Fern frond broken by recent wind 10 feet 6 in by 3 feet 6 in.
1901 – JCW
Another Camellia, several roses about, frost for two nights.
1900 – JCW
I saw the first Lent Lily breaking ground – several roses going now, a snowdrop or two.