2018 – CHW
Bitterly cold east wind today and a trip to Burncoose forgetting my gloves. The pictures will be as cold as I felt but, as always, a few missing photographs for the website jumped out and a few new things to look at.
Camellia 'Tregye' out early. A Tregrehan hybrid which I had forgotten together with its location in the garden.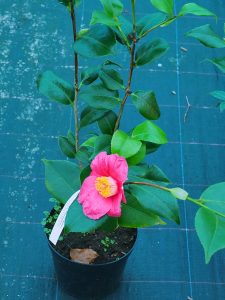 Camellia 'Sundae' is new to the 2018 catalogue. Rather like Camellia 'Bokuhen' I think? Even Camellia 'Amemoniflora' but darker? A Trehane introduction I suspect?
First rather poor flowers on the young plants (first year grafts) in the nursery of Hamamelis x intermedia 'Aurora' with yellow flowers at first turning bronzy-yellow. Larger plants still to show colour.
A nice new batch of plants labelled as Eriobotrya 'Coppertone' without any sign of the coppery new growth yet. Now properly classified as x Raphiobotrya 'Coppertone' since it is a US cross between eriobotrya and raphiolepsis. The plant at Caerhays has more rounded flatter leaves as you would expect but is semi-mature. In fact I do not see much raphiolepsis in these plants at all? I wonder if this is simply an eriobotrya with red new growth and not the x raphiobotrya cross at all? Eriobotrya deflexa in fact? Need to keep an eye on these plants – the jury is out!
Mahonia nitens 'Cabaret' with a few blue seeds left. I have missed the flowers but the leaf structure is pleasant.
Mahonia gracilipes. These are seedlings and a bit variable as can be seen from the leaf colours. Some have a purple hue while others remain green. A good new plant which will become popular once it is better known.
2017 – CHW
Camellia japonica 'Alba plena' with first flower out at Donkey Shoe.
Rhododendron moorii in bud and just coming out. The pink tinge suggests it may be a slight hybrid but it is part of a large clump of which the remainder are white (with dark blotching in the trumpets). This is very premature but only the pink ones are yet breaking bud.
2016 – CHW
I find some damage in the Top Garden.
Rhododendron 'Penvose', a Caerhays hybrid, is half uprooted but can probably be saved if cut back hard (again) and reembedded in the soil.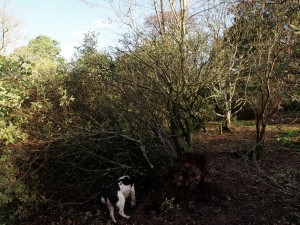 A small Nothofagus has gone over thus proving yet again how badly this genus performs in the wind. This was a young tree planted in 1991 of about 15 to 20 feet in height. They are surface and shallow rooted trees. Probably a Nothofagus alpina.
1991 – FJW
Very wet, very mild and stormy since New Years day. Front door White Camellia well out. Flower on Magnolia delavayi.
1971 – FJW
Frost stopped on 4th – November Pink fully out again on this date. J.C.W starting.
1967 – FJW
Family all went to church for first time. Minor interruptions.

1911 – JCW
I saw Aconite and several snowdrops.
1899 – JCW
Picked the first minimus flowers, minor just in sight, many of the Caerhays also, no M de Graaf but G mundii is in some places, some Coums open.
1898 – JCW
Charles saw first minor above ground.
1897 – JCW
Several flowers of yellow crocus out, Frome, Madam de G, Weardale all break soil.