2017 – CHW
Camellia japonica 'Alba plena' with first flower out at Donkey Shoe.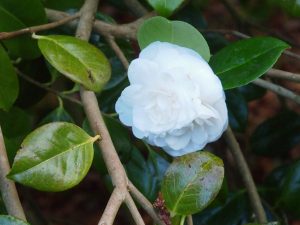 Rhododendron moorii in bud and just coming out. The pink tinge suggests it may be a slight hybrid but it is part of a large clump of which the remainder are white (with dark blotching in the trumpets). This is very premature but only the pink ones are yet breaking bud.
2016 – CHW
I find some damage in the Top Garden.
Rhododendron 'Penvose', a Caerhays hybrid, is half uprooted but can probably be saved if cut back hard (again) and reembedded in the soil.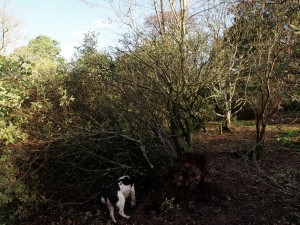 A small Nothofagus has gone over thus proving yet again how badly this genus performs in the wind. This was a young tree planted in 1991 of about 15 to 20 feet in height. They are surface and shallow rooted trees. Probably a Nothofagus alpina.
1991 – FJW
Very wet, very mild and stormy since New Years day. Front door White Camellia well out. Flower on Magnolia delavayi.
1971 – FJW
Frost stopped on 4th – November Pink fully out again on this date. J.C.W starting.
1967 – FJW
Family all went to church for first time. Minor interruptions.

1911 – JCW
I saw Aconite and several snowdrops.
1899 – JCW
Picked the first minimus flowers, minor just in sight, many of the Caerhays also, no M de Graaf but G mundii is in some places, some Coums open.
1898 – JCW
Charles saw first minor above ground.
1897 – JCW
Several flowers of yellow crocus out, Frome, Madam de G, Weardale all break soil.