2018 – CHW
At Ventnor again to see nice things in flower.
Olearia megalophylla in full flower with odd leaves which remind me of carpenteria.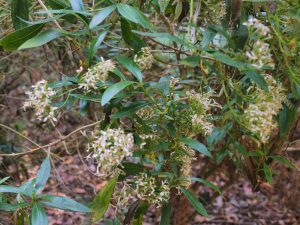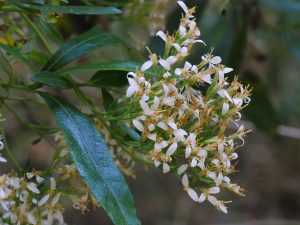 Olearia pachyphylla – another new one to me. The 'thick leaved daisy bush' but the flowers not quite out yet.
Puya chilensis flowers full out despite the cold winter.
Luma chequen just coming out as a huge bush 20ft tall and wide.
Puya assurgens in flower which I have not knowingly seen before.
Puya dyckiodes is another smaller growing species with black flowers emerging from a reddish sheath.
Puya chilensis and Puya berteronica self-crossed I think but splendid.
Pyrus x michauxii, a hybrid between two pear species, has small pears appearing on a tree which hardly looks like a pear!
Opuntia ficus-indica, the prickly pear cactus from Mexico, full out and no ill effects from the cold.
A large clump of Salvia 'Hot Lips' is absolutely covered in flowers. We saw this, still covered, well into last autumn. No frost to speak of so here it is again.
These hemerocallis were a gift to my father 40 years ago from Lady Anne Carew-Pole who bred them at Antony House. She was also a doyen of South Devon Cattle which was another reason then for her to visit Caerhays. The names of the varieties have long since been lost but there are still clumps on Burns Bank and in this bed by the tower. American breeders have added many new colours to today's more popular day lilies. Lady Anne's were mainly orange or yellow with huge flowers and few showing some coloured striping. Four different ones were full out today in the sun and creating quite a show.
Magnolia delavayi flowers over many months but the flowers last only a couple of days in this heat. The stamens drop quickly and then the flowers turn brown. You can see the whole gambit of new buds, buds, flowers, dead flowers and then seed heads all here today.
More Magnolia grandiflora flowers from below the lawn.
An elderly Cotoneaster franchettii full out by the tower.
An older plant Rhododendron cumberlandense is still a good show by the Four in Hand.
2016 – CHW
A day of drizzle and thick sea fog which sadly never lifted for the wedding party in the tent below the lawn. You could not even see the sea for most of the day. No hassle with the wedding and no noise unlike the previous weekend when the wedding goers repeatedly rang the front door bell. Thankfully we were away.The Roy Lancaster Chinese collected climbing specie rose on the front arch is just coming out. I must try and identify what it actually is. No hips last year but these can be as good as the flower. The closest to it I can find a picture of is Rosa filipes 'Kiftsgate' but it is the hips which are so unusual and no mention of this in the reference book.
2015 – CHW
Unpleasantly hot but a trip to Thompson's Garden Centre near Sandown. About the same size as yesterday's Buzy Bee but rather more sold out. Hardly a rose or dianthus left in stock so bugger all to photograph really.
A new plant to me, Trachelospermum jasminoides 'Waterwheel', has tiny leaves and looks more like an ivy or even a muehlenbeckia. It would be a good thing to cover a wall and I suspect would prefer some shade. Bred in Wales!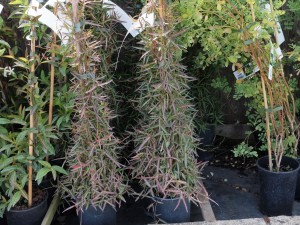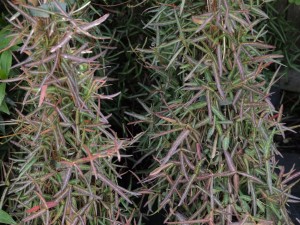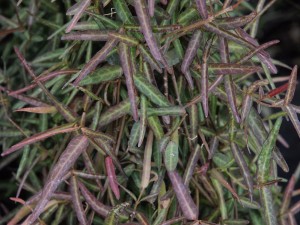 Quite a nice new Heuchera 'Solar Eclipse' if you can face yet another 'new' heuchera to go with the scores which have appeared in the last few years.
Gaura have sold well again this year; 'Papillon' (pure white) and 'Rosyjane' (white centre, red outside) were new to me. Both are candidates for new entries in the 2016 Burncoose catalogue if we can buy them. They had Dutch labels and are clearly a good garden centre eye catcher so will probably become popular.
1984 – FJW
First rain fell at 8.30 am after longest dry spell yet seen by us. It beats 1975 I would think.
1975 – FJW
First rain fell at 7am.
1924 – JCW
Just back from Eton and Harrow match and seeing Bulstrode, the things here have had enough sun without rain though the ground is not really dry the air is empty of moisture.
1916 – JCW
No Romneya out. No R ingersii open. R fortunei Wilson wanes, P poissonii good. Mitraria good. L giganteums nice. Papa Gontier good.
1901 – JCW
Romneya just starting five or six flowers. I have finished moving the best seedlings down to the home garden, started taking them out of the pans.
1899 – JCW
Romneya coulteri open, about the first of it