2021 – CHW
A bit of a magnolia hunt today.
The pink form of Rhododendron 'Polar Bear' just showing.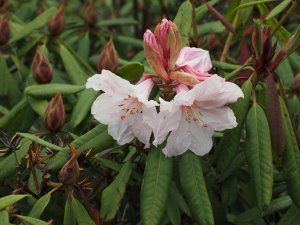 Manglietia insignis just out and perfect today but loads of bud to come.
Magnolia sapaensis nearly out. Note the little leaflets at the tip of most (but not all) buds which is an unusual (unique?) characteristic of this species.
Pterostyrax hispida at its absolute best. I normally fail to spot this.
High up one of the younger Magnolia dealbatas is out. The others not quite.
Clethra fabri (FMWJ 13037) with spectacular foliage at Donkey Shoe.
Rhododendron fortunei subsp. discolor in the main quarry full out.
The best of the surviving forms of Rhododendron 'Royal Flush' on Burns Bank. Definitely one for Asia to propagate!
The last flowering before death I expect of the original Styrax japonicus on Burns Bank.
Tail end flowers on the playhouse wisteria or perhaps secondary ones?
2020 – CHW
A nice wet weekend and a dampish week in prospect so all good in the garden.The pink form of Magnolia delavayi with the largest and best flower I have ever seen on it before. The layman might find this very similar in shape, colour, and the dropping down of the three outer tepals, to Magnolia (Manglietia) insignis which we saw last week. Tom Hudson collected this originally and, not knowing any better, we planted it in a poorish spot opposite the dog kennels below Kitchen Garden where it has grown well but flowered sparsely.
Another of our surviving Rhododendron royalii hybrids on the drive out later than the others with a pinkish hue. A cutting from the old plant on Burns Bank?
Achillea millefolium (yarrow) and Malva sylvestris (common mallow) growing together below the coastguards' hut where Serena will soon be married. A pity to strim these all off for the sake of 'tidiness'!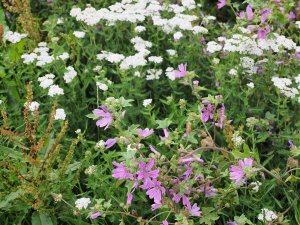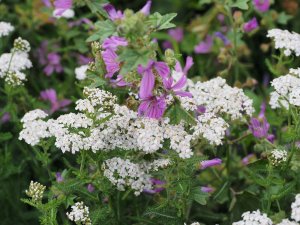 Calystegia soldanella (sea bindweed) growing on the field hedge (which is near sand) opposite the car park. The flowers have closed as it is overcast. It is not that different from Convolvulus arvensis (bindweed) but this one only grows on sand dunes as here. (The white flowered hedge bindweed, Calystegia sepium, much hated by all gardeners, is a different species again.)
Subsequently Colin French (Flora of Cornwall) got in touch to point out I got this wrong. Here is his email and the correct photos:
From: cnf
Sent: 09 August 2020 10:15
To: Charles Williams PA
Subject: RE: Survey work
Dear Charles,
On 30th June Diary entry the Calystegia soldanella photos are of Field Bindweed (Convolvulus arvensis). C. Soldanella has small round succulent leaves as in the photo below:
Best wishes,
Colin
Maggie Semmens in 'Grandma's Castle' as the sign says at the lower lodge. We both agree that we need a haircut!
Hydrangea seemanii covering the back arch. Less flowers than last year but they seem larger.
Even more lovely is the delicate pink Watsonia 'Tresco dwarf pink'. Not dwarf at all in habit but the flowers are perhaps small by watsonia standards. Both these two survived 'The Beast' in early March on the nursery. Conservatory plants but only just in Cornwall.
Astilbe 'Chocolate Fascination' is new to us this year and our first sight of the pale pinkish flower spikes above the dark blackish leaves.
Paeonia tenuifolia is setting ripe seed quickly after flowering in May. Paeonies do this rapidly.
Rosa pomifera has hips days after flowering too.
This young Aesculus wangii had a couple of small branches broken off in a recent gale but has quickly put on attractive new growth shoots.
The oldest Magnolia sieboldii with the smallest flowers still has a few showing. Elsewhere the seeds are swelling quickly. As you can see I got the settings wrong again.
Rhododendron arizelum is not setting any seed this year. I could easily remove the old flower heads and seeds by hand with no effort. Noticeable however is how much more quickly the new growth has come where there were not flower heads.
Seeds pods forming after the flowers on Decaisnea fargesii. By autumn these will turn a pinkish-blue.
I had this billed as Cornus florida 'Red Giant'. It has been out for a while but is in shade so the bracts could be darker in full sun.
Prunus 'Collingwood Ingram' has very attractive secondary new growth. It was raised in Belgium in 1979 and this plant was a gift from Mr Vernon of Bluebell Nurseries.
Salix fargesii is forming a good rounded shrub in full sun.
2016 – CHW
Thirty members of the 700 year old Worshipful Company of Fruiterers visit Caerhays for a medlar tree planting ceremony on the bank opposite the front door. The master and clerk wear their ceremonial chains of office and past masters have special ties. We assemble for the tree planting at 12.00, then house tour, lunch in the dining room and a garden tour ending at 4.30pm. All in all a very pleasant and happy day. One or two of the members even grew fruit trees (cobnuts and walnuts in Kent). The master and his wife were both QCs and the mistress sat next to my brother at a dinner in London the night before the visit here. Quite a coincidence as they had never met before.
2015 – CHW
Grass cutting now for a week and the area around the house is starting to look tidy. It remains to be seen if we will need much of a second cut in September. So far a very fine March to June despite what everyone from up country is moaning about (cold nights, wind etc). Cornwall, for once, has had the best of it I suspect.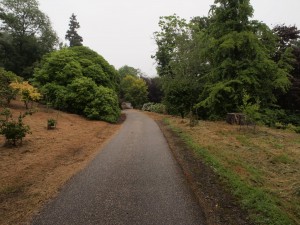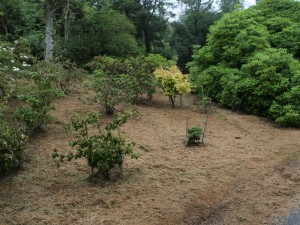 The Fuchsia magellanica var gracilis hedge above Lower Rockery is full out now. Much less tall growing that Fuchsia 'Riccartonii'.
A clump of (I think) Iris foetida in full shade behind the yew trees on the lawn. The huge seed pots are correct for this species anyway but I have never noticed the flower before.