2017 – CHW
A drab day on return but the magnolias outside the back yard are simply perfect! Magical even.
This one is on the mound through the arch. An unnamed seedling between Magnolia campbellii and Magnolia mollicomata.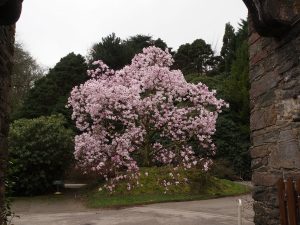 Magnolia 'Caerhays Belle' at its best. Note the darker colouring as the flowers first open, then lighter as they open fully.
What other tree gives this sort of dramatic show? Breathtaking!
2016 – CHW
Magnolia 'Caerhays Belle' has survived yesterday's gales reasonably but by no means completely intact.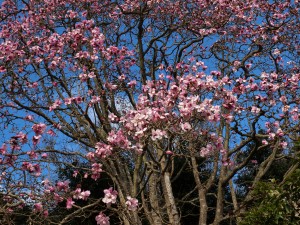 Off to the greenhouse to show Asia how we used to sow rhododendron seed in boxes of soil with a light dusting of chopped moss on the surface when I was a child. If a rhododendron seed is to have a chance of germinating in the wild it needs to fall on damp bare soil. This sort of shady spot is very likely to have moss growing on it anyway and so we are trying to recreate the ideal environment to encourage germination by these tiny seeds which come like dust in profusion from the seed pods collected when brown and opening last autumn. They have been kept in dry but not warm conditions over winter and not in the fridge (although tougher rhodos who are used to cold may like this). In an envelope in the potting shed with no heating in reality.
Camellia forrestii has delicate white strongly scented flowers in the greenhouse. I have never seen this in flower before and never remember it in the garden here. Clearly it is rare as not in Hillier's and it looks tender. However its name suggests it was a George Forrest collection so I need to dig further. Forrest found it in the Shweli Valley where he describes 'mile upon mile' of the valley hillsides being absolutely covered with clumpy bushes of 2-3ft ranging to 10-20ft and varying in colour (like here) from white, to shell pink and crimson.
A new plant of Tilia endochrysea is coming into leaf in the greenhouse with bracts opening to reveal tiny reddish leaves. Quite breathtakingly beautiful, new to us and very odd. A novelty indeed!
Asia has picked out and potted the first of last year's rhododendron seedlings. Most of these are Rhododendron desquamatum and Rhododendron heliolepsis.
Nearby are well potted seedlings from last year's sowing of seed from our Michelia crassipes (now Michelia laevifolia I believe). Not bad in 12 months.
Azalea malvaticum which is basically white is 'sporting' a pink twig or two in slightly different areas of the plant to last year.
Acer kawakamii (now renamed as Acer caudatifolium) has leaves and tiny inflorescences appearing early as is now the norm although it is always one of the first acers to leaf up.
At the bottom of the Auklandii Garden more (somewhat hidden) evidence of yesterday's gale. A large Prunus incisa has gone over as has one of the three 1920s planted podocarpus species. The podocarpus might reshoot if cut off and up righted again.
1935 – JCW
Daffs fairly well on. Cydonias give us a lot of flowers.
1934 – JCW
Daffs late in and outside the Tin Garden. A fuschia or two just moving a little, the best thing has been R lutescens.
1928 – JCW
Much as in 1918. I picked a half open sinogrande.
1919 – JCW
Daffodils well ahead of the above, the following Rhodo's are open now other than hybrids of which there are many (say 15 kinds some in numbers) 21 species of which the best are argenteum, oleifolium, moupinense, sutchuenense, the three arborescens, ciliatum, lutescens.
1907 – JCW
Far later than the above. Some G Spur, H Irving and Caerhays. Several Camellias, Nar maximus just breaking spathe – one Cam reticulata open. Rho praecox half open.
1904 – JCW
Dauntlep open but nothing else in the way of Sir W, Horsfieldii or Emperor.
1901 – JCW
None of the above open except Dauntlep.
1898 – JCW
One or two each of Sir Watkin, Emperor, Horsfieldii out also Dauntlep, one or two H Spurrell, most of the Golden Spur and R praecox seedling. Jacko but two inches high and so Weardale, nearly all the Italians out, there has been a week of cold and frost.