2018 – CHW
A fine and sunny day at last and we have managed to break the back of this year's new planting. The more tender plants for the Isla Rose Plantation have gone in ahead of the formal opening on Saturday. In addition the rhododendrons from the frames are nearly all out. A couple of loads to Kennel Close and a load of very rare new things around George's Hut in odd gaps. Still another day is needed to finish oddments.I have never seen a cone on Cunninghamia lancolata before. Jamie found this blown off from the tree in Old Park. An odd shaped seed cone which hangs down from the new growth.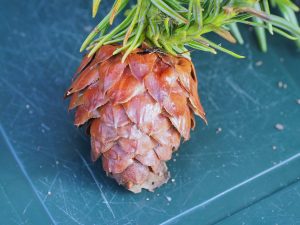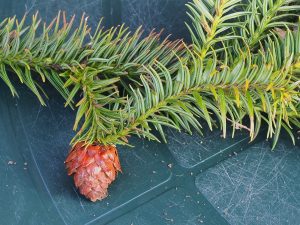 A large batch of new buddleia species its planted out above the Four in Hand. Two of each of 8-10 species. All are new to Caerhays.
Funny how Cornus 'Norman Haddon' has had nearly all its leaves scorched off in the wind.
However, alongside it, Cornus capitata is hardly touched at all? Then one thinks about it and Cornus 'Normna Haddon' is a cross between C. capitata (evergreen) and C Kousa (deciduous) so the answer is obvious.
Salix fargesii has very attractive twigs and new growth buds.
Camellia 'Pink Icicle' has very variable flowers as they open fully.
Magnolia 'Cecil Nice' about to open.
Camellia reticulate 'Dr Clifford Parks' with its first flower opening.
Camellia 'Kick Off' just starting too.
Camellia 'Black Lace' with its first offering.
Camellia 'Duchess de Caze' is also now on parade. I don't like the colour mix.
This is Magnolia 'Pickards Garnet' which is a good magnolia for a smaller garden slowly comes out. A long lasting flower by magnolia standards.
First flowers on the drive plant of Magnolia 'Caerhays Splendour'. This is flowering very sparsely this year in contrast to last when it was plastered. The flowers are slightly smaller than on the best plant.
One of the original Magnolia mollicomatas full out by Red Linney.
Magnolia 'Iolanthe' just breaking below Red Linney. A curiously shaped spreading tree.
Magnolia denudate 'Forrest Pink' is now full out.
Opposite it the enormous flowers on this Magnolia campbellii alba seedling on the drive are suddenly full out and drooping down to enchant passing visitors.
This errant deciduous azalea is out again two months early as it has been for many years.
The light is wrong to capture Magnolia 'J C Williams' which is now just out so we must make do with a couple of close ups to see the true and unique colour. Very dark indeed and in need of a blue sky behind it.
We saw and admired this unnamed seedling last year which is just below 'JCW'. It is probably the best of the as yet unnamed ones here but perhaps too similar to 'Caerhays Splendour' to merit a name of its own? It is already a fantastic addition to the collection though.
Another original Magnolia mollicomata near the Hovel. Note the 'light bulb' shape of the flowers which so defines this true species and, to a lesser extent, its hybrids.
A few long distance views of the drive showing all these magnolias including 'JCW' and 'Forrest Pink'.
A nice mix of yellow and white. Rhododendron moupinense going over and Rhododendron Golden Oriole var Talavera in front.
2016 – CHW
I am starting the photography to accompany an article I hope to write in the summer about michelias and manglietias. Here is the
full article (Michelia Puzzles)
, it was published in the Cornwall Garden Society journal. A good day for photography but much of the subject matter has blown away!The largest Michelia 'Touch of Pink' is not out yet but becoming a very fine tree.
The massive Michelia doltsopa by Georges Hut has wind damage but is full out six weeks early.
Next to it is supposedly a huge Michelia floribunda with, today, a few yellow flowers right at the top and an attractive trunk. We have always known this as M floribunda but, when I look in the reference book (Magnolias of China 2002), it actually looks more like Michelia champaca than M floribunda in the flower photos. The leaves pictured are however more like M floribunda. Nevertheless the reference book is clear that M floribunda is white and M champaca is yellow or orange. The jury is still out on this one awaiting Tom Hudson's visit next week.
The largest Michelia doltsopa of all below Donkey Shoe (record tree) is a bit more sheltered but it is hard to find an unspoilt individual flower.
Next to it is Michelia doltsopa 'Silver Cloud'. A Hillier's introduction via New Zealand with very large pure white (rather than creamy) flowers and a different scent to the parent. This is more like cinnamon.
Then we get to three original michelia plants above the greenhouse which used to have lead labels and collectors' numbers. They are not identical in leaf form and one is far more deciduous than the other two. Only one is out today at the very top with white flowers. Here are some pictures of the leaf form, underside of the leaf, trunks and the three trunks in one shot. Owen Johnson, measuring record trees here in 2006 and earlier, has billed these three as all being Michelia floribunda. Certainly they are not Michelia doltsopa but what then is the plant by Georges Hut? Johnson believes it is M floribunda as well but I have serious doubts now as to whether he is right especially as he will probably never have seen it in flower. Michelia champaca did come to Caerhays in the late 1920s according to JCW's notes.
Next door is a huge Manglietia insignis which I had forgotten about. Quite a similar leaf form and trunk to the nearby michelias.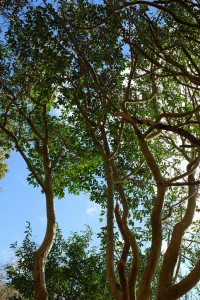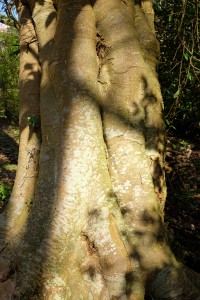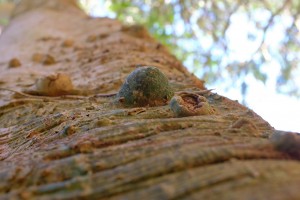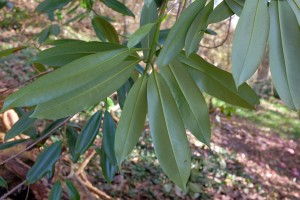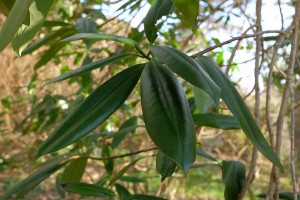 Two 1991 planted Michelia doltsopas have made wonderful growth and will be the feature plants in the garden in 40 years' time. One flowered at a much earlier age than the other and this is still evident today where one has much more flower than the other. One has caught the wind and lost some leaf but this certainly will not hurt the plant.
Michelia foggii 'Mixed up Mess' (silly name) is just out and quite nice really. The adjacent and also 2013 planted Michelia foggii 'Bubbles' has died.
A 2010 planted Michelia 'Touch of Pink' is in flower and excellent. It is a touch of purple at the tip of the flower in reality!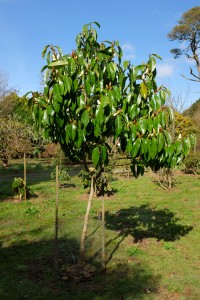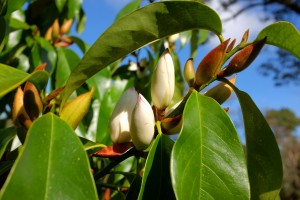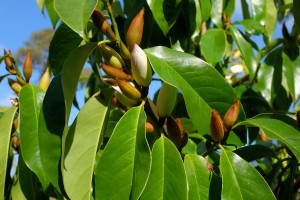 This may or may not be Michelia foveolata (no flowers yet). Looks more like Michelia maccleurei in the reference book to me when in flower.
We pass by Magnolia 'Caerhays Philip' again on the michelia hunt and it is out more fully but still the translucent colour is not quite as good as last year.
The third huge Michelia doltsopa towards (rather than beside) Georges Hut catches more wind and is flowering away on leafless branches at the top of the tree.
2015 – CHW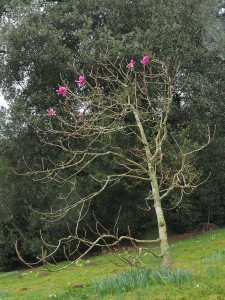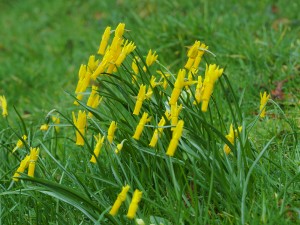 Narcissus 'Mr Julian' in full flower on the top bank above the Smoking Room window. The clump is expanding. This was a Narcissus cyclamineus hybrid bred by Ron Scamp and named after my father. Narcissus cyclamineus used to grow outside the side door (killed by dog urine on shoot days) and still does a little in the Auklandii garden. A small seedling plant of Magnolia mollicomata 'Lanarth' full open but with only five flowers on the bank opposite Georgian Hall. This slow growing and stunted plant is exactly as it should be as a pure wild collected seed form of 'Lanarth'. The original six plants from China still grow in Lanarth garden on the Lizard peninsula and have an identical habit and are sparse flowerers.  However this plant has only flowered twice since it was planted in 1955 (admittedly in poor soil on a hot bank). A shy flowerer indeed!
1998 – FJW
Some rain, Magnolias excellent and Camellias have never flowered better. Another mild winter.
1969 – FJW
Cold east wind gone – slight colour on 'Mr Garden' and campbellii – none on Donkey Shoe robusta. Saluenensis past best and williamsii nearing theirs. Wild reticulatas excellent.
1964 – FJW
East wind has gone. Colour on Magnolias for 14 days but no movement. Mag 'Mr Garden' and Donkey Shoe robusta very near over.
1961 – FJW
Young ducks on the pond.
1930 – JCW
No Magnolias of any kind or Reticulatas or Calophytum or Fargesii. Young ducks hatched on the pond.
1927 – JCW
Much as in 1921 excepting for the absence of most of the flower bud. Lutescens and the scarlet hybrids are good.
1921 – JCW
A great lot of Rhodo's open, Sutchuenense at their best, Mrs Butler x coming on well, Impeditum set good, some other but forms. E darleyense remains good.
1910 – JCW
Many reticulatas, Prunus pissardi going over and has been very good, 50 bullfinches killed, Ciliatums going over.
1909 – JCW
Much as in 1901 only later.
1907 – JCW
One Camellia reticulata open, frost at night, but there is some little movement going on.
1901 – JCW
Back from Lanarth, he has one incomp open, Queen Bep, I have none. Cernuus is hardly open, H Irving well, Maximus mostly, Caerhays a good many.