2019 – CHW
Some newish magnolias in Kennel Close.
In a magnificent Michelia year Michelia 'Touch of Pink' (it is purple really) stands out.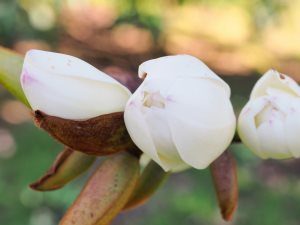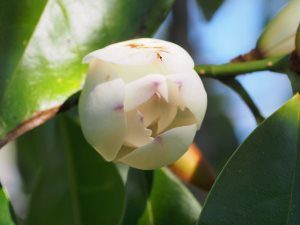 At last a young Magnolia nitida which is getting away with its red new growth showing already.
Magnolia 'Angelica' – second flowering.
Magnolia 'Spring Rite'
Magnolia 'Paul Cook' – third year of flowering – planted 2014.
Magnolia 'Black Tulip' x 'Deep Purple Dream' – a really good deep colour in a small rounded flower.
Magnolia x brooklynensis 'Titan' – first flowering and not quite what I would expect from a x brooklynensis hybrid. 'Titan' is a brand new one to us so perhaps it is correct?
Magnolia 'Anya' – buds recurved.
Magnolia 'Sentinel' – smallish buds but very floriferous on a small plant.
Magnolia 'Amethyst Flame' – this really is not at all bad with a whitish rim to the tepals.
Camellia 'Nuccios Jewel' is just coming out. A good new thing to propagate.
A white Rhododendron calophytum seedling just showing. Not quite true to name really but good enough here.
More Rhododendron calophytum – a better pink form here with the leaves the right shape but still smallish flowers.
An elderly (40 to 50 years) Camellia reticulata 'William Hertrich'.
Camellia 'Midnight Variegated' – the variegation is on the outside of the outer petals and only evident on fallen flowers.
An elderly Rhododendron sutchuenense. Not as good as the young plant seen earlier in the week.
Camellia 'Extravaganza' with irregular red flecking in some but by no means all the flowers. Similar in habit to 'Mrs D W Davis'. Perhaps the best new camellia to emerge since the cold and snow. Aptly named too!
Camellia cuspidata finally full out.
Rhododendron impeditum 'J C Williams' just starting to flower.
Camellia 'Miss Charleston' rivals 'Dr Burnside' as the best double red Camellia japonica. The latter is more popular today with the public but undeservedly so. It flowers much later than the Dr too.
Rhododendron arboreum 'Sir Charles Lemon' just coming out. Except Sir Charles should be white flowered! The leaf indumentum is correct but not the flower. Definitely Rh. arboreum but I was 'sold a pup' many years ago by someone!
Osmanthus delavayi just out below Donkey Shoe. These plants were replacements for an elderly hedge which died off of old age here. They were too old to cut back to reshoot (20ft plus).
Magnolia 'Burncoose White' (or 'Tennis Court') – the near white form of mollicomata is flowering profusely in the Rookery. Now that the Bond Street plant has split in half this will be a good substitute. Planted only in 2009.
Beside it is a magnolia which on the plans is shown as 'Pegasus'. Clearly it is not! Perhaps a 'Charles Raffil' or a 'Princess Margaret'. I think the original plant died and was replaced but the label has vanished.
2010 planted Magnolia 'Apollo' just coming out. We now have three or four of these good New Zealand hybrids of a similar age. Another good magnolia we seem not to have planted with all the others in the early 1990s after the hurricane clearances.
Magnolia x loebneri 'Ballerina' – the third of these x loebneri forms in the last three days. Less tepals here perhaps but certainly nice enough. All of them make an excellent impact. So we still have to find 'Donna' and 'Mags Pirouette' for a full comparison of all of them.
A wild collected seed Magnolia cylindrica just coming out. The reddish stripe at the base of the flower is hardly yet visible. Our original ?1950s cylindrica is smaller growing and pure white.
One of the original white arboreums on Burns Bank. The second plant beyond this is about to die of old age at 60ft. Too dark now to catch this.
A young Camellia reticulata 'Captain Rawes' bought from France is flowering for the first time below Burns Bank. Different in colour and shape from the Tregullow plant in the Auklandii Garden. Stamens much smaller and less visible and more of a partial semi double.
2016 – CHW
Easter Sunday. To Burncoose for family Easter lunch with my brother and a very fit Mrs Piper. There has been a serious cock up with the export quotes and orders. Basically the office have not done any since early January and I find a file deliberately hidden away with over 40 to do. What plonkers we look to our potential customers. I am not feeling in a charitable mood as everyone pathetically blames each other / not my responsibility. Better not say any more here but they will all be done by the end of bank holiday Monday!Amid the heavy showers (some hail) I manage a quick trip to the Top Lodge to look at one or two new magnolias here. A couple have died and a few struggle.
Magnolia soulangeana 'Dr Callies' is flowering for the first time in the teeth of the wind. I guess it is a soulangeana variety but I can see very little to get excited about. From Eisenhut originally.
Along the top bank above the drive we planted, in 2008, alternate magnolias and birches with good bark. Some of the birches are shaping up nicely but the labels have mainly not survived the exposure and then the rain drives me back to the car.Rob and Tim have cut up the fallen pine and macrocarpa from the Wednesday northerly gale. A neat job and we now need to plant other trees or conifers in this exposed gap.
Camellia x williamsii 'E G Waterhouse' looks good beside where I have parked the car.
2015 – CHW
Annual Caerhays Gardening Weekend starts badly.  Harvey Stephens, who runs the Savill Gardens, has decided to compete with Caerhays in the magnolia classes at the Boconnoc Cornwall Garden Society show (Jim Gardiner judging).Caerhays thinks it owns the magnolia cups after 10 years and outside competition, especially from Windsor, unwelcome!  Harvey is Cornish (although Nadia his wife is not) and started working life at the Probus Demonstration Garden with Jaimie so perhaps he can just be forgiven.  Windsor hold another of the four Plant Heritage National Collections of Magnolia.  Anyway he brings gifts including a Mahonia,  so after we inspect this and Nadia's Russian vodka we lose the competitive edge.
When I see Jaimie's entries in the magnolia classes the competition is over anyway. It turned out  three magnolia cups returning to Caerhays and the Walter Magor rhododendron cup going to Burncoose for the first time since 2006. Well done Rob Toy!
1987 – FJW
Another very bad gale – more damage at Burncoose than here. Irroratum blown over. Magnolias show they were blasted by January cold.
1967 – FJW
Hale from above and oil menace growing.
1964 – FJW
Robusta in Donkey Shoe at its best – Irroratums have been good. 'Mr Garden' has been excellent but is now over. Poor magnolia year. St Ewe hedge just past best.
1934 – JCW
No real cold for a long time. 3 or 4 magnolias show some flowers. Mag denudata has the most bloom.
1923 – JCW
We are a long way ahead of 1917.
1912 – JCW
The Barbatums, Mrs Butler x, Thomsonii x, are at their best and so the Arboreum. Rho fargesii, the big quarry plant, is most beautiful. Anenome alpenina good, daffs at their best.
1908 – JCW
No Reticulata but stuff has moved well in the last week. ½ of (Narcissi) King A open.
1907 – JCW
Well ahead of 1900, 1901, 1902 and 1904. Citron is opening. Monarch open and nearly all King A.
1904 – JCW
Picked a Cam reticulata well out, only half King A open.
1901 – JCW
Jacko shows colour and Cardinal is picked, two flowers hardly open.