2022 – CHW
Colder with yet more east wind. It has been dry now for a fortnight.
First flowering here that I have seen of Rhodoleia aff. parvipetata (WWJ 11943) which is startlingly good. The tree has attractive bark and is now about 12-15ft tall with two main stems. Very glossy leaves and clearly tender so grown in a warm and very sheltered spot in dappled shade. I will photograph the flowers again when they are further out. Planted in 2014/5. Acquired from Crûg Farm as a 5-6ft tall specimen which has grown quickly.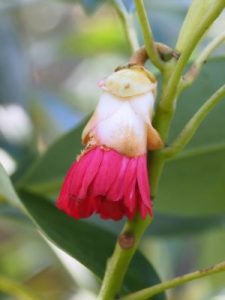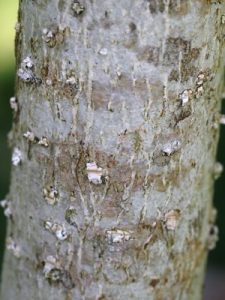 Rhododendron stenaulum (Rh. moulmainense) is flowering sparsely this year but the new growth is already well developed and also most attractive.
Leujocum aestivum 'Gravetye Giant' now full out at Tin Garden. This was full out in Cheshire on 11th February.
Salix udensis 'Golden Sunshine' with flower and leaf in the sunshine.
Magnolia 'Lili Diva' darker than it appeared a week ago (no picture in Eisenhut book). The German translation of the Eisenhut book says that this is a sister seedling to M. 'Spectrum' and M. 'Galaxy' but with a stronger colour than either. The flower shape suggests that we probably have this correctly named.
Magnolia sprengeri 'Westonbirt' (I think) on the plan. Label now lost. One flower only and clearly a sprengeri which I assume came from Jim Gardiner with the sprengeri 'Dusty Pink' nearby. Very good!
Magnolia x brooklynensis 'Titan' is clearly the first of the named x brooklynensis varieties into flower.
Magnolia kobus 'White Elegance' full out a week after we first saw flowers showing.
Magnolia 'Sentinel' living up to its name I guess as the buds curve like sentries.
Magnolia 'Amethyst' – ditto as regards its name.
Magnolia 'Anya' slightly wind battered but some flowers opening flat which I had not seen before.
Magnolia pseudokobus 'Kubishimodoki' just into flower in several places in the garden.
We have often showed Rhododendron formosum at Chelsea but here it is full out already.
Michelia 'Touch of Pink' now showing colour. It is a touch of purple really at the tips of flowers as I have said before.
As is Rhododendron 'Else Freye'.
Three flowers on the Magnolia 'Pegasus' which fell over and was chopped back hard two to two and a half years ago.