2020 – CHW
A trip to Burncoose and some nice rhododendron combinations in the cash point:
praecox and 'Bric-a-Brac'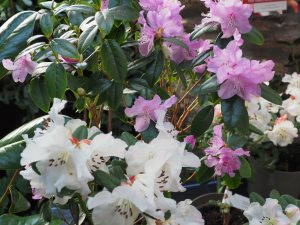 praecox and 'Christmas Cheer'
'Ostara' and cilpinense
'Ostara' and 'Bric-a-Brac'
cilpinense and 'Bric-a-Brac'
Magnolia campbellii 'Darjeeling' at the entrance to Burncoose Garden.
Huge flowers with white flecking on Camellia 'Anticipation Variegated' by Burncoose Lodge.
A good bit of laurel hedge cutting.
One of the two huge beech trees which fell into the old walled garden before Christmas.
Yet another beech in the old walled garden from the other direction. More to fell nearby too in order to make an exciting new planting area for next spring.
Magnolia 'Plum Pudding' at its absolute best.
A young Magnolia 'Caerhays Belle' – breathtaking today in the sun.
Quercus stenophylloides with new growth already apparent on this Taiwanese species which may well be a bit borderline hardy as a result.
2018 – CHW
Storm Emma has produced the harshest east wind gale overnight and today that I have ever experienced at Caerhays in my lifetime. Stormforce 7 or more? It is less frozen underfoot but the wind chill factor is still about -9C (or so the dear old BBC says). The gardens remain shut to the public and very few staff have made it in to Burncoose or Caerhays. The first report of major roof damage at Caerhays Barton Farmhouse but nothing can be done in these conditions. More serious damage by close of play today.It is unsafe to go into the garden and the drive is certainly a battlefield of small twigs and branches. I am itching to see the extent of the cold damage to tender plants like michelias or much of the new stuff from China/Vietnam via Crug Farm and Tom Hudson. It may well be as bad as 1963 which I can just remember. Cold and still then rather than a week or more of freezing east winds.The annual nursery auction sale tomorrow has been cancelled. Major frozen/burst pipe issues at Burncoose who seem not to have drained the system a week ago. (No comment!)
Snowdrifts remain but the wind has blown most of the snow off west facing fields. First lamb births imminent. I wonder if the nets over the pheasant laying pens have survived the snow and wind. Another major cost of all this disaster I expect.
More snow forecast this afternoon. Cornwall is gridlocked and at a standstill with rail links at Dawlish again broken. I believe the West Country may be worse off than the rest of the country. Edwina still hopes to fly to New Zealand on Saturday from Heathrow?
Thank heavens for open wood fires!
Karol has good pictures of the huge 4 feet high snow drifts below the church and at the Portholland turning.
To cheer us up Jaimie has installed the magnolias in the hall. These were cut exactly a week ago for the Spring has Sprung in Cornwall party at the Nare (which didn't of course happen) before the east winds started. The purple one in the centre is
Magnolia 'F J Williams'. I rather doubt that anyone in the country is admiring such a display today!
Magnolia campbellii 'Lamellyn' with far less flowers than last year is now full out on the drive about five weeks later than last year. Poorish small flowers too so far.
Rabbit damage on the 'Lamellyn' root system too not far from the damaged rhodo.
The Hydrangea 'Fireworks' clump has been nicely pruned back hard from the drive. Nice new shoots coming through. About 10 years of growth removed. It will, I expect, be a year or two before it flowers properly again. We saw some colour still on this in November in this blog.
Rather odd to be filming (live) outside the front door with Lizzie watching it live on TV at the same time 12ft away! The wonders of modern technology all in a large van with a huge satellite disc. Their phones did not work but the satellite did!
2016 – CHW
Finally an escape from the office to half a day's planting this afternoon where we get out the 35 or so new camellias from France and the 11 new bamboo species also from France mainly into Kennel Close. No time to plant them all today and it will need several more days to complete this year's big plant out. It is plenty wet enough underfoot to be planting but the season is rushing on.
Magnolia 'Mossmans Giant' above the greenhouse is now full out. It is clearly a Magnolia campbellii 'Alba' seedling in reality but a particularly good one with huge flowers. Well worth its place.
Then we picked out 15 magnolias and assorted hardier trees from the greenhouse for Kennel Close planting tomorrow.
Still at least 50 magnolias on the frames still to go out though. Not all are quite big enough this year but we start piles to go to different places. It is still too bloody wet to get the quad to the greenhouse which means lots of carrying down the steps.
Magnolia 'Caerhays Belle' is full out now. This photograph is from the front door on an overcast afternoon with squally showers. The dogs have enjoyed it although Rio went to the beach and Nutty ran home to his mummy and howled at the front door upsetting the small number of garden visitors with their dogs on leads!
2005 – FJW
Roy Lancaster sent seeds of [?] tuscularia sp ?? Lithocarpus sp.
2002 – FJW
3 flowers on Lapageria. Campbellii very good and all Lanarth type Rhodo's.
1991 – FJW
Mild again – Michelia, Sasanqua and Rho macabeanum foliage all show bad signs of frost damage. No colour on the Magnolias. Best value Cam reticulata wild + cyclamen + snowdrops.
1965 – FJW
In the evening we had 14 degrees of frost.
1963 – FJW
First crocus picked by Charles.
1961 – FJW
Campbelli well open and Donkey Shoe Robusta splendid.
1960 – FJW
First Campbellii opened.
1918 – JCW
Nar cyclamineus has been open for a month and R moupinense in some cases, also lutescens and so Thomsonii x Arboreum. The Argenteums are bulging their buds well.
1917 – JCW
The first Nar cyclamineus opens. Moupinense at its best. Lutescens starting. Thomsonii x Arboreum shows colour.
1900 – JCW
Rho praecox has been open for some time. Narcissi G Spur shows colour, a fair lot of Caerhays and common double open, also a few Lent Lilies. Most of the Tenby open, crocus all out, half of the Maximus out, bits of Prunus triloba.