2018 – CHW
With some trepidation I venture out already depressed but prepared to become depressed even more. Too cold still to stick it for more than an hour. Everywhere there is evergreen leaf litter from leaves literally ripped off in the wind. Laurels, Michelias, camellias, lithorcarpus particularly. The worst I have seen since January 1990 after the hurricane struck from the west. Today it is the east side which has been pulverised and the 'Beast from the East' is still raging yet.The magnolias outside the back yard which we admired a week ago are more than gone! Totally fucked to put it mildly.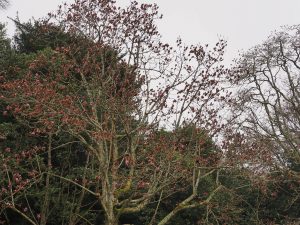 However the magnolia plant on the mound still (mainly) has both outer warm coats intact. I think the flowers will still be fine in a fortnight or so. This is better news than I had hoped or expected.
Like all our camellias 'Mary Jobson' was full out and now the flowers are badly frosted or blown to the ground. Not all is lost! There are many more buds to come out yet.
The Daphne bholua has been battered but may not be as dead as I thought.
The Cryptomeria japonicas bend dangerously in the wind. How they stay upright I do not know.
Snow still lies in drifts on the lawn or on west facing slopes.
Mainly Camellia leaves blown off on Hovel Cart Road.
Michelia doltsopa leaves allover the path by George's Hut.
But the buds facing away from the wind are still fine and well enclosed in orange furry indumentum around the flower.
The laurel hedges in Kennel Close with their leaves bent over in the gales.
Even the clumps of daffodils have been blown over, shattered and the flowers scorched.
A rather sickly young palm which has turned brown and may well soon die of the cold.
Disaster strikes the wonderful South African Podocarpus heinkelii which has totally snapped off at the base. Asia needs to rush to get cuttings on Monday. Other Chilean podocarpus nearby look fine but we know the cold damage can take 4-6 weeks to show up properly afterwards.
The supposedly evergreen Carpus Kawakamii isn't looking very happy either. Major frosting of its leaves and early new growth. Will it recover?
Magnolia 'Copeland Court' was a little frosted last year which caused some dieback. Rather more this year if indeed it survives? Bad damage all along below Slip Rail in the teeth of the east wind.
A carpet of blown off laurel leaves all along the Main Ride. How much worse it would all be without the laurel shelter belts! They have done their job at a cost to themselves.
Corylopsis spicata tries to come out and the flowers have survived so far almost undamaged.
Fronds blown off the big tree fern on the main ride. Its a bit thin on top but, as usual, Dicksonia antarctica lives up to its name for indestructability It came through worse than this in 1963.
The Champion Tree, Lithocarpus pachyphyllus, also has windblown green leaves carpeting the ground. I doubt that this will hurt it much.
Magnolia 'Betty Jessel' is just out and not yet at its best. Smallish flowers still without its true colour.
The New Zealand Magnolia 'Lanarth' is easily the most perfect and best magnolia in the garden today. Huge flowers and what a colour!
Camellia 'Mrs D W Davis' with its huge blousy (but irregular and somewhat varied) flowers is full out below Donkey Shoe. The flowers are so heavy that they bend the branches down so that you cannot really see the flowers properly.
The unnamed Magnolia 'Lanarth' hybrid in Old Park is full out now but these photos do not do its colour justice in the murk.
A good clean up of a large fallen oak on the top path in Old Park. It fell on the Gunnera manicata clump here but little damage except to two 10ft tall Rhododendron arboreum alongside.
2016 – CHW
Magnolia 'Black Tulip' is living up to its name and now showing colour.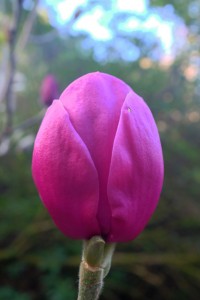 A full inspection of Magnolia 'Mr Julian' which is now full out so we can get proper pictures with the Magnolia Society International. To repeat this is a Magnolia sargentiana robusta cross with Magnolia sprengeri diva.
Using the RHS colour charts is not easy but with cut bud and flowers I have determined that for registration the colour codes are as follows:
In bud – Red Purple Group 70B – Strong Reddish Purple
Full out – inside of tepals Red Purple Group 73B – Strong Purplish Pink
Full out – outside of tepals
Purple Group 75C – Very Light Purple
We will now send off the full registration form with pictures from today and last week. The precise colour coding may be different in a day or two when the flowers go over.
Magnolia 'Caerhays Splendour' is full out and a bit battered. From only five flowers two years ago it is now adorned all over with 100 plus flowers. Jaimie thinks the colour is not as good as last year with less 'red' in it and I tend to agree but what a plant none the less!
Magnolia 'Caerhays Belle' from the other side today including the 2nd January flowerer to the left which is now both over and frosted with just the odd flower showing some colour. Further to the left outside the yard a Magnolia mollicomata seedling is coming out a muddy frosted off white. Horrid!
1999 – FJW
Still the rain continues – ground on farms waterlogged. Campbellii and Mag Philip Tregunna good colour, not so Diva + seedlings.
1995 – FJW
Very mild and wet winter now interrupted by a cold snap. Fate of Magnolia back in the balance.
1985 – FJW
Crocus, cyclamen and daffodils + 1 flower Mag Mr Gove + Busaco magnificent brought in.
1932 – JCW
Camellia speciosa at about its best in all forms, some may touch April.
1929 – JCW
None of the above except R lutescens. Frost has abated and rooks have started to build. I saw one carrying a big stick.
1928 – JCW
Argenteums well open, Mag kobus early form ¾ open, M haleana not yet. R sulfureum is very good in all places and so Lutescens. Corylopsis parvifolia very nice.
1923 – JCW
Argenteums at their best, say 30 species showing flower and a lot of hybrids, some of the Sutchuenense have been nice.
1915 – JCW
R praecox has been badly frosted, say a week of mild weather behind the above.
1914 – JCW
R praecox ⅔ open, Arboreum x Thomsonii VG, daffs coming on now, 32 has a few flowers open, R lutescens good, R argenteum ⅔ open, Prunus pissardi more than half open.
1913 – JCW
Some Auklandii x Arboreum show colour, Arboreum x Thomsonii at its very best, some splendid trumpets but very scarce, Clematis indivisa at its best.
1898 – JCW
Heavy snow and some cold, excepting Rho praecox much as on the other side.
1897 – JCW
Great storms of hail and wind to beat down all the daffodils, did its work well.