2017 – CHW
A garden tour with Jane Pruden and her mother. Jane was the real author of the last three books on Belvoir Castle/Estate.A drizzly and overcast day. An unnamed Rhododendron macabeanum hybrid full out. Pink buds opening to creamy white. Too far on for the early March Rosemoor Show where we exhibited it last year. David Millais said it was worth registering and naming then.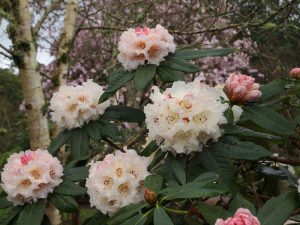 Magnolia 'Betty Jessel' is just out and not yet at its best. Smallish flowers still without its true colour.
The New Zealand Magnolia 'Lanarth' is easily the most perfect and best magnolia in the garden today. Huge flowers and what a colour!
Camellia 'Mrs D W Davis' with its huge blousy (but irregular and somewhat varied) flowers is full out below Donkey Shoe. The flowers are so heavy that they bend the branches down so that you cannot really see the flowers properly.
The unnamed Magnolia 'Lanarth' hybrid in Old Park is full out now but these photos do not do its colour justice in the murk.
A good clean up of a large fallen oak on the top path in Old Park. It fell on the Gunnera manicata clump here but little damage except to two 10ft tall Rhododendron arboreum alongside.
2016 – CHW
Magnolia 'Black Tulip' is living up to its name and now showing colour.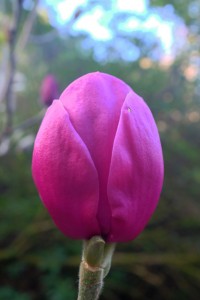 A full inspection of Magnolia 'Mr Julian' which is now full out so we can get proper pictures with the Magnolia Society International. To repeat this is a Magnolia sargentiana robusta cross with Magnolia sprengeri diva.
Using the RHS colour charts is not easy but with cut bud and flowers I have determined that for registration the colour codes are as follows:
In bud – Red Purple Group 70B – Strong Reddish Purple
Full out – inside of tepals Red Purple Group 73B – Strong Purplish Pink
Full out – outside of tepals
Purple Group 75C – Very Light Purple
We will now send off the full registration form with pictures from today and last week. The precise colour coding may be different in a day or two when the flowers go over.
Magnolia 'Caerhays Splendour' is full out and a bit battered. From only five flowers two years ago it is now adorned all over with 100 plus flowers. Jaimie thinks the colour is not as good as last year with less 'red' in it and I tend to agree but what a plant none the less!
Magnolia 'Caerhays Belle' from the other side today including the 2nd January flowerer to the left which is now both over and frosted with just the odd flower showing some colour. Further to the left outside the yard a Magnolia mollicomata seedling is coming out a muddy frosted off white. Horrid!
1999 – FJW
Still the rain continues – ground on farms waterlogged. Campbellii and Mag Philip Tregunna good colour, not so Diva + seedlings.
1995 – FJW
Very mild and wet winter now interrupted by a cold snap. Fate of Magnolia back in the balance.
1985 – FJW
Crocus, cyclamen and daffodils + 1 flower Mag Mr Gove + Busaco magnificent brought in.
1932 – JCW
Camellia speciosa at about its best in all forms, some may touch April.
1929 – JCW
None of the above except R lutescens. Frost has abated and rooks have started to build. I saw one carrying a big stick.
1928 – JCW
Argenteums well open, Mag kobus early form ¾ open, M haleana not yet. R sulfureum is very good in all places and so Lutescens. Corylopsis parvifolia very nice.
1923 – JCW
Argenteums at their best, say 30 species showing flower and a lot of hybrids, some of the Sutchuenense have been nice.
1915 – JCW
R praecox has been badly frosted, say a week of mild weather behind the above.
1914 – JCW
R praecox ⅔ open, Arboreum x Thomsonii VG, daffs coming on now, 32 has a few flowers open, R lutescens good, R argenteum ⅔ open, Prunus pissardi more than half open.
1913 – JCW
Some Auklandii x Arboreum show colour, Arboreum x Thomsonii at its very best, some splendid trumpets but very scarce, Clematis indivisa at its best.
1898 – JCW
Heavy snow and some cold, excepting Rho praecox much as on the other side.
1897 – JCW
Great storms of hail and wind to beat down all the daffodils, did its work well.