2018 – CHW
A Burncoose visit on a drab day but a quick trip around to see what was looking good.
Euonymus grandiflorus 'Ruby Wine' living up to its name with pink seed capsules. The best new autumn colour that I have seen for ages.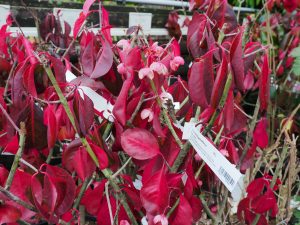 Cotoneaster 'Skogholm' looking very fine with its berries.
Gaultheria procumbens with particularly large red berries. Quite a sight!
Asterotrichion discolor – a new plant for the catalogue and in full flower. Not in any of my normal reference books. A tenderish shrub by the look of it.
Camellia 'Desire' full out in the cash point.
Lapageria rosea var. albiflora in full flower in a pot for planting out at Caerhays. Clare has grown or obtained this somehow but I still owe Tom Hudson a plant of the picotee form which grows on the wall here.
The last of the single pink Camellia sasanquas is full out in the sun outside the back yard.
Around the corner the first flower on the paler of the two Camellia saluenensis. Seldom have the two been out together!
This fuchsia might even be at its best today although now shedding flowers in the wind. Not a named one but hardy and vigorous after 40 years in situ.
Erica arborea in flower at the top of the rubus bank is intertwined with yellowing foliage on the long tendrils of new growth from the nearby wisteria.
The new shop is getting there but by no means finished yet.
Sarcococca hookeriana 'Digyna' with flower tassels not quite yet out beside the new shop. Quite a clump now from what was once, 40 years or so ago, a single plant in the corner of George Blandford's old vegetable garden which once held pride and place here.
2016 – CHW
Enkianthus campanulatus 'Wallaby' is turning autumn yellow. A very dwarf growing variety which has yet to flower here. Needs more sun.
Another batch of Camellia sasanqua varieties is full out below the greenhouse. Here we have:'Winters Toughie' – a delicate light pink double which opens out flat.
'Snow Flurry' – a delicate initially anemone shaped double white seeming fully double when full out. Large flowers for a sasanqua.
'Winters Joy' – a semi-double medium pink.
Quite a nice show overall with four more varieties yet to perform. 'Polar Ice' is nearly out and seems very similar to 'Snow Flurry' except that it has a more drooping habit.Rubus ichangensis has tiny raspberries which I seem to be a bit too late for sadly. Large trailing trusses of fruit not all of which has yet ripened properly. Quite a nice climber for a wall none the less.
2015 – CHWWork has started on the Nash arch on Battery Walk. This means we now have the pleasure of a portaloo and cabin in the Cutting. Dad keeps asking what it is doing there but, with Alzheimer's, the question gets asked many times and the answer always forgotten. Typically, due to Natural England's tardiness and obsession with 'jobs for the boys' rules, work has only now started at precisely the wrong time of the year.
1973 – FJW
Vase of November Pink in the house.
1932 – JCW
The best Sasanqua year I have seen. About 15 rhodo show bits of flowers of which Lutescens is the best.
1925 – JCW
C sasanqua has been fair, but a hard frost last night will finish them. Lapagerias remain the best as in 1918.
1918 – JCW
The old Sasanqua as good as it has ever been. Lapagerias fair, roses some, R decorum yet has flowers. Mucronulatum has a plant or two well out. Erica codonodes and darleyense show flower and so does Bob's heath here and at Werrington, it is very nice and white.
1906 – JCW
C sasanqua good, lapagerias good, several daff with jonquil blood are up and a few others. Useful lot of roses now.