2017 – CHW
The Camellia sasanqua clump below the greenhouse still full out – just double pinks today; the whites are over.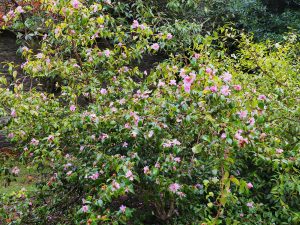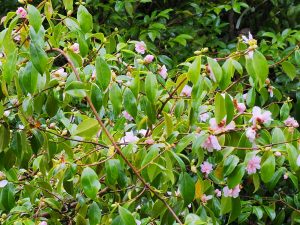 First flower on Clematis armandii 'Apple Blossom' rather earlier than usual. Three flowers only and just singletons.
Escallonia rubra var macrantha strangely full out by the greenhouses. At least that is what I think it is? Need to check with Jaimie.
2016 – CHW
A solitary flower left on the arum (Zantedeshia aethiopica) by the gents' loos. Looking at the growth on the clump this may be the first of next year's flowers rather than the last of this year's. No frost at all yet anyway!
2015 – CHW
We do not think of wisteria as being good autumn colour but just look at this adorning the outside gents' loo! The actinidia grows through it and is still green. This is Wisteria sinensis 'Black Dragon' but other older wisteria growing in ancient yew trees are just as colourful at present. Another nice surprise on a day threatening to wet the shooting party.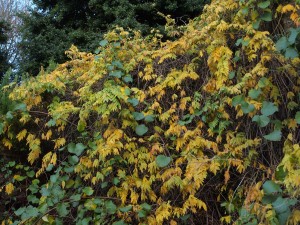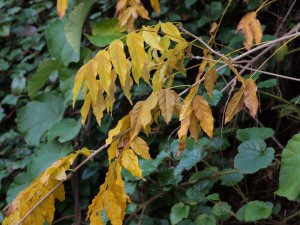 1979 – FJW
Philip brought in xmas cheer for the house.
1927 – JCW
The quarry cherry has a fair lot of flowers. The early Hamamellis mollis is open.
1927 – JCW
Much as in 1923.
1923 – JCW
We have had some frost as compared with 1922. Berberis polyantha is good now. Some Erica codonodes in flower. H mollis is moving but not showing colour. C sasanquas frosted. Erica darleyense not quite open.
1922 – JCW
Roses – lapagerias – hydrangeas – Erica darleyense are all fair. I saw the first bit of Hamamelis mollis, also the first few Camellia sasanqua. There is only one Maddeni hybrid open but it is very lovely.
1911 – JCW
Solanum not quite all out or C sasanqua, but we have had some frost. Roses hold on and the Erica codonodes are opening nicely. Clematis cirrhosa is good.
1909 – JCW
We have had two weeks of frost. Ice on the pond. A very rainless late summer and autumn. Very few daffs of any age moving. C sasanqua has been cut. Rho decorum is in flower now and has been all Oct and Nov. Lapagerias over.
1908 – JCW
The finest autumn anyone can remember. Daffs of most ages are showing. Roses the best I have known so late. Solanum good. Iris alata and stylosa open etc.
1902 – JCW
Camellia sasanqua by the stables very good. A few seedlings of all ages are up. A good lot of roses yet. Have renewed the lapageria border.
1898 – JCW
Many seedlings above ground, say a dozen. Some 3 yr olds about 10. A good few yearlings moving in particular the maximus x but no 2 yr olds.