2018 – CHW
Cotoneaster dammeri 'Hybridus Pendulus' growing well in a garden on the estate and looking superb today. Hilliers say it is a hybrid between C. dammeri with either Cotoneaster frigidus or Cotoneaster salisifolius. The berries are slightly red with a bit of yellow but perhaps not yet fully ripe.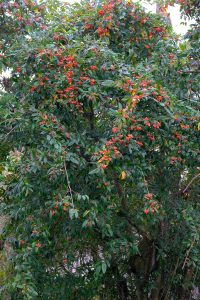 Euonymus europaeus with a good crop of fruits too which have yet to split to reveal the orange seeds.
A few excellent autumn colour photos on the drive today.
A young Rhododendron keysii with plenty of flower. Not unusual!
Peumus boldus just coming into flower. It should be out in the summer according to Hillier's. We do evergreen cuttings anyway. I think it was flowering now last year.
2016 – CHW
Nyssa sylvatica 'Wisley Bonfire' on Burns Bank is superb in the sun. This is a new entry in the 2017 Burncoose catalogue and will be a certain hit.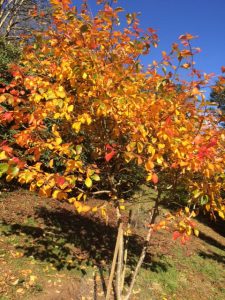 2015 – CHW
Progress has still been slow in developing the autumn colour on the four liquidambers:
Liquidamber styraciflua 'Oconee' has just a few hints.
Liquidamber styraciflua 'Gumball' has just one spray at the top which is going purple.
Liquidamber styraciflua 'Kia' is not bad but not as good as 'Red Star' which we looked at last week. This one has now half shed.
Just beside 'Oconee' I stumble across Quercus nuttallii which is a new species to me/Caerhays. It has a rather impressive brownish purple display of secondary new growth despite being in full sun in a dry, sloping spot. It is not listed in
'Hilliers'
 or in 'New Trees' so I can tell you no more.
1955 – CW
November Pink well out. Even saw some flowers on Camellia noblissima. Very early year. Mucronulatum full out as is Yellow Hammer. Received Sasanquas from Edinburgh.
1945 – CW
Camellias sasanqua and oleifera out, also a couple of flowers of hybrid in big quarry. One Saluenensis in the way of a Pink (dark) form above Crino hedge fit to pick, just opening. A lot of daffs up. Some fuchsias and lapagerias. One Mag delavayi open and a bud on Michelia by Engine House, and Engine House double white camellia.
1940 – CW
A few Mag grandiflora left – no others but buds on Delavayi. There has been a little frost but fuchsias not hurt. A lot of rain in the last weeks. Some daffs coming up. Camellia sasanqua good. One flower of Camellia oleifera out on wall for some days. Rho davidsonianum hedge much flower east end enough for a big lot in hall.
1926 – JCW
C sasanqua are and have been nice. Lapagerias good. The first Iris stylosa a week ago. The worst year for medium and early rhodo's, as bad I ever saw. Later sorts are good.
1912 – JCW
Just as above but Primula malacoeides replaces Iris alata.
1908 – JCW
Lapagerias fair. C sasanqua fair. Roses nice. No frost yet. Cyclamen over. Solanum good. I alata and stylosa nice.