2018 – CHW
Mespilus germanica in Kennel Close is absolutely laden with fruit which are approaching being ripe. I need to investigate how one should begin to eat these but believe they are best turned into jam?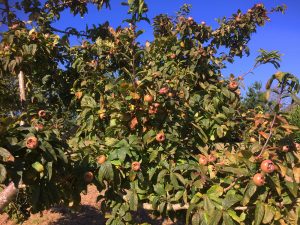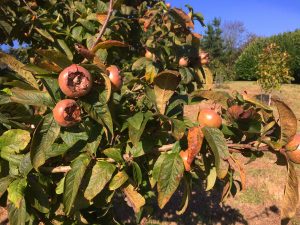 Magnolia 'Sweet Sixteen' has a single seed pod.
Amazingly Cercis canadensis 'Flame' has a crop of flowers. It was covered in flowers in the spring so I am unsure whether this is secondary flowering or whether the plant has simply got its seasons out of line after the drought.
From a distance I thought this was a styrax with secondary flowers. Impossible of course! Close to Styrax japonicus 'Snow Cone' has its first crop of very white coloured seeds glowing in the light sun. Well worth collecting soon when ripe.
Pterocarya rhederiana 'Fern Leaf' was only planted in the spring. It certainly lives up to its name and is well worth its position. Propagated in Holland by a new nurseryman.
2016 – CHW
More seed investigations today. Rhododendron eximium has set a few seeds on each truss but many of the flower trusses have now dropped their seed heads which had not set and have simply dropped off.  Those few which have set and swollen are still far from ripe.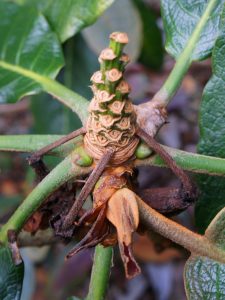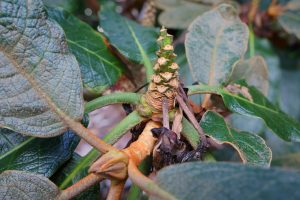 The quince shrub below Slip Rail is, as usual, full of fruit which will turn yellow when ripe. Old Mrs Kendall from Rescassa who sadly died last year used to come and collect them in November. Personally I find the smell of quinces sickly bordering on retch so I would not touch the jam if you paid me.
Ilex latifolia seeds which we saw ripe on trees last spring are still very green here and safe from the pheasants or birds for some weeks. A very unripe holly!
Vitex agnus-castus is just producing its pale blue flowers on a young plant, however the pictures I took are completely out of focus!  Rather like a salvia in appearance and a pleasant autumn surprise.
2015 – CHW
Some fruit and nice autumn colour on Cornus kousa var chinensis 'Wisley Queen'. The fruiting is irregular and confined to a few branches.
Corylopsis 'Spring Purple' has as good an autumn display as its spring bronzy leaves. This early leaf bronzing is seldom seen in small young plants in pots.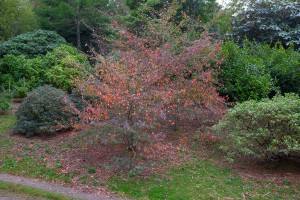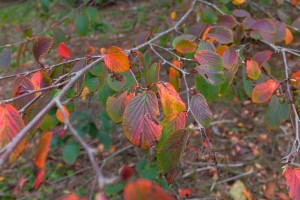 1947 – CW
Returned from Scotland. Very dry and rain badly wanted. Rho Yellow Hammer very good. Lapagerias nice. All the Rho auriculatum hybrids over. Hydrangeas good. Fuchsias very good.
1926 – JCW
There is nothing better in the place than Clematis panniculata. The fuchsia in the New Planting has flowers. Very little else in bloom.
1924 – JCW
Returned from Scotland last night. A wet cool summer. Most rhodo's did very well and so did most of the shrubs. Some rhodo's dead all the same. Not as many flower buds as we hoped but better than last year.
1914 – JCW
Hydrangeas going off. C panniculata good. Solanum nice. Cyclamen fair. Belladonnas very good indeed.
1907 – JCW
Returned from Scotland. Hydrangeas are the best thing. Cyclamen are very good. Roses bad, it has been a cold year, but good for rhodo's. C panniculata good.
1904 – JCW
Returned from Scotland, have been away for 3 months. The Lithospermum of Sir Francis is the best thing out. Solanums, woodwardias, cassias, musas, lemon plant are all nice. Clematis panniculata promises well. Cyclamen very nice.