2018 – CHW
Autumn colours on Liriodendron tulipifera 'Aureomarginata'. Not nearly as good a yellow as L. tulipifera itself further down the drive.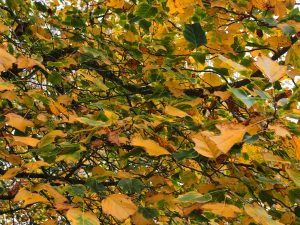 New cladding on the end of the old black shed. This will over-winter another 10 fat cattle. The work was talked about some 10 years ago!
Liquidambar styraciflua 'Red Star' exhibiting its whole range of autumn colours. Sadly the gales have broken its leader again. This is a real problem with young liquidambars. Yellow, then reddish, then a real red although some leaves are still green. Quite a sight today in the pale sunlight.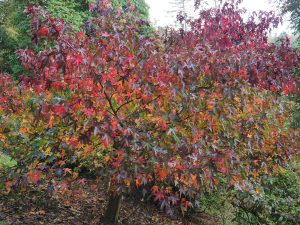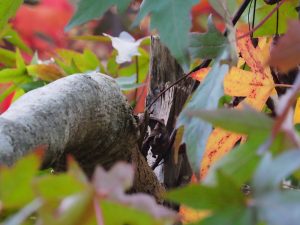 Deutzia calycosa 'Dali' with late flowers. This selection was named by Roy Lancaster following a 1981 expedition to Yunnan. Clearly this is going to grow into a large upright bush. The flowers are large by deutzia standards.
2017 – CHW
This is what Hurricane Ophelia did to the sand on the beach at Porthluney.
2016 – CHW
Horrid, very ripe bindweed seed outside the back yard, hidden, until now, in an azalea.
A clutch of new bought in magnolias from Magnoliastore. This is the list with several nice new things:Magnolia acuminata 'Seiju'Magnolia Kobus 'Isis' ® (Maráczi)
Magnolia Chameleon ('Chang Hua')
Magnolia 'Charles Coates'
Magnolia 'Crystal Tulip'
Magnolia 'Flamingo'
Magnolia 'Fukuja'
Magnolia 'Pink Charm'
Magnolia 'Purple Eye'
Magnolia 'Purple Star'
Magnolia 'Sentinel'
Magnolia 'Sybille'
This pyrus originated from Werrington. Its flowers have a vile smell which it takes its name after but I cannot remember or trace it in the reference books. I might get it from the Werrington Chinese Garden plant list. It may well be Pyrus pashia.
2015 – CHW
Symphoricarpos albus (Snowberry) on the lawn still has some leaves but the large white marble like berries are already forming. This used to be a much larger clump under the yew tree but my mother and I dug it up to make room for a swing some 50 years ago. This whole area was once covered by a huge Pinus insignis which I remember being felled. The indentation in the lawn where the stump was burnt and then covered with earth is still clear.
Just inside the gate in a corner is Sarcococca saligna now in full flower. This is a less well known species of Sarcococca with no scent and suckering stems up to about four feet and attractive narrow leaves. Quite tender and prone to being cut to the ground in a very cold winter.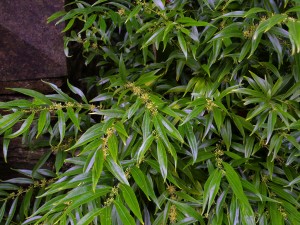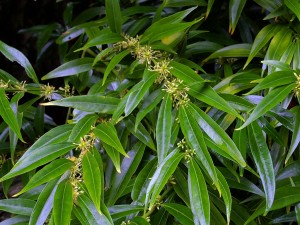 1982 – FJW
Two flowers on smaller C williamsii in Big Quarry.
1957 – FJW
Picked flowers Cam oleifera, 1 flower Burmanicum, Yellow Hammer good for a long time. Lapagerias and fuchsias excellent. Sasanquas flowering well having had last year off. Picked 3 ½ opened buds November Pink.
1943 – CW
Double white Camellia below Engine House out – also some Cornish Scarlet and a lot of Yellow Hammer – Sasanqua in full flower on wall. Mag delavayi and grandiflora both have flowers, also Nigra and Conpsicua.
1934 – JCW
Some Mag delavayi is in flower and perhaps more to come.
1932 – JCW
Magnolia delavayi has no flowers now, but Mag grandiflora has a number. The hydrangeas are good. C panniculata is V.G.
1928 – JCW
Camellia sasanquas start. Hydrangeas start, some blooms on Mag delavayi and grandiflora.
1927 – JCW
Clematis panniculata good. R moyesii fruit, also not much bud on Camellia sasanqua.
1922 – JCW
A late cool dry period for the last 3 weeks. Hydrangeas, roses, cyclamen, R moyesii (fruit) are all good.
1900 – JCW
Some Polyanthus up. Many good roses on walls and in beds. Belladonna V.G.