2018 – CHW
A few new things and oddments in flower at Burncoose today:
Phymosia umbellata is a new conservatory plant to us. An odd bud formation and quite an attractive autumn flower? I have never seen this before.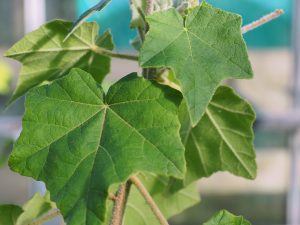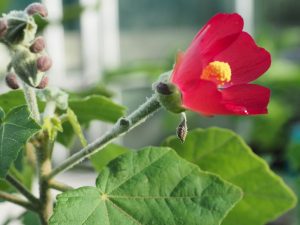 Neolitsea sericea flowering away in the autumn in the greenhouse as a young plant. This is an evergreen autumn flowering tree which I need to inspect here in maturity. I did not realise it was an October flowerer. No scent here today.
Lespedeza thunbergii flowering away just as the rather similar Indigofera species are finishing. Quite a show today as it would be in an outside border to finish the season off. A shrub worthy of greater recognition.
A large cyclamen corm seems to have been rescued by Asia and potted up in the greenhouse. It is flowering away well and soon the seeds will emerge on contorted 'springs' which is the cyclamen way of spreading its offspring.
A new plant for us – Lardizabala biternata (Lardizabala funaria) in a nice batch in the greenhouse which Asia has propagated from cuttings. I have never seen it in flower but two or three are now planted out here on walls. This is a vigorous climbing plant with edible sausage shaped fruit. I cannot remember how we 'got' a stockplant but Asia will know! Looks a bit tender but that is not mentioned in Hillier's. A flower next year we must hope and perhaps a new climber to offer on the Burncoose website. Rather serrated leaves!
2016 – CHW
Camellia sinensis is out in the greenhouse as a small plant bought from France last year. Its flowers exactly match the old plant on Burns Bank which has reshot from the base and not flowered for a bit. This is however much earlier into flower than I remember.
Camellia sasanqua 'Variegata' not only has gently variegated leaves but also flowers that are a contrasting white and pink. An attractive combination although the flowers last only a very few days in the greenhouse.
Four (of many) boxes of rhododendron seedlings grown the old fashioned way in soil with moss are looking good. Some seedlings have been pricked out already but plenty more for next year.
2015 – CHW
We looked at Cladastris lutea (kentuckea) a week or two ago. Its leaves are dropping already but are a picture of pure yellow in the sun today. When will this USA tree be big enough to flower?