2017 – CHW
A day making 30 short one to two minute video clips for the Burncoose website. Mainly for the topical tips section but also for individual 'plant care' articles. This week was the sixth and last day of filming at Caerhays and Burncoose over the course of the year. About 60 clips are now live on YouTube and also embedded in the website while 70 more still have to be edited before going live. Shayne House, the cameraman and editor of these films, thought we would only do six to eight per day. We have probably achieved four times that with lots of different people featuring in individual shoots. We have four categories or sections of topical tips on the site (amateur, woodland garden, herbaceous and greenhouse) for each month and four to eight tips in each section. Now we have short voice over films to accompany the tips and photographs which are already there. Progress we hope. It will be interesting to see the numbers who view the films and then buy something!
Along the way I find a lovely Hoya carnosa with its flowers dripping in nectar in the greenhouse. A good addition to the existing care article for hoyas as we stop to film it and its last year's cuttings which are growing on well.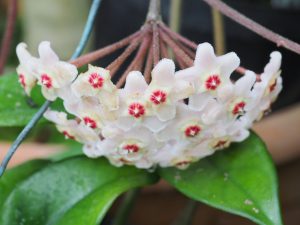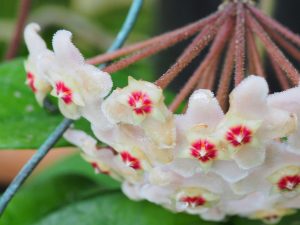 A large cyclamen corm seems to have been rescued by Asia and potted up in the greenhouse. It is flowering away well and soon the seeds will emerge on contorted 'springs' which is the cyclamen way of spreading its offspring.
A new plant for us – Lardizabala biternata (Lardizabala funaria) in a nice batch in the greenhouse which Asia has propagated from cuttings. I have never seen it in flower but two or three are now planted out here on walls. This is a vigorous climbing plant with edible sausage shaped fruit. I cannot remember how we 'got' a stockplant but Asia will know! Looks a bit tender but that is not mentioned in Hillier's. A flower next year we must hope and perhaps a new climber to offer on the Burncoose website. Rather serrated leaves!
2016 – CHW
Camellia sinensis is out in the greenhouse as a small plant bought from France last year. Its flowers exactly match the old plant on Burns Bank which has reshot from the base and not flowered for a bit. This is however much earlier into flower than I remember.
Camellia sasanqua 'Variegata' not only has gently variegated leaves but also flowers that are a contrasting white and pink. An attractive combination although the flowers last only a very few days in the greenhouse.
Four (of many) boxes of rhododendron seedlings grown the old fashioned way in soil with moss are looking good. Some seedlings have been pricked out already but plenty more for next year.
2015 – CHW
We looked at Cladastris lutea (kentuckea) a week or two ago. Its leaves are dropping already but are a picture of pure yellow in the sun today. When will this USA tree be big enough to flower?