2017 – CHW
Here is the elderly Camellia sasanqua in its full glory – four days after it first came out.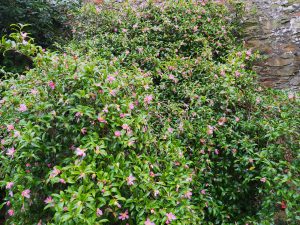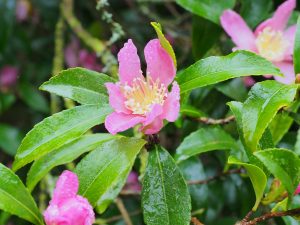 Camellia sasanqua 'Hugh Evans' has just opened a couple of flowers too in a pot beside the front door.
Mary Ashworth has sent photographs of 'Cornish loderi' at Werrington. There are no plants here but we took pictures of the Burncoose plant on the drive to compare trunk formation and leaf size etc.
Mary's trunk photographs and ours are very different. Werrington has Rhododendron loderi 'King George' and Burncoose has Rhododendron 'Cornish loderi'. The flowers prove it even more!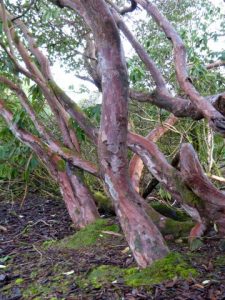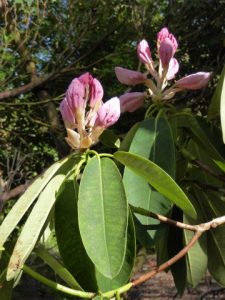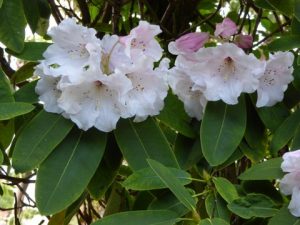 I mentioned how squirrels have recently killed a mature nothofagus and nearly also a mature aesculus. Here is the proof!The old monkey puzzle above the Tennis Court has been felled and cleared up. Very little damage to any nearby plants. If the trunk was worth anything it appears to have vanished!
The new multispan tunnel for growing on herbaceous plants is now built and potting is commencing. Cost £10k which is about double what I was originally told.
2015 – CHW
The newish bamboo plantings in Kennel Close have grown so well and look so superb I thought it might merit a whole day trip to record them properly. They all came from Stams Nursery in Ireland and were planted as groups of three or five in 2011. They were deliberately allowed room to spread and were intended to cut out underdraft and wind from the main garden. Although fully exposed to the westerly gales and some frequently nearly leafless after a 'salty' winter they are now firmly established, spreading out and doing their job. These were all species and varieties entirely new to Caerhays acquired as a result of a visit to Picton Castle (thankfully not National Trust) in Wales. There they have a series of ponds with well manicured clumps of bamboo reflecting in the water. The clumps are established and the culms (stems) trimmed up each year to show their colour, texture and nodes. Bamboo classification and (re) naming has been an even bigger and more moving and variable game for the 'bottom spankers' than the 'tree creepers' so do not worry too much if you are a 'spanker' and think these are wrongly named by the Irish. Just enjoy the differences and how well they look. Come to think of it few of the culms are big enough for any serious 'spanking' but when I come to see any being cut off and pinched I will naturally assume they are being used for growing runner beans and not by elderly Tory MPs in need of stimulation.
Fargesia robusta (good spanking name)
Chimonobambusa timidissinoda (poor spanking name)
Fargesia rufa (spankers' delight)
Fargesia utilis (make your own mind up)
Himalaycalamus falconeri (useless even for a donkey)
I am assured that this blog will now attract bamboo admirers! Well done Google. Whoever thought plants were dull!