Overnight at Ballyvolane House which was a grand country house hotel with an odd ambience where we were entirely on our own. Not much of a garden apart from the pigeon cage and a few Magnolia 'Susan' in an avenue up some steps. The owner suggested we might view their new wedding area but we declined. They made milk gin on the estate called 'Burthas Revenge'. Thomas tried some and survived. Smelt simply awful.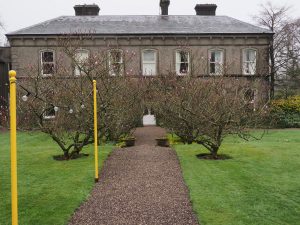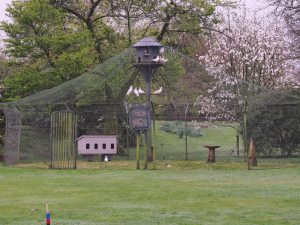 When we were at Mount Congreve 12 years ago the rhodo and camellia plantings were so thick that it was obvious Michael White, the head gardener, had a battle ahead. Four years after Ambrose Congreve's death the Wexford or Cork council are about to take over. House contents all sold. It may be taken over by the Irish state in the future as an option exists. Meanwhile Ambrose's mistress still calls the shots in the garden. Michael has done a superb job thinning and pruning where he can with 'only' nine gardeners and continues to replant furiously. Early magnolias much like ours were blasted away. More recent ones now showing nicely. 730 different varieties of camellia in the collection.
Fritillaria imperialis 'Aurea' in the first walled garden. Burncoose stocked this once and should do so again.
Ambrose restored this greenhouse but it is a wreck again in no time and needs the council money.
The climbing Hydrangea serratifolia with leaves much larger than ours.
Ipheion naturalised in grass and very effective.
Mount Congreve House now empty but soon to house a restaurant and exhibition halls.
Rhododendron 'Etta Burrows'
View of the house from the main garden.
Rhododendron kendrickii
Rhododendron magnificum we thought.
Magnolia soulangeana 'Lombardy Rose' is one we have in Penvergate. Quite good here and well worth a spot.
Magnolia sprengeri Diva 'Copeland Court' with a few decent flowers left.
Probably Rhododendron ciliicalyx or a named form was stunning.
Rhododendron pocophorum
Magnolia 'Felicity' (Magnolia sprengeri diva x 'Wadas Picture') was well worth growing and new to me.
Rhododendron mostroseanum nearly over. Neat leaf form.
Rhododendron 'Boadicea' – sparse flowerer.
Viburnum furcatum just coming into leaf. We planted this at home recently – forget where.
Arctostaphylos uva-ursi just coming into flower on a rockery.
Gaultheria wardii from Yunnan also about to show nearby.
Ilex dimorphophylla in a rockery. It is not a rockery species!
Magnolia 'Marjorie Congreve' is a huge flowered Magnolia campbellii alba seedling in my opinion. Nice but no better than many others and perhaps not worth a name. Michael said it was a different cross.
The Magnolia campbellii avenue flanked by Magnolia soulangeanas which were supposed to be all the same but are not. Pity the poor nursery which supplied these.
Rhododendron ochraceum
Magnolia 'Ambrose Congreve' was really good. Looked like a Magnolia campbellii but very late to flower and perhaps the best and least damaged tree magnolia which we saw.
Rhododendron thompsonii in maturity bending over with the weight of the flowers.
Camellia reticulata 'John Hunt' with the largest flower of any camellia I have ever seen. Here with Michael.
Telopea growing very happily outside. Two species I had not heard of with buds just breaking.
Magnolia sargentiana multipetala. We ought to get this. Poor picture.
Magnolia 'Hella Doyle' – smallish single pink flowers on a huge tree. Good new thing! Unusual.
The Ambrose memorial planting of a Magnolia 'Daybreak'.
Magnolia x thompsoniana 'Olmenhof' was highly recommended by Michael for scent and a lengthy flowering period through the summer.
Tapiscia sinensis was a new Vietnamese species to me.