On tour in the Savill Garden after judging with lots of new things to see and admire. An especially fun tour with Jaimie and Michael who were being 'naughty'!
Click here to return to the 7th April.
Magnolia salicifolia 'Concolor' – large flowers indeed for a salicifolia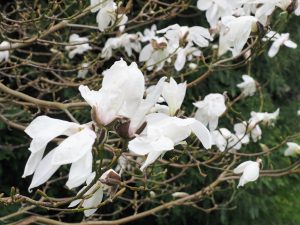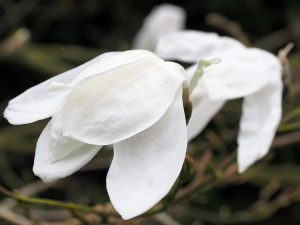 Jaimie now spied a green parrot eating the pollen or nectar in a Camellia x williamsii
This enormous wisteria was photographed last year. Here are a few more pruning photos for Julie to enhance my wisteria pruning care article.
Abies forrestii would be perfect as a vigorous replacement for the abies which blew down recently at Donkey Shoe
Magnolia sprengeri var sprengeri 'Eric Savill' not at its best but with a few flowers left
Aucuba himalaica var dolichophylla collected by Roy Lancaster and growing with us by the Playhouse. Flowers and seed setting.
Bark on Halesia monticola
Prunus incisa 'Beniomi' was superb from a distance and close up. Another to get for Caerhays.