2019 – CHW
Grass cutting in Old Park half complete. The gunneras at the zenith of their height by the old dog kennels. By the end of next week we can hopefully move onto hooking around young plants and bramble removal from shrubs.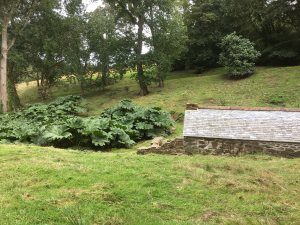 Cyperus eragrotis
Rudbeckia 'Summerina Brown'
Rudbeckia 'Summerina Electra Shock'
Not a great month to look at plants in a garden centre but the plant areas were cool and well maintained. Prices a bit above ours I thought.
These plants of Fascicularia bicolor especially good.
Asia has cut open one of her aerial ball layers on a magnolia to reveal plenty of callousing but no roots. A dry summer to blame or does it just take longer than we hoped?
A secondary flower on Magnolia 'Sundance' on Burns Bank. The first time this has had an autumn flower. It is similar to the spring ones but larger. This is a good thing in spring.
In my mind I had always thought that this tree was a carpinus (hornbeam) species. How stupid! Its flowers today are certainly not catkins! This, according to the planting plans, is Tilia kiusiana, planted in 2001. Hillier's omits to mention that it flowers in the autumn but today this tree (Hillier's say generally a bush) clearly has 'lime-like' flowers which are covered in bees and flies. I have never seen this species in flower before so this is a first for us at Caerhays. Tilia henryana is an autumn flowering lime (not out yet) as well so we now have two limes which flower out of season. Peculiar, but a rather splendid surprise today. The scent is definitely lime like too but would be unpleasant indoors. We must now have 12 to 15 new lime species growing on mainly in Kennel Close. T. kiusiana is well worth putting in the new Burncoose catalogue.
Magnolia obovata 'Pink Flush' has two enormous seed pods which Asia will need to watch and gather when ripe. We must also keep an eye out for seeds on Magnolia officinalis var biloba in Penvergate to see if this has seed pods too. Time for Asia to watch the various new species/forms of paulownia which we saw flower in the spring for seeds as well.
2016 – CHW
Another trip to photograph new plants for the 2017 catalogue and some existing catalogue plants looking exceptional.Begonia 'Betitochiba' looks to have a nice red flower and is apparently hardy to -5°. We will see! Begonia Rex like perhaps?
Polyanthes tuberosa – I have never seen this double form better in a pot at Burncoose. Exquisite scent.
Podranea ricasoliana – a most vibrant and late flowering climber which ought to be better known. Quite as good as the campsis which are now nearly over in the nursery.
Grevillea 'Robyn Gordon' – I have seen this many times at Ventnor Botanics and admired it hugely. Now we have a decent stock plant in full flower too in the show tunnel. Outstanding and probably the best grevillea?
Banksia integrifolia – the first time I have ever seen it in flower at Burncoose. Performing well as a stock plant in the show tunnel.
Cautleya spicata 'Robusta' – the hardy 'ginger lily' which is new to us although clearly our oversight.
Echinacea 'White Meditation' – yet another 'new' one. Who is breeding so many new colours? This one chubby but unremarkable!
2015 – CHW
Hydrangea paniculata 'Vanille Fraise' on the bank by the quarry is starting to colour up as it should from pure white which we showed a month or so ago.