2021 – CHW
The third day of strong east winds. The ground is drying up and it feels wintery with the prospect (distant) of snow next week. First flowers out about 10 days ago on Camellia saluenensis (paler form only as yet)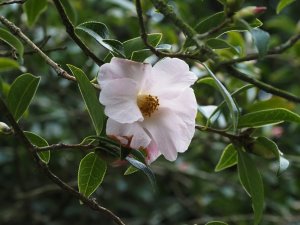 Camellia x williamsii ' George Blandford' now fully out.
Camellia pruning by the Acer griseum.
Despite trimming some lower branches a Magnolia 'Princess Margaret' has nearly fallen over and part of its roots have rotted off. Still buds showing for next spring though.
Roy Lancaster's Christmas card said he was using a picture of our Eriobotrya deflexa in a spring article in The Garden.
Surprisingly attractive peeling bark on Maackia chinensis.
Hidden away behind Georges Hut I find another large flowered Camellia 'Cornish Snow Michael' nearly in full flower. So easy to miss these mature but concealed plants. Perhaps the best thing out in the garden today.
One of our young Magnolia caveanas in a totally sheltered and secluded spot has leapt ahead four to five years on from planting and is now 10-12ft tall.
Pieris 'Charles Williams' (my uncle not me!) with early bud clusters.
2019 – CHW
First flower buds ever on Jaimie's 2005 cross of Magnolia 'FJ Williams' with Magnolia campbellii. Will this be an exciting new Caerhays hybrid or a 15 year disappointment? We should know by March but you must not entirely judge a new plant on its first flowers in the first year or two. One for our marketing team to be aware of perhaps for a spring media story.
Keeping the gardens 'tidy' is obviously desirable but look how much the woodpeckers have enjoyed this bit of dead wood. The new woodland management scheme will (one day when we qualify for it) require proof that we are leaving deadwood for exactly this purpose. Petty but common sense in a woodland garden context.
Polyspora axialis f. tonkinense (BJW 11750) has similar flowers but is a much more upright and larger tree. Now 12-14ft tall and threatening much more.
Camellia 'Sugar Dream' has its first flower and is a delicate pink.
An old wasps' nest in a Camellia 'Debbie'. Surprising where wasps will make a nest on occasion.
More unusual fungi!
A new French camellia very similar to Camellia sasanqua 'Narumigata' but labelled Camellia sasanqua 'Pink ?' is out. More pink blotches than 'Narumigata' perhaps.
Corylopsis 'Spring Purple' has a few buds very close to opening.
Polyspora longicarpa, which had struggled to get established, is now flourishing with plenty of flower.
2016 – CHW
Our new squirrel traps bring an instant result!
2015 – CHW
Rhododendron 'Winter Intruder' has shot out on the drive while Rhododendron nobleanum is now nearly over. 'Winter Intruder' was my father's hybrid between Rhododendron delavayi and Rhododendron nobleanum. It is a good dark colour and these three plants were moved here as layers from the Rockery. Older plants flank the nobleanums on the upper side of the drive.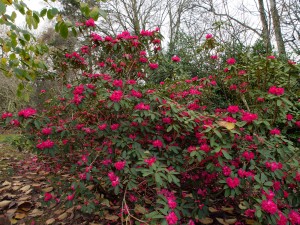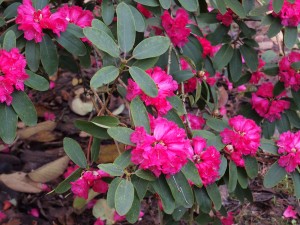 Alongside are three rather poor plants of Rhododendron 'Christmas Cheer'. A rather insipid colour here and lacking the pink tinge which makes the clump at Burncoose hedge so attractive. A poor neighbour to 'Winter Intruder'.
Next door again are a fine young clump of Camellia 'Winton' strutting their stuff in this exceptionally mild December.
2000 – FJW
First frost last night.
1997 – FJW
Snow. Stormy night.
1979 – FJW
David returned as a school monitor!!
1975 – FJW
C.H.W awarded Langdon scholarship to Worcester College, Oxford. First year for sometime when camellias coming out well.
1944 – CW
Camellia sasanqua still has pink and white flowers. Double form out – also a few flowers of Speciosa and its hybrids. Also Engine House double white. Hamamelis beginning to be good. Rho mucronulatum coming out and lutescens. Several lapagerias. All wall fuchsias cut some weeks ago, not in Tin Garden.
1934 – JCW
No sign of daff buds or real rhodo bloom, and no frost or ice so far. No real frost yet.
1933 – JCW
No sign on daffs except the Devon polyanthus. We have had ice on the pond for 3 or 4 days, and about 100 ducks.
1905 – JCW
A good few daffs above ground in the pans and in the open. Cam sasanqua hangs on. Several coums open. An odd wild primrose, a good lot of lapagerias.