2018 – CHW
Leaf blowing now on the Main Ride. The drive is now all finished.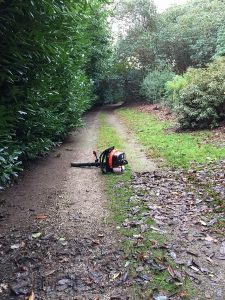 Lithocarpus hancei had produced some flower spikes but none have been fertilised and led to any seed production. The record tree however looks well.
2017 – CHW
The fitting of the new shop continues. The lighting is installed and so is the counter for the till. It has been made from a slab of Caerhays oak which now needs varnishing and polishing.
2016 – CHW
First flowers on the paler of the two original Camellia saluenensis by the ladies loo. The darker form is only a day or two away as well.
The erica by the Four in Hand has also shot out in the last week.
2015 – CHW
Dave and I take Dad to church for a private family service to dedicate a newly restored window to mum. Hell of a struggle to get the wheelchair into the church where Dad promptly falls asleep. No incidents except he calls Will Caws a 'stupid bastard' (and you know you are!) for catching his hand when lifting the wheel chair. Very jolly lunch afterwards.Azalea 'Hinomayo' is already out in parts which is not that unusual but this is a real flush tempered by some hail damage which has browned some flowers. To think we used to exhibit this azalea at Chealsea 25 to 30 years ago in May. Unthinkable today!
1991 – FJW
Flowers on table opening white japonica – 2 weeks cold and dry – now mild and wettish.
1963 – FJW
Michael Williams [Lanarth] died.
1929 – JCW
I think this is nearly a duplicate of 1924. H mollis ¼ open. Veitch's Camellia oleifera in flower. A few Thomsonii arboreum show blooms. Should get most of the faggots from the storm out of the New Planting in a week of working days. A very big mess for token staff.
1924 – JCW
Hamamelis mollis is open but has not set for bloom as in warmer seasons. No flowers on the white camellia, the land is damp and cold I think. R dahuricum is hardly out. A good lot of daffs up, only one of F's 1924 hardwood seeds are up. The Parasoininga in the house.
1917 – JCW
Much as in 1914 on the other page. Hamamelis mollis is open in part. Hard frost for two or three days.