2022 – CHW
Near frost overnight and North East wind.
A start has been made on trimming the lower side of the laurel hedge on the Main Ride.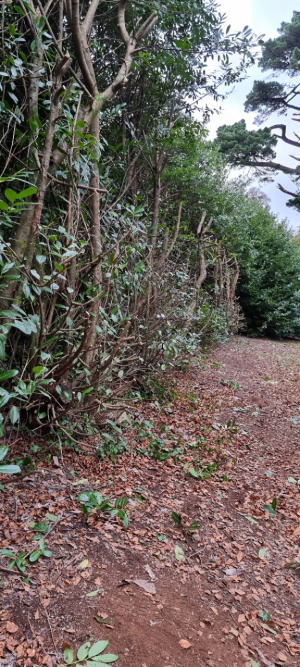 Zanthoxylum armatum now with ripe red fruits (peppers).
Still full green leaves on one of the original Magnolia x veitchii. Astonishing in December.
The original Magnolia campbellii has yellowing leaves but still on the tree rather than on the ground.
Styrax japonius 'Pendulus' with its usual exceptional autumn show. I have missed the very best of it by a few days.
Camellia japonica 'Reigyoku' with its first flower out this season.
Camellia x williamsii 'George Blandford' looking good on a dull afternoon.
A huge leylandii has blown over by Higher Quarry Nursery which will let in quite a bit of unwelcome wind. The usual story in that when you fell diseased beech trees nearby everything else becomes more vulnerable.
The new fire hydrant sign goes up at White Stiles and the local fire brigade are informed formally of its location.
2020 – CHW
Six buds for next spring are now visible on Jaimie's new magnolia hybrid. Two this year which showed great promise. Uplifting the 15 year old tree to remove a few lower branches would be a help with more budding in the future as we have found with others at this stage.
First flowers on Camellia 'Inspiration'.
Clethra mexicana with buds.
It is the time of the year for rabbit damage. Here on the low growing Magnolia 'Ann'.
Rhododendron keysii still full of flowers.
Betula utilis var. jacquemontii in the sun.
An unnamed Azalea indica has a single large white flower above the tiny leaves. Perhaps this was once a Christmas azalea which survived and eventually got planted out. Its normal flowering time is June.
Hoheria populnea 'Alba Variegata' stands out today by Georges Hut. Some leaves are pure white on the newer growth, some yellowish white and some the more conventional green with white edging.
The Camellia x williamsii 'St Ewe' hedge is only out, as yet, in parts and high up at around 15-20ft.
Cotoneaster horizontalis has lost its berries but not its exceptional autumn colour.
Magnolia 'Caerhays Belle' is still holding most of its leaves above the Erica arborea in full flower. Not unusual in December. Other nearby magnolias dropped their leaves in the last two weeks.
First flowers on the forsythia. We saw this sparse early flowering last year as well although the main flush came two months later.
The fuchsias still soldier on with a good display of flowers in December.
Another nice pile of new plants to go out in the spring.
Nearby beside the shop Prunus 'Shizuka' ('Fragrant Cloud') – one of the new Matsumae cherries – has excellent late autumn colour despite growing in an exposed position. Another plus for this exciting new range of cherries.
Turpina ternata is another evergreen Crug novelty. A genus new to us which looks quite tender and some thinking will be needed to find a suitable location. Quite a contrast between the large older leaves and the smaller young ones with clear serrations on the edges. What does it 'do'? Not in Hillier's or New Trees!
2016 – CHW
Magnolia 'Betty Jessel' still in full leaf in early December!
Magnolia 'Yakeo' still has a flower. Several seen through the autumn here and on another plant.
2015 – CHW
Strong southerly wind biting into the castle but mild. Sea thunderous.Camellia sasanqua 'Winters Toughie' is full out below the greenhouse. Clearly not so tough in a gale as in wind!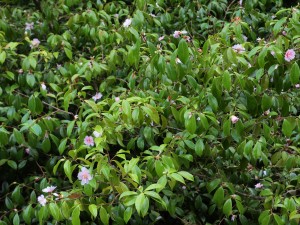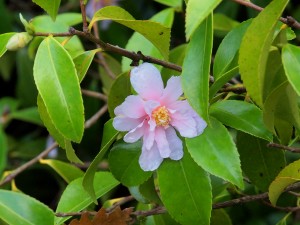 Camellia sasanqua 'Polar Ice' has just one flower alongside it and is really rather nice.
Were it not for the fact that the Camellia x williamsii are currently rushing out these sasanquas might attract more attention. Only four or five varieties in this clump have yet flowered. Several still to go which is interesting.
2000 – FJW
Very wet and stormy indeed.
1984 – FJW
Flash (19) died today – a great companion for Philip Tregunna and CHW in the garden. Nice lot of November Pink and Nobleanum begins.
1966 – FJW
Peter saw two deer in the Church Town Field. November Pink out some which Taliensis good. 2 trees down in gales of a week ago. Bad smash in Rookery.
1963 – FJW
Average flowering year to date. Picked a nice vase of November Pink. Earliest Camellia was the one outside the front gate – been out for two weeks. Oleifera quite good considering the hard winter last year. Just beginning to get flower on Nobleanums on Drive. Turning colder.
1931 – JCW
Hamamelis just showing colour just as in 1930.
1930 – JCW
One Maddeni at the brown gate, one Roylei picked. Hamamelis just show flowers. Some Neriiflorum open. Cam sasanqua give several flowers, also Camellia oleifera.
1927 – JCW
A cold spell started now and broke on Dec 20th. It touched zero in some places, I saw an untouched Decorum bud and an untouched Camellia speciosa at the end of it (20th).
1919 – JCW
The first Hamamelis and first Rho mucronulatum show colour. The Thomsonii x Arboreum also have flowers opening.
1913 – JCW
Good roses yet and so lapagerias. Rhodo micranthum good in 40 Acres. Cam sasanqua feels the wet, plenty of flowers if we had sun. Odd flowers of Rho lutescens and intricatum open.1908 – JCW
Coums starting, roses nice very, small scarlet border geranium as good as it ever is, a wonderful autumn.1907 – JCW
Cam sasanqua very good, coums coming on, roses are yet quite fair, no serious frost.1900 – JCW
I saw the first coum. sasanqua at its best.