2020 – CHW
Spring flowering heathers looking superb in the nursery today despite even more frequent heavy showers.
Erica erigena 'Irish Dusk'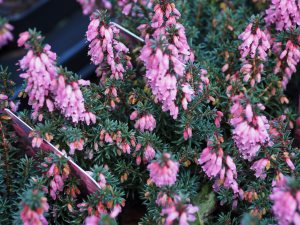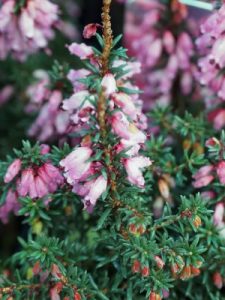 Erica x darleyensis 'White Perfection'
Erica x darleyensis 'Phoebe'
Erica x darleyensis 'Kramer's Red'
Erica carnea 'Winter Snow'
Erica carnea 'Pink Spangles'
Erica carnea 'Myretoun Ruby'
Erica x darleyensis 'Eva Gold' – a new one in our catalogue this year. The golden foliage of autumn has faded.
Erica carnea 'Eva'
Camellia 'Admiral Spry' is a new variety for us. A bit similar to something else but I cannot think exactly what. It takes time to get the mind up to speed on camellias again after so long.
Camellia reticulata 'Lasca Beauty' with one flower out and huge buds.
The clump of Rhododendron ririei (Tom Hudson's collection) is now full out. The Rhododendron barbatums further along the Main Ride are now dropping.
Camellia 'Salutation' out early as usual (Camellia reticulata x Camellia saluenensis). Some frost/wind damage but not much near Georges Hut. A poor plant grows on the castle wall.
First flowers on the elderly Camellia 'Grandiflora Alba'. Masses of buds to come on this huge plant. Strangely we do not seem to have website pictures of this but Karol needs to check the database properly. Is there another name?
Karol looking pleased with himself as we label Kalopanax septemlobus. Does not the blue label look great! Gold labels for UK and Ireland trees. Blue labels for Cornish (only) record trees.
Camellia x williamsii 'Celebration', the much darker form of Camellia 'Donation', which was found and propagated as a sport on a Trewithen plant. I like it more than 'Donation' which is a rather insipid pink.
You have to marvel at the Erica arborea in the brief sun today. Castellations of flower spikes and a pleasant scent close up. These are all self sown seedlings at the top of the rubus covered bank. You can readily cut back younger tree heather plants when they are 4-6ft tall. If they get larger and are older the pruning will probably kill about half of them. That is our experience with many old clumps here. Prefers full sun on a hot dry bank with poorish soil.
The dwarfish scented narcissi outside the Dining Room are just going over.
Genista 'Porlock', as I have always known it(now Cytisus 'Porlock'), is is just starting to come out below the Nursery window.
I have been meaning to photograph Camellia x vernalis 'Dawn' (again below the Nursery) with its odd few, yellow variegated or virused leaves for some weeks. It has been in flower since December and is now going over with many petals on the ground in the east winds today. The plant nearest the first floor window has been severely pruned to let light into the passage and it seems to relish this. As formal a shape as an Italian topiary buxus or ligustrum. Few people still grow this tenderish plant which is a Camellia japonica x Camellia sasanqua cross but it has grown here since 1895 and been cut back many times to reinvigorate it. Between the two plants is a 1895 Magnolia stellata. So probably the oldest living magnolia and one of the oldest living camellias on the place. Well worth a wider audience but now we have the dark red single Camellia x vernalis 'Yuletide' available and ready to plant out this year it may have been superceded.
Clematis armandii is just starting into flower outside the School Room. A dense mat of a climber much favoured by nesting birds and especially flycatchers in summer.
2016 – CHW
Mum's former birthday. She would have been 83 today. How time flies! It took two years to sort the headstone and the monumental mason said there was 'a shortage of granite in Cornwall' – hence the delay! How very Cornish.
Attached is an article in final form about the longevity of rhododendron species from China to celebrate the centenary of the foundation of The Rhododendron Society in 1916 at Lanarth in Cornwall by J C Williams, P D Williams, C C Eley and J G Millais. We are now the RHS Rhododendron, Camellia and Magnolia Group (RCMG) and Rupert Eley (treasurer), David Millais (chairman) and I (committee member) are still attempting to help run the society/group as well as the same nurseries and gardens which our great grandfathers and great uncles inaugurated and ran 100 years ago. Quite a people and continuity story which I rather doubt many clubs or societies, let alone horticultural ones, could equal. A 'human interest' story for the media too at Chelsea in May.
Age of Rhododendrons At Caerhays
What a week of self indulgent PR! All bollocks really, as Dad would say, but this is the world of twittering we now all have to live in to drive our businesses and attract new customers to Caerhays Gardens and Burncoose Nurseries. How JCW and my great uncle Charles would have hated this sort of publicity in their very private garden diary which readers can now all see for themselves warts and all.
An interesting and very full day at Burncoose with the nursery and KPK builders meetings. The dozen or so (mainly) Magnolia mollicomata seedlings by the nursery entrance are full out but not that special. About 30 years old and windswept.
However Burncoose garden, on top of a hill as it is, is nowhere near as far on magnolia wise as Caerhays which is sheltered from the westerly gales. So much for wind blowing the flowers open or do they adapt?
The Dutch (bastard) form of Magnolia sprengeri 'Diva' is half out on the lawn but very little in the paddock. Magnolia 'Caerhays Belle' is in tight bud on the lawn and in the paddock. Magnolia Charles Raffill is showing but not much.
Nothing even showing colour in the magnolia avenue above the tennis court or above it and nothing on the 'Caerhays Belle' seedling by the pond. For decades the first two magnolias out at Burncoose have nearly always been the pond 'Caerhays Belle' seedling and the mollicomata seedling through the hedge above the tennis court. How strange in this record early year but there have been some magnolias out since mid January so record early at Burncoose too (one and a half months).
Quite a poor and light coloured Magnolia sprengeri Diva 'Burncoose' seedling is out below the pond. Of the four big seedlings in the garden two are pure and two poor compared to the original right beside the main house. None of the others or the 1964 planted original have even a hint of colour as one would have assumed even in this abnormal year.
Vermin everywhere when I walk around the garden to devise a worklist with Robert Toy, the head and only gardener. He has done really well with the last list and it is all looking tidy and well managed even if I have not seen him for three months. Squirrels everywhere, ravens nesting and lots of new and essential rabbit guards in the nursery since my nightly rabbit shoots ended 16 months ago when we moved out of Burncoose.
2002 – FJW
First Magnolia flower – drive hybrid closest to Auk. Garden – wet spell and stormy.
2001 – FJW
Still wet. No Magnolias yet.
1988 – FJW
Mag by steep steps almost out.
1962 – FJW
One flower out on George's Campbellii.
1928 – JCW
Just as in 1927. Prunus defiscens is open. Mr Laren and G.W. Loder are here.
1927 – JCW
Daffs as in 1922. Sutchuenense x is open and very few buds on any of them. Prunus conradinae ½ open and Prunus salicina is swelling.
1922 – JCW
No daffs except cyclamineus, some Arboreum x Sutchuenense open. Wilsons Prunus mume is the best thing in flower. Several good blood red arboreum about.
1911 – JCW
Very few daffs, snowdrops very good and the aconite, coums also. 7 flowers of Mag clusii open, some of Mag hybrid. Scarlet Rhodo's show colour, one Barbatum is nice in the wood.
1910 – JCW
Some cyc hybrids, no cyclamineus open, no Campanelli in the drive, very late R praecox very good, also hybrids and coums.
1909 – JCW
Some cyc hybrids and some cyclamineus open, Campanelli in the drive open, well behind 1898.
1906 – JCW
Hard frost, many daffs well on.
1900 – JCW
None of the above open or nearly open.
1898 – JCW
Many (nearly half) the H Irvings out, some Tenby, a good few Caerhays and many Tregony trumpets, nearly all the Cerulus and maximus, minimus nearly over. The first reticulata opens. Minor at its best, 2 or 3 Italian trumpets, several white hoops.