2023 – CHW
Amazingly we see colour (pink) on two windblown buds high up on the Magnolia campbellii by Tin Garden. You cannot see it properly in this photograph.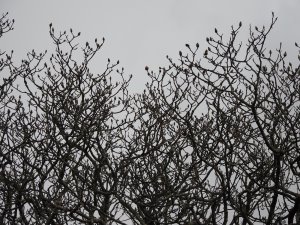 A windblown Sasa tsuboiana. Not invasive in a cold spot. It has been here for 20 years. The one at Burncoose is no bigger and not invasive either despite what the reference books say.
Carpinus kawakamii still showing its full set of leaves. Evergreen here.
Podocarpus spinulosus developing nicely as a smallish shrub.
Photinia nitakayamensis still has unripe berries.
Serious progress with the building works at The Hovel. Wall insulation now largely installed and the upstairs is starting to take shape.
Another look at Camellia x vernalis 'Dawn' as it comes into full flower at the top of the bush and the lower flowers start to drop.
The 124 year old Magnolia stellata will be out quite soon. A gnarled old tree against the castle wall.
This equally ancient Camellia x vernalis 'Dawn' was chopped down to reshoot. Very few flowers as a result but it looks very healthy and a tight rounded habit.
Picea likiangensis is developing into a good tree.
There are seven other species/varieties of bamboo in Kennel Close in addition to the five photographed a few days ago. Boring though it probably is to readers I wanted to make a proper photographic record of each. Some/most came from Stam's Bamboo Nursery in Eire as did the other five. None of these seven are stocked by Burncoose but should be! Several very nice things here and all growing in the open in full sun ultimately to cut out under draft winds.
Phyllostachys nidularia – a vigorous spreading clump.
Phyllostachys glauca – a long spreading and vigorous clump.
Chiminobambusa trangui. 'Shiroshima' – attractive variegation in a taller growing bamboo. Quite a spreader too but only 4-5ft so far.
Phyllostachys propinqua – not a big spreader as yet.
Phyllostachys nuda – fairly vigorous spreader.
Phyllostachys nigra 'Medurochiku' – only slightly black stems as yet but they seem to be darkening.
Pleioblastus hindsii – the least vigorous and developed as yet of the seven.
Camellia x williamsii 'Celebration' (the darker sport from 'Donation') also nicely out.
Camellia x williamsii 'Charles Michael' by Tin Garden full out.
'King Alfred' daffodils in Kennel Close. The first clump to flower here.
But Prunus 'Kursar' is only just showing colour.
First flowers on Camellia grijsii but no scent yet. The stock plant at Burncoose is rather larger than this.
2017 – CHW
Lizzie is renovating the Ante Room. This includes adding steps onto the lawn which Jaimie and Michael have just installed. This will allow guests to move from the main hall onto the lawn and for Lizzie to enjoy sitting in the late evening sun! Previously we had used a rather tatty old ramp with plastic grass on big occasions. This is much better.
2016 – CHW
Another absurdity in full flower is Photinia davidiana 'Red Robin'. I photographed another Photinia davidiana form in flower in the autumn. Photinias are not normally noted for their flower which is insignificant against the new growth in late spring.
1991 – FJW
Iraq War began – Rain returned after minor cold snap.
1985 – FJW
24 hours of SNOW – cut off here. No post – Northerners here and powerless to leave.
1943 – CW
It has been a long wet mild spell, almost all Rhodo's as 1928. Some Moupinense and Lutescens at their best, Hamamelis still good, also some Rho mucronulatum. Speciosa on wall open at the top wall. Hybrids some covered with flower. Cam reticulata species just showing pink buds, a few snowdrops, no sign of any daff colour.

1928 – JCW
Scabrifolium, lutescens, mucronulatum, strigillosum, baileyi. Blood red hybrid, Barbatum, moupinense, parvifolium, irroratum all show flowers and Keiskei and Keysii.
1924 – JCW
Two or three daffs open, R scabrifolium is nice, R venustum is the best Rhodo now, Hamamelis is going back. Blood red hybrid is opening. Camellia speciosa is quite nice.
1907 – JCW
But one daff shows colour, no Soleil D'or, P megasoefolia open but a moderate lot.
1903 – JCW
I have been away for a week and C too, he has found the first Minimus open, Coums at their best, two or three Aconites out, all these are late.
1901 – JCW
The first Soleil D'or open.