2020 – CHW
More frost and sun.
Camellia 'Mary Costa' just starting by Georges Hut.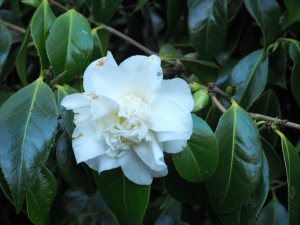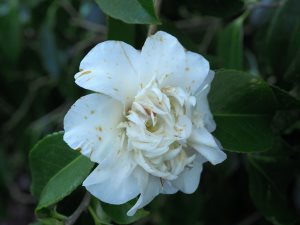 Camellia x williamsii 'Celebration' (the darker sport from 'Donation') also nicely out.
Camellia x williamsii 'Charles Michael' by Tin Garden full out.
'King Alfred' daffodils in Kennel Close. The first clump to flower here.
But Prunus 'Kursar' is only just showing colour.
First flowers on Camellia grijsii but no scent yet. The stock plant at Burncoose is rather larger than this.
2017 – CHW
Lizzie is renovating the Ante Room. This includes adding steps onto the lawn which Jaimie and Michael have just installed. This will allow guests to move from the main hall onto the lawn and for Lizzie to enjoy sitting in the late evening sun! Previously we had used a rather tatty old ramp with plastic grass on big occasions. This is much better.
1991 – FJW
Iraq War began – Rain returned after minor cold snap.
1985 – FJW
24 hours of SNOW – cut off here. No post – Northerners here and powerless to leave.
1943 – CW
It has been a long wet mild spell, almost all Rhodo's as 1928. Some Moupinense and Lutescens at their best, Hamamelis still good, also some Rho mucronulatum. Speciosa on wall open at the top wall. Hybrids some covered with flower. Cam reticulata species just showing pink buds, a few snowdrops, no sign of any daff colour.

1928 – JCW
Scabrifolium, lutescens, mucronulatum, strigillosum, baileyi. Blood red hybrid, Barbatum, moupinense, parvifolium, irroratum all show flowers and Keiskei and Keysii.
1924 – JCW
Two or three daffs open, R scabrifolium is nice, R venustum is the best Rhodo now, Hamamelis is going back. Blood red hybrid is opening. Camellia speciosa is quite nice.
1907 – JCW
But one daff shows colour, no Soleil D'or, P megasoefolia open but a moderate lot.
1903 – JCW
I have been away for a week and C too, he has found the first Minimus open, Coums at their best, two or three Aconites out, all these are late.
1901 – JCW
The first Soleil D'or open.