2023 – CHW
More heavy rain as the cold weather departs.
Puddles in the drainage ditches by the main paths in the garden.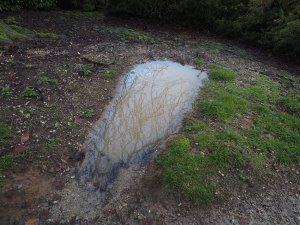 The water meadows were flooded again yesterday but have quickly subsided. The reservoirs in Cornwall are full again after the summer drought. Rainfall levels now normal. South West Water gives the promised £30 rebate on all water bills.
Also first flowers on Hamamelis x intermedia 'Diana' – planted 2021.
And Hamamelis japonica 'Brentry' – planted 2021.
And Hamamelis x intermedia 'Firecracker' – planted 2021.
First flowers out on the pink form of Rhododendron 'Bo Peep'.
The lichen on its trunk is spectacular.
An original Magnolia campbellii growing near Tin Garden is also usually early. Nearer white than pink. The main M. campbellii had no colour.
Rhododendron mucronulatum now properly out. Not that many flowers this year.
Another Camellia x vernalis 'Yuletide' not yet full out.
Snowdrops now properly out.
A batch of 20 plants from Mark Bulk for the frames. Mainly new Crataegus species for our small collection. Not all have prickles.
Two of the ancient Camellia japonicas on the Stable Flat wall are out. I must try and work out possible names.
White and pink flowers on the one nearest the circular tower.
First flower outside the back yard plant of Jury's Yellow.
A free range cockerel by the top lodge pretending to be a pheasant.
Camellia 'Nagasaki' full out now.
As is Camellia x williamsii 'Monica Dance'.
First flower on Camellia 'Dr Burnside'.
First flower on Camellia x williamsii 'Mary Phoebe Taylor'.
A Camellia lutchuense hybrid with scent on the drive.
A very large flowered Camellia reticulata by Donkey Shoe. Unnamed on the plan. A very 'leggy' plant with few flowers. A bit early for 'Mouchang' or 'Royalty' perhaps? A good plant of the latter the other side of the path with no flowers as yet. 'Mouchang' the most likely.
Aextoxicon punctatum just coming out. The buds have been evident since September.
A young Magnolia lancei appears to be more or less evergreen.
Camellia x williamsii 'Muskoka' with first flowers.
No colour yet on Magnolia zenii unlike last year.
Fallen camellia flowers from the unnamed x williamsii clump above the greenhouse.
For comparison the now nearly dropping flowers on Daphne bholua 'Jacqueline Postill' which have been out for a month.
First, and very early, flowers on the Drimys winteri which looked completely leafless and dead in The Beast last March. A full recovery here much to my amazement.
2017 – CHW
Rhododendron 'Seta' (moupinense x spinuliferum) is apparently a Bodnant hybrid. I had always thought it was a Bolitho cross from Trengwainton and certainly Colonel Edward Bolitho always claimed it was. A very early flowerer but short lived. The clump at Burncoose is better and the old clump on Burns Bank long dead here. These are the first few flowers above the Auklandii Garden.
2016 – CHW
The new clearing of old reticulata camellias and Viburnum odoratissimum will be ready for a new rhododendron planting when the stumps can be removed.
1993 – FJW
First daffs out on the drive near Nobleanum.
1973 – FJW
First snowdrop. Flowers on Talavera and Red Admiral – mild wet winter to date.
1963 – FJW
Heaviest fall of snow to date – Bedroom force – we have now had 3 weeks of very cold weather. Garden barren of flower.
1913 – JCW
Only one or two Camellias open, C coum very nice, just an Aconite or two, Snowdrops hardly showing. Clematis chrysocoma good even after the cold, a few roses? Heaths good including a new lot of hybrida, Lady Clare at the back of the Library open.
1912 – JCW
Many Camellias open, several daffs out – P megasoefolia fair, N cyclamineus open, Clematis anomala open, Rhodoⁿ lutescens.
1904 – JCW
The first yellow crocus have been open for some days, as in 1900 for the rest.
1903 – JCW
Primula megasoefolia is well open and has been since October, the above are also out.
1901 – JCW
About the same as the above, crossed some forced Tenby with Minimus.
1900 – JCW
Picked three Minimus very late – Snowdrops look well but are not quite all out, several Aconite show, Crocus imperati nearly over.