2023 – CHW
The first primroses are out on the bank opposite the front door. The December cold snap has held them back this year until now. A week or 10 days later than usual?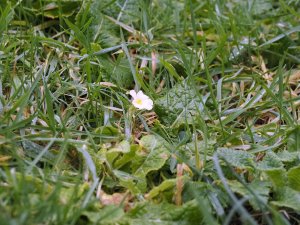 Daphne bholua 'Mary Rose' just showing colour in the Rockery. This plant spent a few years in a large clay pot outside the front door before being planted out. Its compatriot, in a colder spot, has yet to show colour but has also transplanted well. We have at least 6 varieties of Daphne bholua here now but 'Mary Rose' is the best!
The evergreen Clematis uncinata is growing nicely up through Camellia x williamsii 'Rosemary Williams'. One day the Clematis will smother the camellia but, for now, a good plant combination.
A single flower on the original plant of the paler form of Camellia saluenensis which was hard pruned last summer and is regenerating well already.
Just the odd last flower on the 5th and last of the ancient Camellia sasanqua to come out. The other 4 are now well over and flowerless. Most of the pre-Christmas flowers have been frosted or rain damaged as you can see. Last year several of the 5 still had flowers out in January.
Flowering here and there on Azalea 'Hinomayo' with the, equally usual, partial leaf drop.
Even the Acanthus mollis has some frost damage.
The Agapanthus leaves are now all showing up as being a badly frosted mush but the bulbs will still be fine I expect.
Rhododendron nobleanum close up.
First snowdrops just showing but not yet out.
A few rhododendrons creeping out despite the continuing cold. Here Tom Hudson's Rhododendron ririei. Lovely colour and better than the old one on the drive at Burncoose.
Nearly out too is Rhododendron arboreum ssp. cinnamomeum.
Berries colouring up on Ilex kingiana.
Aralia vietnamensis has had its leaves frosted but the flowers may still come out? The stems are extremely prickly as you can see. Several huge leaf stalks blown off.
Peumus boldus is now full out and quite a decent show. The bush is about 12-14ft tall and doing well.
The darker form of Camellia 'Donation' called 'Celebration' is just out by Georges Hut. Two days ago nothing.
Contrast these flowers with the paler Camellia 'Donation'.
A young Podocarpus snapped off in the wind at Donkey Shoe. Not the first decent plant to suffer this fate in recent years.