2023 – CHW
Now to Honnor and Jeffery Garden Centre which, unexpectedly, had the best stock and was the only one of the 3 garden centres visited which had a full car park and a queue at the till. A partial change of ownership since last year?
I really don't like Mangaves! 'Mission to Mars' indeed? Bollocks!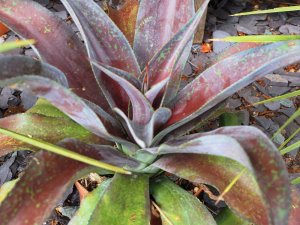 Mangave 'Moonglow' likewise.
Lonicera periclymenum 'Red Gables' wasn't bad although not that different.
Trachelospermum 'Star of Milano' was another one with a pink flower and variegated leaves. Better than 'Star of Toscane' which Burncoose does stock I think.
Potentilla fruticosa 'Mango Tango' clearly a late flowerer – not bad.
Escallonia 'Iveyi' was discovered and raised by Mr Ivey, a gardener at Caerhays.
Liriope 'John Burch' unusual but not that different really.
Erica x williamsii 'Ken Wilson' in full flower. I need to do more research at home on Erica x williamsii as I know that Lanarth, P.D. Williams and, his son Michael, were breeders of heathers as well as daffodils.
Viburnum taiwanianum with its first rather impressive flower. A species well worth growing.
Huodendron tibeticum making good growth after a slow start. We have lost several Huodendrons as young plants but now have decent plants of both species getting going.
Viburnum calvum with seed heads. I have missed the flowers themselves. Huge leathery leaves.
A second plant of Parastyrax species nova (BWJ 15185) making good progress in a hot dry spot where it was planted last autumn. The other one above the Auklandii, planted three or four years ago, is much the same size.
2021 – CHW
At least 40 different varieties of agapanthus on sale at Eddington's nursery but only about a third are in flower as yet:Agapanthus 'Ever Sapphire'
Agapanthus 'Arctic Star'
Agapanthus 'Lapis Lazuli'
Agapanthus 'Charlotte'
Then a few that we stock ourselves which are just as good as the ones listed above:Agapanthus 'Streamline'
Agapanthus 'Strawberry Ice'
Agapanthus 'Silver Moon' with both green and variegated foliage but no flowers as yet.
Two other plants which we ought to stock:Penstemon digitalis 'Husker Red' – wonderful foliage.
Sedum spurium 'Dragon's Blood' now just coming out.
The flag flies for the Colonel, who has brought a canon to add to the festivities.
Buttonholes of Rhododendron maddenii and Magnolia virginiana.
RJW and Beatrice.
The chief photographer gets into his swing.
Isla in her party dress.
Serena emerges.
The happy couple.
The bridal bouquet of Phlox, Geranium, Achillea and Astrantia.
Ready for the off.
Isla and Beatrice at the picnic.
A brand new meat processing unit on a farm installed with some grant. The cattle still have to go to the mainland and back to be slaughtered (£90 per head) but at least the processor of island beef is now actually on the island. Much potential for new business with the top end hotels and restaurants without a middleman in the way.
The view from the top of Rowborough estate looking westwards to The Needles and the west end of the island.
The chalk downland.
The view south which takes in some of Buckham shoot.
A chalk quarry in the valley below. Fairly hideous but not at all visible. This is said to be the place on the Isle of Wight where you are the furthest from human habitation. Not very far at all in reality!
2018 – CHW
Some more nice new things at Ventnor Botanic Gardens on an initially overcast day which then went back to normal.Althaea officinalis – Marsh-mallow – comes from Europe and is from the malva family. Quite attractive but clearly tender.
Fuchsia 'Lechlade Magician' was a massive 12-15ft tall tree with a similar spread and peeling bark. Here growing in full shade.
Hypericum canariense looked tender but survived the winter here.
Poterium spinosum – Prickly burnet from Crete looks a peculiar and nasty little plant. Seeds forming but missed the flowers.
Acanthus sennii – Ethiopian acanthus with very vicious prickles.
And more cold damage:
Protea cyanaroides literally cut in half by cold.
Sparmannia africana cut to ground level but reshooting at last.
Datura chlorantha just about shooting now from ground level. These were huge plants last year with stems that were years old. Then came 'The Beast'!
A huge Olea europa has joined the dodo in the March cold. Others had more shelter and survived.
Only 10 yards away the Calamondin oranges however looked fine on a hot bank but with good wind protection.
2017 – CHW
The clearance work above the wall is perhaps 60% complete but still three enormous trees to fell and lots to clear up. The fire is enormous and the pile of timber (for firewood) is growing. Despite the rain it is still dry underfoot once the topsoil has been moved. A very neat job so far with only a bit of scorching of the laurel hedge from the fire.
The new allen scythe has arrived on a wet day. We now have two machines on the go and are quite well ahead with grass cutting in the Castle Wood.
2016 – CHW
A huge sweet chestnut branch split and fell on the drive last Thursday night with no wind at all. It had to be removed sharpish for a wedding party who were lucky to have found it after midnight rather than being under it. The weight of the growing chestnuts perhaps caused the split out. This now seems a much more frequent summer occurrence than it was years ago.
The bracts on Cornus kousa 'Gosia' are turning from cream to pink on the drive. An attractive tree in an excellent position.
2015 – CHW
More out in our Seaview garden despite it being a disgraceful mess: Hebe 'Autumn Glory' – quite nice. Hebes hate high rainfall and get mildew in the nursery but thrive here.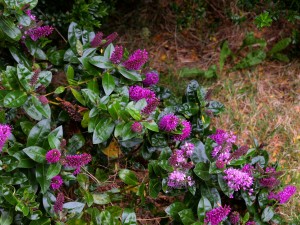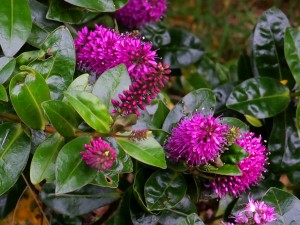 Myrtus communis subsp tarrentina – just the odd single flower out now. Not much sign of myrtles yesterday at Osborne house despite their love of hot dry banks and self seeding. Perhaps too cold for Amomyrtus luma but plenty at Ventnor.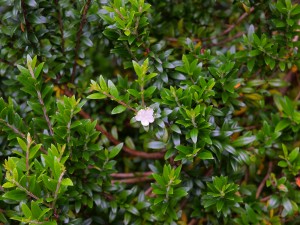 Ficus carica (common fig) with fruit nearly ripe already again reflecting a hot dry summer to date.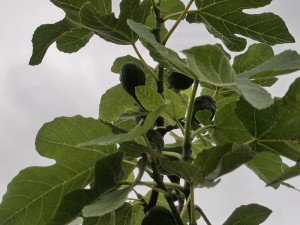 Roses nearly over and phlomis completely finished. Time to return to Cornwall at last! My very slow computer connection has allowed a trawl through of Pavia and Esveld nurseries plant lists but very little new to buy in that I could find. Perhaps they will update their lists in the autumn.
1969 – FJW
Very hot spell. Fortunei good. Hay should all be carried today. Flowers on Delavayi and Goliath.
1925 – JCW
Giganteums were good but are over. Daff seeds all picked. Plagianthus hardly open yet R brunonis over nearly. Wilson's Fortunei poor, a lot of dry weather for June.
1916 – JCW
Went to Wittenhart (Lownisky's) and saw his most remarkable garden with Loder.
1901 – JCW
L giganteum not as good as last year but at their best. R brunonis is very good. Most of the Recurvas has been picked. Moving bulbs hard.