2023 – CHW
Aesculus x woerlitzensis with attractive tints on its lower leaves in early July!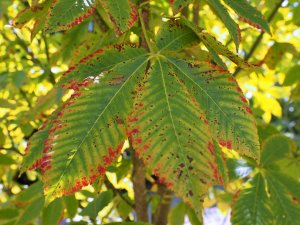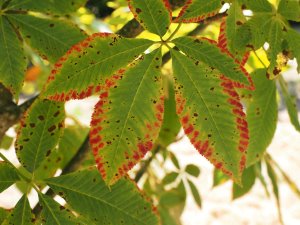 Hoheria 'Glory of Amlwch' just coming into flower.
A huge seed head forming on Magnolia 'Princess Margaret'.
Carpinus caroliniana with its first terminal clusters of seed heads.
2022 – CHW
A disastrous day for England at the cricket at a sweltering Edgbaston. Not all the Indians present supported India! A second record defeat in three days – 60 or so runs in a 20 over mismatch.
Perfectly horrid but no idea what it is?
Out of the butterfly sauna to this! Relevance unclear? No butterflies but a few nasty insects in heated hutches.
Koi carp away from the herons under cover. These live for 30 years so the blurb said. Far too many in a tiny pool.
A 'spear thistle' (Cirsium vulgare) nearby with butterflies which were feeding so intensively that they never opened their wings to reveal which species they were. Speckled woods?
Magnolia tamaulipana was half out yesterday and pure white. Today, by 4.30pm, it is dropping its anthers and the tepals are going from cream to brownish. It will be over in less than 48 hours! So here is this exceptional (and exceptionally brief) first time seen flowering of this Mexican magnolia. First time ever in the UK growing outside? I need to research this but in the Eisenhut magnolia book the picture (mine) is only of a bud from last year which we never saw as we were away mounting a National Collection of Podocarpus exhibit at Hampton Court for Plant Heritage.
Magnolia yuyuanensis flowers here for the second time. One flower nearly over and two buds to come. I have missed it at its best but think it is in flower rather earlier this year than last.
A picture of M. tamaulipana only two hours later and it has browned considerably.
The second bud.
The third bud with a leaflet above it. Not yet developed much and unnoticed until now.
The main stem was cut back in 2017 and we thought the plant was dead but it reshot vigorously from lower down as you see here.
About 7-8ft in height today with a 4-5ft spread.
The acer overhangs it and provides dappled shade.
A very sheltered location indeed at the top of the garden as you can see. We will need to cut the neighbours back soon to give it more room but will it ever survive a -10 °C cold spell?
I see a cutting has been taken!
2019 – CHW
Off to the island's main tomato grower in a 37 hectare site. We cannot actually look at any tomatoes because a new European disease is infecting tomato plants in Holland, Spain and Portugal which is highly contagious and wipes out the whole crop. Instead we see the PA to the MD who organises the marketing to retail outlets of new and unusual types of tomato as pictured here. The business turns over £8m and started in farmers markets. They now supply Harrods. They are also manufacturing a new tomato juice which is about to go on sale in one of the supermarkets. It tasted delicious and far nicer than 'Big Tom'. A picture of the bottle is here. Campbell Clarke brought one of the creators of this new juice to Caerhays recently.
Then on to a 12 acre farm where they grow organic vegetables for hotels and boxes of veg for customers at circa £14.00 a box. The business employs eight people and shows what a farm tenant with only three or four fields could achieve. Weeds everywhere exactly as they used to be 50 years ago when many farmers used a small field to grow their own veg for local shops before the era of supermarkets. You can order a box online but the site is so small that collection is impossible. The business delivers all orders itself with all the costs of that. Hard manual field work and little profit I fear from this interesting concept.The packing shed is featured here with boxes in preparation. Not exactly state of the art!
This was a crop of peas amid the weeds.
Various cabbage plug liners which were being hand planted.
Courgettes and lettuce. The local coop was refusing to take the ripe yellow courgettes this week so they were rotting in the field.
Beside a stream I spy a mature Salix integra 'Hakuro-nishiki' ('Fuiji koriangi') with a 10-12ft crown. Twenty years ago Burncoose sold thousands of these pretty horrid top grafted plants. Here was one which made it.
Olearia pachyphylla – another new one to me. The 'thick leaved daisy bush' but the flowers not quite out yet.
Puya chilensis flowers full out despite the cold winter.
Luma chequen just coming out as a huge bush 20ft tall and wide.
Puya assurgens in flower which I have not knowingly seen before.
Puya dyckiodes is another smaller growing species with black flowers emerging from a reddish sheath.
Puya chilensis and Puya berteronica self-crossed I think but splendid.
Pyrus x michauxii, a hybrid between two pear species, has small pears appearing on a tree which hardly looks like a pear!
Opuntia ficus-indica, the prickly pear cactus from Mexico, full out and no ill effects from the cold.
A large clump of Salvia 'Hot Lips' is absolutely covered in flowers. We saw this, still covered, well into last autumn. No frost to speak of so here it is again.
These hemerocallis were a gift to my father 40 years ago from Lady Anne Carew-Pole who bred them at Antony House. She was also a doyen of South Devon Cattle which was another reason then for her to visit Caerhays. The names of the varieties have long since been lost but there are still clumps on Burns Bank and in this bed by the tower. American breeders have added many new colours to today's more popular day lilies. Lady Anne's were mainly orange or yellow with huge flowers and few showing some coloured striping. Four different ones were full out today in the sun and creating quite a show.
Magnolia delavayi flowers over many months but the flowers last only a couple of days in this heat. The stamens drop quickly and then the flowers turn brown. You can see the whole gambit of new buds, buds, flowers, dead flowers and then seed heads all here today.
More Magnolia grandiflora flowers from below the lawn.
An elderly Cotoneaster franchettii full out by the tower.
An older plant Rhododendron cumberlandense is still a good show by the Four in Hand.
2016 – CHW
A day of drizzle and thick sea fog which sadly never lifted for the wedding party in the tent below the lawn. You could not even see the sea for most of the day. No hassle with the wedding and no noise unlike the previous weekend when the wedding goers repeatedly rang the front door bell. Thankfully we were away.The Roy Lancaster Chinese collected climbing specie rose on the front arch is just coming out. I must try and identify what it actually is. No hips last year but these can be as good as the flower. The closest to it I can find a picture of is Rosa filipes 'Kiftsgate' but it is the hips which are so unusual and no mention of this in the reference book.
2015 – CHW
Unpleasantly hot but a trip to Thompson's Garden Centre near Sandown. About the same size as yesterday's Buzy Bee but rather more sold out. Hardly a rose or dianthus left in stock so bugger all to photograph really.
A new plant to me, Trachelospermum jasminoides 'Waterwheel', has tiny leaves and looks more like an ivy or even a muehlenbeckia. It would be a good thing to cover a wall and I suspect would prefer some shade. Bred in Wales!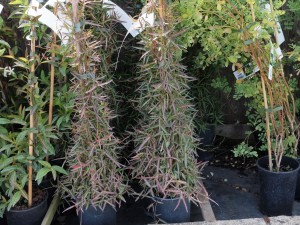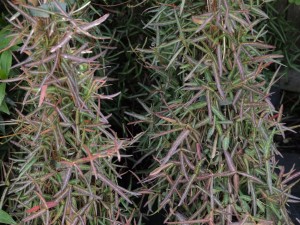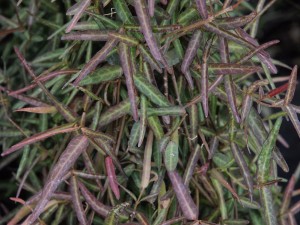 Quite a nice new Heuchera 'Solar Eclipse' if you can face yet another 'new' heuchera to go with the scores which have appeared in the last few years.
Gaura have sold well again this year; 'Papillon' (pure white) and 'Rosyjane' (white centre, red outside) were new to me. Both are candidates for new entries in the 2016 Burncoose catalogue if we can buy them. They had Dutch labels and are clearly a good garden centre eye catcher so will probably become popular.
1984 – FJW
First rain fell at 8.30 am after longest dry spell yet seen by us. It beats 1975 I would think.
1975 – FJW
First rain fell at 7am.
1924 – JCW
Just back from Eton and Harrow match and seeing Bulstrode, the things here have had enough sun without rain though the ground is not really dry the air is empty of moisture.
1916 – JCW
No Romneya out. No R ingersii open. R fortunei Wilson wanes, P poissonii good. Mitraria good. L giganteums nice. Papa Gontier good.
1901 – JCW
Romneya just starting five or six flowers. I have finished moving the best seedlings down to the home garden, started taking them out of the pans.
1899 – JCW
Romneya coulteri open, about the first of it