2019 – CHW
Arrived at Hampton Court yesterday at lunchtime. The temperature was 33-36°C. An untouched can of lemonade exploded in Michael's van in the heat. We felt similarly pulverised but made a very good start on the stand. Sally Hayward was in situ doing not just our labels but the labels for all the other Plant Heritage exhibitors. What would we have done without her willing and very capable help! Our stand is located next to the National Collection of Rubus stand. Podocarpus and Rubus must be two of the dullest stands the public have ever seen but perhaps more horticulturally interesting with more unusual plant species and hybrids than in previous Plant Heritage exhibitions? The National Collection of Ginkgos on the other side of us was superb and got the media attention it deserved.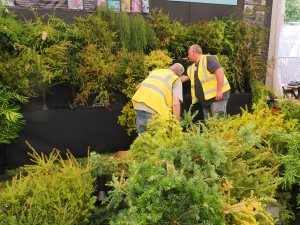 Even more lovely is the delicate pink Watsonia 'Tresco dwarf pink'. Not dwarf at all in habit but the flowers are perhaps small by watsonia standards. Both these two survived 'The Beast' in early March on the nursery. Conservatory plants but only just in Cornwall.
Astilbe 'Chocolate Fascination' is new to us this year and our first sight of the pale pinkish flower spikes above the dark blackish leaves.
Paeonia tenuifolia is setting ripe seed quickly after flowering in May. Paeonies do this rapidly.
Rosa pomifera has hips days after flowering too.
This young Aesculus wangii had a couple of small branches broken off in a recent gale but has quickly put on attractive new growth shoots.
The oldest Magnolia sieboldii with the smallest flowers still has a few showing. Elsewhere the seeds are swelling quickly. As you can see I got the settings wrong again.
Rhododendron arizelum is not setting any seed this year. I could easily remove the old flower heads and seeds by hand with no effort. Noticeable however is how much more quickly the new growth has come where there were not flower heads.
Seeds pods forming after the flowers on Decaisnea fargesii. By autumn these will turn a pinkish-blue.
I had this billed as Cornus florida 'Red Giant'. It has been out for a while but is in shade so the bracts could be darker in full sun.
Prunus 'Collingwood Ingram' has very attractive secondary new growth. It was raised in Belgium in 1979 and this plant was a gift from Mr Vernon of Bluebell Nurseries.
Salix fargesii is forming a good rounded shrub in full sun.
2016 – CHW
Thirty members of the 700 year old Worshipful Company of Fruiterers visit Caerhays for a medlar tree planting ceremony on the bank opposite the front door. The master and clerk wear their ceremonial chains of office and past masters have special ties. We assemble for the tree planting at 12.00, then house tour, lunch in the dining room and a garden tour ending at 4.30pm. All in all a very pleasant and happy day. One or two of the members even grew fruit trees (cobnuts and walnuts in Kent). The master and his wife were both QCs and the mistress sat next to my brother at a dinner in London the night before the visit here. Quite a coincidence as they had never met before.
2015 – CHW
Grass cutting now for a week and the area around the house is starting to look tidy. It remains to be seen if we will need much of a second cut in September. So far a very fine March to June despite what everyone from up country is moaning about (cold nights, wind etc). Cornwall, for once, has had the best of it I suspect.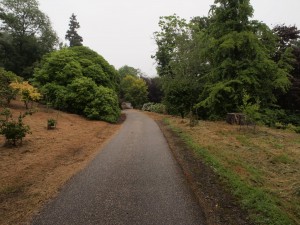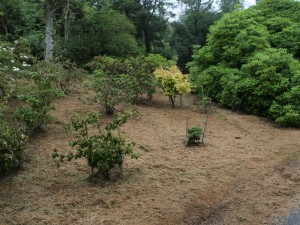 The Fuchsia magellanica var gracilis hedge above Lower Rockery is full out now. Much less tall growing that Fuchsia 'Riccartonii'.
A clump of (I think) Iris foetida in full shade behind the yew trees on the lawn. The huge seed pots are correct for this species anyway but I have never noticed the flower before.