back to 12 March
Visit to Tregrehan – 12th March 2022
Meliosma pungens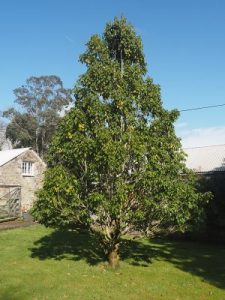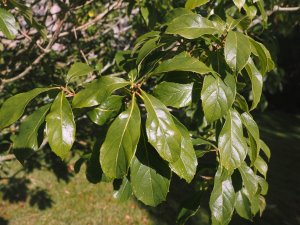 Lithocarpus henryi
Pachystegia insignis at the garden entrance.
Peach blossom already in the greenhouse.
Tamarillo (tree tomato) laden with ripe fruit.
Rhododendron veitchianum just out.
Brassaiopsis aff. hispida
Quercus guyavifolia with its yellow felted leaves.
Magnolia sprengeri
Larix kongboensis with its curious upright cones. A small tree.
Michelia floribunda as splendid as ever.
Grevilla barklyana – a large spreading shrub with slivery undersides to its leaves.
Grevillea 'Pourinda Constance'
Podocarpus milanjianus
Hydrangea peruviana x Hydrangea serratifolia in flower 60-80ft up the trunk of a conifer.
An evergreen species of deutzia already in flower. Small growing in full shade.
Camellia trichocarpa which has outstanding scent.