2023 – CHW
A few pictures of the family and guests over the weekend.
Baby Zara at breakfast.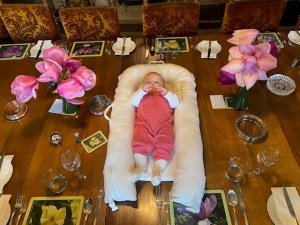 Colour coding a new magnolia hybrid above the Old Kennels.
Isla and Jaimie beside the new magnolia.
Under a seedling Magnolia 'Lanarth' in Old Park.
Isla and Beatrice with the new magnolia bud.
All 4 grandchildren – Serena & Katie.
Zara stars again at The Vean.
Jaimie and Neil try a martini or two.
Then to Tregothnan where a heavily pruned young Magnolia campbelli was flowering well as a result of the pruning.
Osmanthus heterophyllus 'Sasaba' as an established small tree in full sun. We grow this in shade above Hovel Cart Road.
The original 1920(ish) Magnolia campbellii at Tregothnan. 10 years ago this looked elderly and decrepid but much new growth and rejuvenation of late.
Acer sempervirens (A. creticum) as a large tree with a semi evergreen habit and distinct leaves. Our small tree looks tiny in comparison.
Tregothnan from what was the old garden windbreak now removed.
Corylopsis pauciflora – a startlingly good plant.
The group do the admiring!
Magnolia foveolata (WWJ 11955) sadly with no flowers but 15-20ft tall.
Laureliopsis philippiana in all its trailing glory (not Laurelia sempervirens which is similar but without the trailing branches).
Trewithen's Magnolia 'Lanarth' seedling.
Outstanding bark on Clethra barbinervis.
Camellia japonica 'Senator Fletcher'
Ilex koehniana – a very upright habit.
Magnolia maudii – very different to the Tregrehan plants.
Schefflera macrophylla at about 10-12ft in height.
The new sculpture at the southern edge of the garden made from old metal parkland fencing posts. Odd but each to his own!
The original Magnolia 'Caerhays Belle' has, thankfully, escaped the frost reasonably well particularly lower down.
First flowers on Magnolia x loebneri 'Leonard Messel' outside the back yard.
The beech tree trunk nearly finished despite brief very heavy showers with a bit of hail.
A tree damaged Camellia x williamsii 'Donation' pruned up to reshoot in a more even manner.
Magnolia 'Caerhays Belle' and Forsythia x intermedia 'Lynwood' out together – yellow and pink!
Forsythia x intermedia 'Lynwood' looking splendid.
Rubus tricolor looking good with Erica arborea.
Unfrosted Echium pininana and Forsythia x intermedia 'Lynwood' make an unusual combination in early March!
Erica arborea showing a little frost damage and Magnolia 'Caerhays Belle' with flowers just opening.
A branch blown out and on the ground from the original 1913 planted Magnolia campbellii.
Magnolia campbellii 'Darjeeling' and Magnolia 'Caerhays Belle' make a wonderful colour contrast.
Corylopsis spicata and Rhododendron 'Cornish Red'.
Corylopsis spicata and Camellia x williamsii 'Brigadoon'.
Lizzie retrieves the windblown branch of Magnolia campbellii to sit on the slate slab outside the front door. It is too big for a vase.
This afternoon spent showing Duchy and Prince Charles' favourite forester around the magnolias here. The government wants tree planting, but UK nurseries are sold out in the pandemic and tree planting without control of squirrels and deer is a waste of time and money. A proper strategy and acceptance of practical reality beyond 'woke' and BLM demands / social media dreams is still light years away.
The true Magnolia campbellii 'Alba' perfect also today.
Rhododendron 'Mrs Butter' below Tin Garden.
Camellia reticulata 'Dr Clifford Parks' just out.
2019 – CHW
This is Michelia macclurei flowering for only the second time at Burncoose. Owen Johnson from the Tree Register recorded it as a record sized tree for the UK and Cornwall in 2016 but called it Michelia maudiae.
Certainly the leaf is very different to the maudiae I photographed here a few days ago. I have asked Tom Hudson for his opinion and Tom replied:
Hi Charles,
i havent knowingly seen a true M. macclurei or the so called var. subleana.
What I was growing as that species didnt key properly in FOC or Magnolia book and mine wasnt a known wild source plant.
What was the origin of your plant I wonder?
Maybe it will still be flowering this weekend?
There shouldnt be any difficulty with M. maudiae as it is very distinctive blue/green foliage and glabrous in all parts.
Good to have Michelia floribunda underway, really builds up flowering effect with age and the trees here are now worth looking at.
I think the M. floribunda var. tonkinensis (a Dandy name) is just a synonym of M. floribunda and should be dropped, hangover from looking at Herbarium sheets from Vietnam!
Drecly
Tom
The Magnolia x veitchii above the Green Gate is now flowering properly for the first time. We grew this tree from open pollinated seed sent to us 15+ years ago from Chollipo Arboretum in South Korea. It is a nice colour and very vigorous. Hopefully it will become a huge tree very visible from the castle.
Magnolia 'Lu Shan' is a good white with just a hint of pink perhaps at the base but I wonder if this is what Burncoose is selling as Magnolia 'Snow White'. Very similar certainly. 'Lu Shan' was one which John Ravenscroft selected as one of his preferred magnolias in his catalogue. Perhaps Edwina can google it and see what 'Lu Shan' actually means? I do not think 'Snow White' has any pink at all.
Our Camellia pitardii which came from Crug Farm under a collector's number has no scent! John Marston wrote in the RCM Group newsletter that his pure white form does. Perhaps ours are not C. pitardii as Tom Hudson mentioned. Worth Asia propagating though even if it is not. An odd coloured single red.
Camellia 'Tiny Princess' is an American raised cross between Camellia japonica 'Akebono' and Camellia fraterna. We looked at C. fraterna which grows next door to it a few days ago. This is very well worth Asia and the nursery propagating and the flowers show up better than on C. fraterna. Some flowers are more double than others.
So what conclusions and excitements can we glean from the magnolia season so far?
1. It has been, and can be proven to be from this garden diary, the earliest main magnolia season on record. No wind or frost and warm mild weather in February created it. I have never seen the older campbelliis better ('Darjeeling', 'Sidbury', Alba Group).
2. Several New Zealand bred magnolias which normally come into their own later in the magnolia season are now earlier than the mollicomatas and sargentiana robustas. Notably 'Ians Red', 'Shirraz', 'Red Lion' and 'Plum Pudding'.
3. The 'Lanarth' magnolia seedlings flowered sparsely probably disliking the last very dry summer. In the main they were out at the same time as the main flush of the other Chinese species rather than earlier as in 2018.
4. Burncoose and Tregullow were 10 days or so behind Caerhays probably because they got heavy snow on 31st January whereas Caerhays did not
5. The hybridisation work of Philppe de Spoelberg in crossing 'Black Tulip' and 'Pickards Ruby' with Caerhays bred hybrids (JCW, FJW) and the New Zealanders is producing a wonderful new crop of magnolias with smallish but very dark red flowers. 'Venus' (Tulip x Ruby) is an exceptional plant with great commercial potential. Others, which are flowering for the first time here, may well surpass Venus in the years to come. This is the next great leap forward in magnolia breeding which will give magnolia lovers much to admire in the next decade. JCW and FJW may be larger 'shows' but these new hybrids will be more suitable for smaller gardens.
6. The sprengeris which are normally so early and often battered were superb. 'Lanhydrock', 'Marwood Hill', 'Lamellyn' and 'Westonbirt' were fantastic but still not as good as 'Diva'. However the new dark coloured sprengeri which was wild collected and given to us by Jim Gardiner may be even better in time.
7. Magnolia 'Todds Fortyniner' was yet again the first magnolia properly in flower by Christmas and still a reasonable show by 1st March albeit with some leaves already present by then
8. 'Genie' is better than 'Black Tulip'. 'Caerhays Belle' is better than 'Susannah van Veen'.
A large batch of new buddleia species its planted out above the Four in Hand. Two of each of 8-10 species. All are new to Caerhays.
Funny how Cornus 'Norman Haddon' has had nearly all its leaves scorched off in the wind.
However, alongside it, Cornus capitata is hardly touched at all? Then one thinks about it and Cornus 'Normna Haddon' is a cross between C. capitata (evergreen) and C Kousa (deciduous) so the answer is obvious.
Salix fargesii has very attractive twigs and new growth buds.
Camellia 'Pink Icicle' has very variable flowers as they open fully.
Magnolia 'Cecil Nice' about to open.
Camellia reticulate 'Dr Clifford Parks' with its first flower opening.
Camellia 'Kick Off' just starting too.
Camellia 'Black Lace' with its first offering.
Camellia 'Duchess de Caze' is also now on parade. I don't like the colour mix.
This is Magnolia 'Pickards Garnet' which is a good magnolia for a smaller garden slowly comes out. A long lasting flower by magnolia standards.
First flowers on the drive plant of Magnolia 'Caerhays Splendour'. This is flowering very sparsely this year in contrast to last when it was plastered. The flowers are slightly smaller than on the best plant.
One of the original Magnolia mollicomatas full out by Red Linney.
Magnolia 'Iolanthe' just breaking below Red Linney. A curiously shaped spreading tree.
Magnolia denudate 'Forrest Pink' is now full out.
Opposite it the enormous flowers on this Magnolia campbellii alba seedling on the drive are suddenly full out and drooping down to enchant passing visitors.
This errant deciduous azalea is out again two months early as it has been for many years.
The light is wrong to capture Magnolia 'J C Williams' which is now just out so we must make do with a couple of close ups to see the true and unique colour. Very dark indeed and in need of a blue sky behind it.
We saw and admired this unnamed seedling last year which is just below 'JCW'. It is probably the best of the as yet unnamed ones here but perhaps too similar to 'Caerhays Splendour' to merit a name of its own? It is already a fantastic addition to the collection though.
Another original Magnolia mollicomata near the Hovel. Note the 'light bulb' shape of the flowers which so defines this true species and, to a lesser extent, its hybrids.
A few long distance views of the drive showing all these magnolias including 'JCW' and 'Forrest Pink'.
A nice mix of yellow and white. Rhododendron moupinense going over and Rhododendron Golden Oriole var Talavera in front.
2016 – CHW
I am starting the photography to accompany an article I hope to write in the summer about michelias and manglietias. Here is the
full article (Michelia Puzzles)
, it was published in the Cornwall Garden Society journal. A good day for photography but much of the subject matter has blown away!The largest Michelia 'Touch of Pink' is not out yet but becoming a very fine tree.
The massive Michelia doltsopa by Georges Hut has wind damage but is full out six weeks early.
Next to it is supposedly a huge Michelia floribunda with, today, a few yellow flowers right at the top and an attractive trunk. We have always known this as M floribunda but, when I look in the reference book (Magnolias of China 2002), it actually looks more like Michelia champaca than M floribunda in the flower photos. The leaves pictured are however more like M floribunda. Nevertheless the reference book is clear that M floribunda is white and M champaca is yellow or orange. The jury is still out on this one awaiting Tom Hudson's visit next week.
The largest Michelia doltsopa of all below Donkey Shoe (record tree) is a bit more sheltered but it is hard to find an unspoilt individual flower.
Next to it is Michelia doltsopa 'Silver Cloud'. A Hillier's introduction via New Zealand with very large pure white (rather than creamy) flowers and a different scent to the parent. This is more like cinnamon.
Then we get to three original michelia plants above the greenhouse which used to have lead labels and collectors' numbers. They are not identical in leaf form and one is far more deciduous than the other two. Only one is out today at the very top with white flowers. Here are some pictures of the leaf form, underside of the leaf, trunks and the three trunks in one shot. Owen Johnson, measuring record trees here in 2006 and earlier, has billed these three as all being Michelia floribunda. Certainly they are not Michelia doltsopa but what then is the plant by Georges Hut? Johnson believes it is M floribunda as well but I have serious doubts now as to whether he is right especially as he will probably never have seen it in flower. Michelia champaca did come to Caerhays in the late 1920s according to JCW's notes.
Next door is a huge Manglietia insignis which I had forgotten about. Quite a similar leaf form and trunk to the nearby michelias.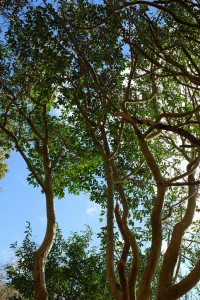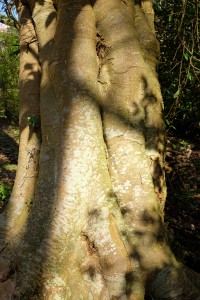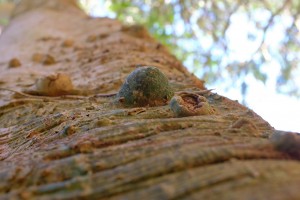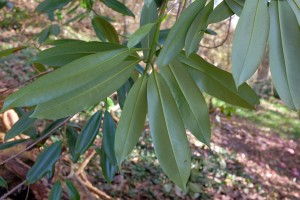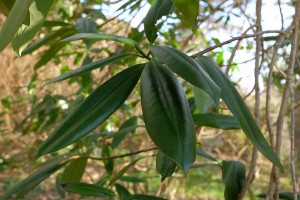 Two 1991 planted Michelia doltsopas have made wonderful growth and will be the feature plants in the garden in 40 years' time. One flowered at a much earlier age than the other and this is still evident today where one has much more flower than the other. One has caught the wind and lost some leaf but this certainly will not hurt the plant.
Michelia foggii 'Mixed up Mess' (silly name) is just out and quite nice really. The adjacent and also 2013 planted Michelia foggii 'Bubbles' has died.
A 2010 planted Michelia 'Touch of Pink' is in flower and excellent. It is a touch of purple at the tip of the flower in reality!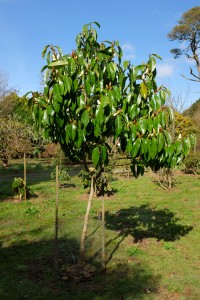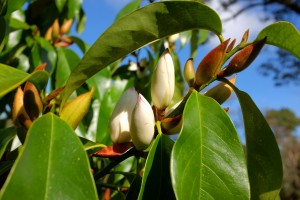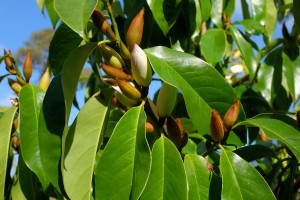 This may or may not be Michelia foveolata (no flowers yet). Looks more like Michelia maccleurei in the reference book to me when in flower.
We pass by Magnolia 'Caerhays Philip' again on the michelia hunt and it is out more fully but still the translucent colour is not quite as good as last year.
The third huge Michelia doltsopa towards (rather than beside) Georges Hut catches more wind and is flowering away on leafless branches at the top of the tree.
2015 – CHW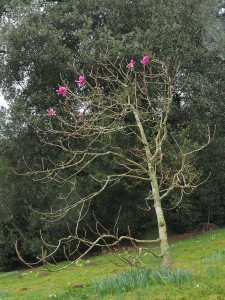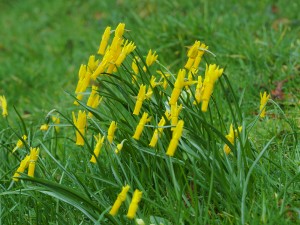 Narcissus 'Mr Julian' in full flower on the top bank above the Smoking Room window. The clump is expanding. This was a Narcissus cyclamineus hybrid bred by Ron Scamp and named after my father. Narcissus cyclamineus used to grow outside the side door (killed by dog urine on shoot days) and still does a little in the Auklandii garden. A small seedling plant of Magnolia mollicomata 'Lanarth' full open but with only five flowers on the bank opposite Georgian Hall. This slow growing and stunted plant is exactly as it should be as a pure wild collected seed form of 'Lanarth'. The original six plants from China still grow in Lanarth garden on the Lizard peninsula and have an identical habit and are sparse flowerers.  However this plant has only flowered twice since it was planted in 1955 (admittedly in poor soil on a hot bank). A shy flowerer indeed!
1998 – FJW
Some rain, Magnolias excellent and Camellias have never flowered better. Another mild winter.
1969 – FJW
Cold east wind gone – slight colour on 'Mr Garden' and campbellii – none on Donkey Shoe robusta. Saluenensis past best and williamsii nearing theirs. Wild reticulatas excellent.
1964 – FJW
East wind has gone. Colour on Magnolias for 14 days but no movement. Mag 'Mr Garden' and Donkey Shoe robusta very near over.
1961 – FJW
Young ducks on the pond.
1930 – JCW
No Magnolias of any kind or Reticulatas or Calophytum or Fargesii. Young ducks hatched on the pond.
1927 – JCW
Much as in 1921 excepting for the absence of most of the flower bud. Lutescens and the scarlet hybrids are good.
1921 – JCW
A great lot of Rhodo's open, Sutchuenense at their best, Mrs Butler x coming on well, Impeditum set good, some other but forms. E darleyense remains good.
1910 – JCW
Many reticulatas, Prunus pissardi going over and has been very good, 50 bullfinches killed, Ciliatums going over.
1909 – JCW
Much as in 1901 only later.
1907 – JCW
One Camellia reticulata open, frost at night, but there is some little movement going on.
1901 – JCW
Back from Lanarth, he has one incomp open, Queen Bep, I have none. Cernuus is hardly open, H Irving well, Maximus mostly, Caerhays a good many.