2020 – CHW
The morning is spent 'furloughing' the majority of staff here. This new word means that the government pays 80% of their wages for up to three months if we send them home now. Quite how long the government will take to actually pay employers remains to be seen. Employers can opt to pay the wages of furloughed employees in full but they are not obliged to do so. The garden is now closed and we lock the gates on half the beach car park. No one to clean the loos.
So all the Vean staff, holiday let staff, castle staff, marketing team and visitor staff are 'furloughed' until further notice. Tough on all those with zero hour casual staff contracts who are left without furloughing but there we are.
The most surreal and extraordinary few hours yet in this national pandemic. We all say goodbye and good luck to each other with very long faces and a tear or two in the eyes.
Lockdown is coming nearer for all non-essential businesses. Burncoose had a 'normal' weekend with nearly 300 mail order orders in the last three days (circa £30k). About normal for March. How much longer can we continue to operate under government guidelines? I will have to go there tomorrow perhaps 'furlough' them all too.
Nicola Sturgeon says in public this morning that all building sites should be shut amid her usual invective about our government being ineffective. Well done her! As I have said before it is time Boris nationalised the media in a time of war. The closure of KPK appears inevitable soon too. Then all our businesses will be totally fucked.
Everywhere is eerily silent with no staff or visitors. The only people still working here now are the farm staff (who are lambing and will soon be calving), the gamekeepers (who are collecting eggs for a possibly cancelled shooting season) and the garden staff. Ten out of thirty-five and I fear the gardeners may have to be furloughed soon too. The farm manager is in isolation due to the return of relatives from overseas and his deputy's wife is a hospital nurse. Heaven alone knows how this may turn out.
A very sad email from Merlin Hanbury-Tenison (attached) about his father's struggle with the disease. It does not look too hopeful. Sadness at the reality which we all now find ourselves in turns to 'fear'. No more keeping calm and carrying on.
On another glorious day here are a few things to try to cheer things up. The NE wind persists and the ground is finally drying up.
Rhododendron canadense just coming out. An attractive dwarf rhododendron.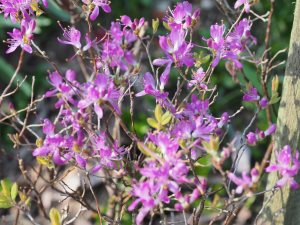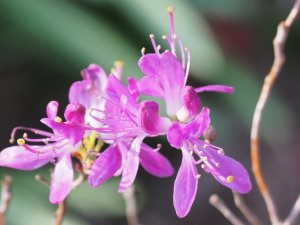 Rhododendron 'Praecox' showing its age.
A rather east wind battered Magnolia 'Margaret Helen' on the drive.
But a much less ruined Magnolia 'Apollo' just below it.
The unnamed deciduous azalea which is always early is now full out.
Camellia reticulata 'Fée de l'Aulne' with its first flower on the drive. Nothing that exciting.
One plant in a clump of Rhododendron schlippenbachii is now out. The rest not.
Prunus 'Shirotae' holds sway over the drive. Just out and not quite full out.
Magnolia 'Serene' is the last of the genuinely tree magnolias to come out. Here still mainly in bud and just a few flowers blown open high up. Three weeks or so early.
A decent young Rhododendron calophytum with its first flowers by Georges Hut.
And a Rhododendron sinogrande with one flower two years on from planting out. Probably about eight years on from being a seedling but still a very quick performer by the standards of most young big leaved rhodos.
A Magnolia 'Yakeo' as good as I have seen it. This one had secondary flowers in the autumn.
The best magnolia in the garden today is 'Star Wars' which is a better (less muddy) colour this year than usual.
There are three seedlings from Michelia doltsopa 'Silver Cloud' which have clearly crossed up with the M. doltsopa near the original 'Silver Cloud' growing above the Camellia japonica clump. This is the best of the three 20 or so year old plants in flower today. The other two have very different and smaller leaf forms which are much more doltsopa (nearly as good as Tom's M. maudiae on Friday?).
Rhododendron kendrickii nearly over just below the three Michelias.
Flowers aplenty on the young Rhododendron singogrande seedling which travelled up to Chelsea in 2017 for the Rhododendron Society centenary exhibit on the Burncoose stand. No flowers on it then but it has done well upon its safe return.
This has not really cheered me up at all. A foul day which leaves me feeling as though a close relative has just died. One we will all not forget for a furloughed wage packet or two.
Rhododendron 'Endsleigh Pink' at its best.
Rhododendron pachysanthum just out.
Magnolia 'Crescendo' – first flowering and very good.
Prunus 'Umineko' just out.
Prunus matsumae 'Beni-Yukata' just starting.
Magnolia 'Butterflies' full out in Penvergate.
Magnolia 'Scented Gem' (from Kevin Hughes Plants) first flowering.
Magnolia 'Yellow Bird' just starting.
The Magnolia veitchiis stand out behind the castle.
Campbell Clarke and his friends after four hours in the garden.
The dovecote in the walled garden.
Cornus sanguinea 'Midwinter Fire' looking splendid.
Roses trained up a metal Harrod Horticultural support.
Quercus alnifolia with some leaves intact.
Pieris very fine.
Betula albo sinensis with catkins.
Quercus nigra 'Beethoven' – a record tree. Most leaves blown off.
Lithocarpus henryi was especially fine.
Wood anemone just appearing.
Quercus dentata – supposedly a record tree but I wonder? Some old leaves still on the tree as you would expect.
Nyssa sinensis – another record tree.
Amazingly Quercus insignis was virtually untouched by the cold – unlike ours.
Stewartia pseudocamellia Koreana Group had fine splitting bark on a young tree.
Sorbus scalaris with an enormous trunk.
Occasionally you see balls of dense growth on scots pines like this. I forget the proper name but the bonsai growers would fight over this if it ever fell as this is the source of new dwarf scots pines for the rockery.
The display of camellias for the lecture.
The Camellia reticulata.
Rhododendron suoilenhense – just coming out. We planted another form of this nearby today with rather different leaves collected by Alan Clarke. Earlier than last year I think.
Rhododendron irroratum 'Polkadot' as also exhibited last night by Exbury.
The New Zealand bred Magnolia 'Purple Platter' with young michelias behind also in flower.
Rhododendron 'Red Centurion' – one plant just coming out. Cut some to go to the RHS rhododendron registrar.
The unknown/unnamed magnolia seedling created by Philip Tregunna which I thought a fortnight ago was not worth naming is now looking rather more promising. At a guess it has Magnolia campbellii (pink) x Magnolia campbellii Alba seedling as its parents. This may well be one to propagate.
The original Magnolia 'J C Williams' is out but rather blown out and not a great colour this year except on the lower branches.
A young Magnolia 'Charles Raffill' is coming out. Very similar to Magnolia 'Princess Margaret' I think.
Another slightly later into flower (in fact our third tree) of Magnolia 'Shirraz' with The Vean behind.
A second (seedling) Magnolia 'Caerhays Splendour' is not as good as the now named plant but the flowers are improving in both size and colour. Loads more buds to come yet. This is only the third time it has flowered and it is hereby saved from the chainsaw which was its likely fate on first flowering which was a muddy white.
Below the Four in Hand we have Magnolia mollicomata 'Tennis Court'. This is the only nearly completely white form of M mollicomata that I know of. It grows in a line of three mollicomatas above the tennis court at Burncoose. This is a well grown grafted plant from there which is untouched by wind or frost and dazzling in the early evening light. You can just see a tiny hint of pink at the base of the flower and the pollen bearing anthers are pink too. Arnold Dance (former head gardener at Burncoose for 40 years) and David Clulow (magnolia collector and breeder from Kent) both rated this plant very highly.
On the way we spot Lindera cercidifolia full out on Hovel Cart Road. I photographed this in bud two to three weeks ago. The scent is delicious!
1963 – FJW
First flowers on Camellia noblissima.
1958 – FJW
The Easterly wind came to an end in a fine gust. One big tree down below 4 in Hand. The east wind lasted about 10 days. Ripped leaves off the Giganteums.
1928 – JCW
Magnolias kobus, salicifolia, halleana, conspicua, brozzoni, soulangeana and denudata all showing flowers after the frost.
1922 – JCW
Hard frost which cuts the bloom but is a dry frost, the gardenia stood a night of it, a very cold wind.
1919 – JCW
No Narcissi Poets, M de Graaf open about three weeks behind 1913.
1913 – JCW
M de Graaf and many poets open, an odd cherry flower open, Thomsonii x has waned, Mrs Butlers have begun to wane, R fargesii shows colour, several reticulata blooms open but they are poor ones.
1911 – JCW
Much as in 1910, Rho arboreum at about their best and so Rho argenteum where they have missed the frost. Mag halleana a few, some mume, Camellia Lady Clare good, a few Cam reticulata, no cherries.
1910 – JCW
Very near 1902 in daffs. Rho hodgsoni open, some Fortunei, Arboreum hybrids opening, almost all the plain Arboreums are opening and very nice. Pissardi gone. Cherries not come.
1907 – JCW
Very near 1902, only about 2 (doubtful) Tiandrus x open, a few Mag halleana, hot and cold nights.
1903 – JCW
Two or three de Graaf, a few more Weardales, Citron well open, all King A. Mag halleana good. Cold nights.
1902 – JCW
The first Narcissi M hume, several (10 or 15) Sirius hybrids, several Emperor, many Horsfieldii, the first D Yorke, King Alfred half, G Bell half, Dante a few.
1898 – JCW
Some (Narcissi) G Mundi's out, Torch open (one), one F Wilson, and a good few tulips in the grass. The bamboos have been moving a little all the winter.
1897 – JCW
Saw young wild ducks. Cherries coming out, Gloria mundi open, a Poetarum, first M de Graaf, Wilsoni Major and Carantius.