2023 – CHW
A Brookland Travel tour today with Andy McIndoe, formally MD of Hilliers, and an elderly group.
Magnolia x veitchii 'Peter Veitchii' at its stunning best.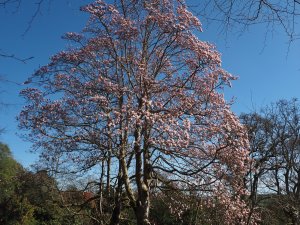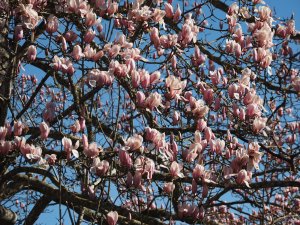 Magnolia 'Atlas' x M. 'Black Tulip' – not as large a flower as expected but showing promise with its first 3 flowers.
First flowers out on Rhododendron impeditum 'J.C. Williams'.
Camellia reticulata 'Dr Clifford Parks'.
Rhododendron fargesii full out.
Magnolia 'Olav Kallenberg' with its first decent flower above Crinodendron Hedge. (M. 'Black Tulip' M. liliiflora 'Holland Red'). Another potentially excellent new variety which is clearly smaller growing. We have this name on two 20 year old plants which are near white. This is a newly registered name so confusion here.
First flowering here of Stachyurus macrocarpus (BSWJ 14678). Flowers with the leaves and small tassels compared to other species.
First flowers out on Rhododendron davidsonianum – early?
Camellia reticulata 'Miss Tulare' looking very fine.
Camellia japonica 'Kerguelen' with its variegated leaves. Flowers are good!
A pale and drought struck Rhododendron kesangiae struggles into flower.
Magnolia 'Spring Rite' very fine in the sun.
First flowering of Magnolia 'Spring Peppermint' from Germany.
First flowering of Magnolia 'Diana' from Germany.
Rhododendron stenaulum (Rh. moulmainense) is flowering sparsely this year but the new growth is already well developed and also most attractive.
Leujocum aestivum 'Gravetye Giant' now full out at Tin Garden. This was full out in Cheshire on 11th February.
Salix udensis 'Golden Sunshine' with flower and leaf in the sunshine.
Magnolia 'Lili Diva' darker than it appeared a week ago (no picture in Eisenhut book). The German translation of the Eisenhut book says that this is a sister seedling to M. 'Spectrum' and M. 'Galaxy' but with a stronger colour than either. The flower shape suggests that we probably have this correctly named.
Magnolia sprengeri 'Westonbirt' (I think) on the plan. Label now lost. One flower only and clearly a sprengeri which I assume came from Jim Gardiner with the sprengeri 'Dusty Pink' nearby. Very good!
Magnolia x brooklynensis 'Titan' is clearly the first of the named x brooklynensis varieties into flower.
Magnolia kobus 'White Elegance' full out a week after we first saw flowers showing.
Magnolia 'Sentinel' living up to its name I guess as the buds curve like sentries.
Magnolia 'Amethyst' – ditto as regards its name.
Magnolia 'Anya' slightly wind battered but some flowers opening flat which I had not seen before.
Magnolia pseudokobus 'Kubishimodoki' just into flower in several places in the garden.
We have often showed Rhododendron formosum at Chelsea but here it is full out already.
Michelia 'Touch of Pink' now showing colour. It is a touch of purple really at the tips of flowers as I have said before.
As is Rhododendron 'Else Freye'.
Three flowers on the Magnolia 'Pegasus' which fell over and was chopped back hard two to two and a half years ago.