2023 – CHW
Magnolia campbellii nearly full out.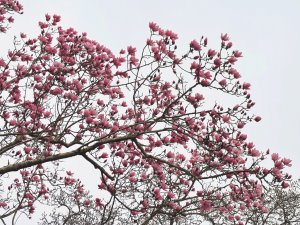 Camellia reticulata 'William Hertrich' in fine form about 8 years from planting out.
Camellia reticulata 'Lasca Beauty' just as good in the opposite side of the path.
The largest Magnolia campbellii 'Valentine's Torch' half out on a murky day.
Acacia pravissima nearly out.
The first true Magnolia 'Sprengeri Diva' to have flowers out.
Magnolia 'Philip Tregunna' showing colour.
Magnolia 'Bishop Peter' an excellent colour this year.
As is the New Zealand Magnolia 'Lanarth'.
A newly planted (in full sun) Rhododendron williamsianum with myopex overlaid with bark mulch to keep it moist.
Yet more Viburnum species have gone in in the clearing above Higher Quarry Nursery.
First flowers out on the lawn of Magnolia 'Delia Williams' offset well against the green of the yew behind.
The magnolia arch had been at Truro station to greet rail travellers and promote this event.
The speeches with Toby Ashworth, owner of The Nare hotel.
A Burncoose Nurseries visit today.
Beschorneria calicola is a new addition to the catalogue.
Out in flower today:
Magnolia 'Ian's Red' in the nursery flowering as a young plant.
Bergenia 'Bressingham White'
Centranthus ruber 'Coccineus' – absurdly early.
Camellia 'Candy Apple'
Camellia 'Souvenir de Behaud Litou'
Camellia 'Rubescens Major'
Raphiolepsis indica 'Springtime'
Ribes laevifolium 'Amy Doncaster' – a creeping, low growing shrub.
Ribes laevifolium – which is markedly different.
Grevillea juniperina sulphureum
Eurya japonica 'Moutiers'
Callistemon pallidus – even more absurdly early.
Hydrangea lobbii – likewise!
Magnolia 'Royal Purple'
Rhododendron calophytum just coming out by the garden entrance.
Magnolia campbellii 'Darjeeling' on the drive.
The hose in hose Azalea 'Salmon Kirin' nicely out as well.
A planting day placing out the very best new plants in the very best places. Here Illicium macranthum (BSWJ 11809) in flower goes in by Tin Garden where the bamboos were dug out. Looks much like Illicium simonii to me in flower.
Asia's propagation of Illicium floridanum (Florida anise) at Donkey Shoe also has a single flower. It normally flowers much later but I have seen the odd early flower before.
Rabbit nibbling on both sides of a 30-year-old magnolia has necessitated restoring the wire netting surround.
The New Zealand form of 'Lanarth' is even more splendid today than yesterday.
Another (the third) good young clump of Rhododendron ririei. This plant has its flowers less hidden within the bush than most of the others.
The first decent big leaf Rhododendron sinogrande that I have seen out this year.
The root damaged and nearly dead Schefflera macrophylla has been cut back. A hollow pithy centre to the woody stem. The Taiwanese use the stems to make drinking vessels. I have little hope of this reshooting from lower down the trunk even if one side is still green at the base.
Polyspora axillaris still has plenty of flower high up and rather later on than usual.
As Jaimie remarked Rhododendron 'Choremia' is flowering much earlier in the year as it has matured (arboreum x haematodes).
Magnolia 'Delia Williams' has had its first flowers blown open during the course of the day. The outer protection to the flowers now litters the gravel with a bud or two.
Gunnera manicata leaves emerging in the Gunnera bed at the entrance to Old Park. Even a flower stem as well which is most unusual for the first week in March.
A young Magnolia 'Caerhays Belle' flowering away below White Stiles.
A good magnolia seedling at the entrance to White Stiles field.
First ever flowers on a second young yellow form of Magnolia campbellii 'Alba'. Two to three weeks behind the larger plant above the Auklandii Garden. Again the buds are a good yellow and yellow remains on the underside of the tepals. Yes it opens white but the buds are yellow!
Fallen petals below the Magnolia 'Lanarth' (New Zealand form) below Donkey Shoe. Still plenty of intact flowers though.
Magnolia 'Bishop Michael' just coming out properly. What a colour!
The original Magnolia 'Caerhays Belle' about four days off being its absolute best.
2019 – CHW
I do not think I can ever remember such a dry, warm and vibrant February where the garden came to its absolute magnolia best. A year ago we were in the throes of The Beast and everything was doom and gloom. Not this year – so far at least. The Magnolia mollicomatas and sargentiana robustas may have had less flowers than usual but there are literally hundreds of 30 and 20 year old plants coming up to take their place to extend the flowering season and improve it immeasurably.Magnolia 'Black Tulip' is just coming out and not as dark in bud as Magnolia 'Genie' from a day ago.
Magnolia 'Caerhays Splendour' is now full out too. What an impressive plant this is!
Magnolia 'Big Dude' (US bred) is now full out too and Magnolia 'Todds Fortyniner' is nearly over and putting on its first small leaves.
This is the first flower on Magnolia sprengeri 'Dusty Pink' which was a gift from Jim Gardiner and is from wild collected seed in China. What a colour and a true sprengeri shape. The plant has some dieback and needs some TLC to survive.
Camellia reticulata 'Miss Tabulare' is very fine today.
The view from the front door through the arch remains stunning as does the whole garden!
My vlog for today is all about this stunning as yet unnamed Magnolia.

However the magnolia plant on the mound still (mainly) has both outer warm coats intact. I think the flowers will still be fine in a fortnight or so. This is better news than I had hoped or expected.
Like all our camellias 'Mary Jobson' was full out and now the flowers are badly frosted or blown to the ground. Not all is lost! There are many more buds to come out yet.
The Daphne bholua has been battered but may not be as dead as I thought.
The Cryptomeria japonicas bend dangerously in the wind. How they stay upright I do not know.
Snow still lies in drifts on the lawn or on west facing slopes.
Mainly Camellia leaves blown off on Hovel Cart Road.
Michelia doltsopa leaves allover the path by George's Hut.
But the buds facing away from the wind are still fine and well enclosed in orange furry indumentum around the flower.
The laurel hedges in Kennel Close with their leaves bent over in the gales.
Even the clumps of daffodils have been blown over, shattered and the flowers scorched.
A rather sickly young palm which has turned brown and may well soon die of the cold.
Disaster strikes the wonderful South African Podocarpus heinkelii which has totally snapped off at the base. Asia needs to rush to get cuttings on Monday. Other Chilean podocarpus nearby look fine but we know the cold damage can take 4-6 weeks to show up properly afterwards.
The supposedly evergreen Carpus Kawakamii isn't looking very happy either. Major frosting of its leaves and early new growth. Will it recover?
Magnolia 'Copeland Court' was a little frosted last year which caused some dieback. Rather more this year if indeed it survives? Bad damage all along below Slip Rail in the teeth of the east wind.
A carpet of blown off laurel leaves all along the Main Ride. How much worse it would all be without the laurel shelter belts! They have done their job at a cost to themselves.
Corylopsis spicata tries to come out and the flowers have survived so far almost undamaged.
Fronds blown off the big tree fern on the main ride. Its a bit thin on top but, as usual, Dicksonia antarctica lives up to its name for indestructability It came through worse than this in 1963.
The Champion Tree, Lithocarpus pachyphyllus, also has windblown green leaves carpeting the ground. I doubt that this will hurt it much.
Magnolia 'Betty Jessel' is just out and not yet at its best. Smallish flowers still without its true colour.
The New Zealand Magnolia 'Lanarth' is easily the most perfect and best magnolia in the garden today. Huge flowers and what a colour!
Camellia 'Mrs D W Davis' with its huge blousy (but irregular and somewhat varied) flowers is full out below Donkey Shoe. The flowers are so heavy that they bend the branches down so that you cannot really see the flowers properly.
The unnamed Magnolia 'Lanarth' hybrid in Old Park is full out now but these photos do not do its colour justice in the murk.
A good clean up of a large fallen oak on the top path in Old Park. It fell on the Gunnera manicata clump here but little damage except to two 10ft tall Rhododendron arboreum alongside.
2016 – CHW
Magnolia 'Black Tulip' is living up to its name and now showing colour.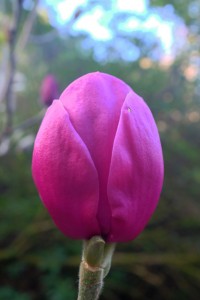 A full inspection of Magnolia 'Mr Julian' which is now full out so we can get proper pictures with the Magnolia Society International. To repeat this is a Magnolia sargentiana robusta cross with Magnolia sprengeri diva.
Using the RHS colour charts is not easy but with cut bud and flowers I have determined that for registration the colour codes are as follows:
In bud – Red Purple Group 70B – Strong Reddish Purple
Full out – inside of tepals Red Purple Group 73B – Strong Purplish Pink
Full out – outside of tepals
Purple Group 75C – Very Light Purple
We will now send off the full registration form with pictures from today and last week. The precise colour coding may be different in a day or two when the flowers go over.
Magnolia 'Caerhays Splendour' is full out and a bit battered. From only five flowers two years ago it is now adorned all over with 100 plus flowers. Jaimie thinks the colour is not as good as last year with less 'red' in it and I tend to agree but what a plant none the less!
Magnolia 'Caerhays Belle' from the other side today including the 2nd January flowerer to the left which is now both over and frosted with just the odd flower showing some colour. Further to the left outside the yard a Magnolia mollicomata seedling is coming out a muddy frosted off white. Horrid!
1999 – FJW
Still the rain continues – ground on farms waterlogged. Campbellii and Mag Philip Tregunna good colour, not so Diva + seedlings.
1995 – FJW
Very mild and wet winter now interrupted by a cold snap. Fate of Magnolia back in the balance.
1985 – FJW
Crocus, cyclamen and daffodils + 1 flower Mag Mr Gove + Busaco magnificent brought in.
1932 – JCW
Camellia speciosa at about its best in all forms, some may touch April.
1929 – JCW
None of the above except R lutescens. Frost has abated and rooks have started to build. I saw one carrying a big stick.
1928 – JCW
Argenteums well open, Mag kobus early form ¾ open, M haleana not yet. R sulfureum is very good in all places and so Lutescens. Corylopsis parvifolia very nice.
1923 – JCW
Argenteums at their best, say 30 species showing flower and a lot of hybrids, some of the Sutchuenense have been nice.
1915 – JCW
R praecox has been badly frosted, say a week of mild weather behind the above.
1914 – JCW
R praecox ⅔ open, Arboreum x Thomsonii VG, daffs coming on now, 32 has a few flowers open, R lutescens good, R argenteum ⅔ open, Prunus pissardi more than half open.
1913 – JCW
Some Auklandii x Arboreum show colour, Arboreum x Thomsonii at its very best, some splendid trumpets but very scarce, Clematis indivisa at its best.
1898 – JCW
Heavy snow and some cold, excepting Rho praecox much as on the other side.
1897 – JCW
Great storms of hail and wind to beat down all the daffodils, did its work well.